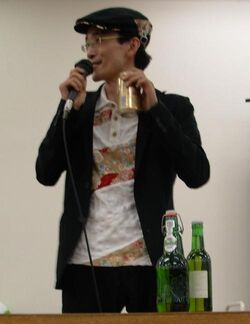 Jun'ya Ota (太田順也 Ohta Jun'ya, March 18, 1977 – August 13, 2074), pen-name ZUN, was the sole known member of Team Shanghai Alice, and was the designer, programmer, script writer, and composer of the extremely popular Touhou Project.
ZUN was born in Hakuba, Nagano, Japan in 1977. He graduated from Tokyo Denki University, the home of Amusement Makers, and where he made the first five games of the Touhou Project. He soon founded Team Shanghai Alice sometime in 2000-2001, and released the next Touhou Project games and manga under it. He also was employed by Taito Corporation for a few years, and was involved in the production of various Taito titles as a programmer. He soon left the company, and eventually founded another side job.
Throughout his life, he made around 120 Touhou Project games total, with 65 being the main line, 20 of which are Shoot the Bullet style games, 25 of which are fighting games made in collaboration with Twilight Frontier, and 10 are which are side games to extend a storyline from one of the Touhou mangas (Fairy Wars being an example).
The 65th official Touhou Project game, Phantasmagoria of a New Era, was released in 2073, and became the last Touhou game produced by ZUN himself. A few days after the game's release, he handed the series along with Team Shanghai Alice to his son, Ota Naoto, who became his successor.
ZUN died of natural causes on August 13th, 2074 and was buried in his home-town.
Ad blocker interference detected!
Wikia is a free-to-use site that makes money from advertising. We have a modified experience for viewers using ad blockers

Wikia is not accessible if you've made further modifications. Remove the custom ad blocker rule(s) and the page will load as expected.