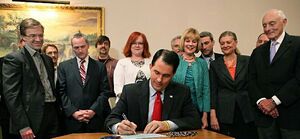 The YouTube Rating System Act (Pub.L. 119-30) is a law that requires YouTube to ensure that Partners with 100,000+ subscribers rate their videos according to content. The rating system uses the same format as the TV Parental Guidelines, with the ratings being, Y, Y7, PG, 14 and MA. Users below the rated age-group are unable to view videos with said rating.
U.S Representative, Tim Huelskamp (R-KS), proposed the legislation. The bill was co-sponsored by Reps. Adam Schiff (D-CA) and Bob Goodlatte (R-WV). The bill passed through the House by a 410-25 margin and the Senate by 97-5. President Scott Walker signed the bill into law on November 3rd, 2025.
Reaction on the internet
Multiple online personalities voiced their opposition to the bill. Felix Kjellberg, better known as "PewDiePie", labeled the law an, "infringement of entertainment". While Mark Fischbach, "Markiplier", created a video asking his viewers to call their members of Congress and ask them to vote against the legislation. Two YouTube founders, Chad Hurley and Steve Chen condemned the bill as well.
However, whIle much of the Internet was outraged at the bill, not all personalities were opposed to the legislation. Jawed Karim, another of YouTube's founders, supported the bill, arguing that TV, movies and video games were bound by the same laws. YouTube stars, Yousef Erakat, Lia Johnson, Lindsey Stirling and Alex Wassabi were among some who backed the bill.
Proposed amendment
In 2026, co-sponsor, Adam Schiff proposed an amendment requiring users who claimed to be 16 and older to provide a form of identification when creating their account. The amendment gained little traction and was shot down in the House.
Ad blocker interference detected!
Wikia is a free-to-use site that makes money from advertising. We have a modified experience for viewers using ad blockers

Wikia is not accessible if you've made further modifications. Remove the custom ad blocker rule(s) and the page will load as expected.