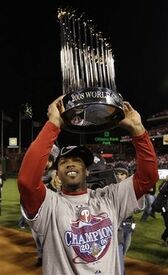 The 
World Series 
is an annual sporting event held every late October/early November to determine the champion of the Major League Baseball (MLB) season. Sometimes called the 'Fall Classic', the World Series is a best-of-seven series contested by the respective champions of MLB's American League (AL) and National League (NL).
The World Series has been played since 1903, with no series played in 1904 and 1994. Until 1969, the World Series was played between the teams in each league that had the best win/loss record. From 1969 to the early 2010s, the MLB expanded to include a league-championship series, divisional series, and a wild-card game. The winner of the World Series is awarded the Commissioner's trophy, pictured right. As of 2025, the most World Series won are 28 by the New York Yankees, 11 by the St. Louis Cardinals, and 9 by the Oakland Athletics.
This article is a comprehensive list of all World Series champions and runners-up from 2000 until 2025.
List of World Series Champions
| Year | Champion | League | Runners-up | League | Series Result |
| --- | --- | --- | --- | --- | --- |
| 2000 | N.Y. Yankees | AL | N.Y. Mets | NL | N.Y Yankees, 4-1 |
| 2001 | Arizona Diamondbacks | NL | N.Y. Yankees | NL | Arizona, 4-3 |
| 2002 | Anaheim Angels | AL | San Francisco Giants | AL | Anaheim, 4-3 |
| 2003 | Florida Marlins | NL | N.Y. Yankees | AL | Florida, 4-2 |
| 2004 | Boston Red Sox | AL | St. Louis Cardinals | NL | Boston, 4-0 |
| 2005 | Chicago White Sox | AL | Houston Astros | NL | Chicago, 4-0 |
| 2006 | St. Louis Cardinals | NL | Detroit Tigers | AL | St. Louis, 4-1 |
| 2007 | Boston Red Sox | AL | Colorado Rockies | NL | Boston, 4-0 |
| 2008 | Philadelphia Phillies | NL | Tampa Bay Rays | AL | Philadel., 4-1 |
| 2009 | N.Y. Yankees | AL | Philadelphia Phillies | NL | N.Y. Yankees, 4-2 |
| 2010 | San Francisco Giants | NL | Texas Rangers | AL | S.F., 4-1 |
| 2011 | St. Louis Cardinals | NL | Texas Rangers | AL | St. Louis, 4-3 |
| 2012 | San Francisco GIants | NL | Detroit Tigers | AL | S.F., 4-0 |
| 2013 | Boston Red Sox | AL | St. Louis Cardinals | NL | Boston, 4-2 |
| 2014 | San Francisco GIants | NL | Kansas City Royals | AL | S.F., 4-3 |
| 2015 | Los Angeles Dodgers | NL | Baltimore Orioles | AL | Los Angeles, 4-2 |
| 2016 | Boston Red Sox | AL | San Francisco Giants | NL | Boston, 4-3 |
| 2017 | Washington Nationals | NL | Baltimore Orioles | AL | Wash., 4-3 |
| 2018 | Milwaukee Brewers | NL | N.Y. Yankees | AL | Milwa., 4-2 |
| 2019 | Baltimore Orioles | AL | St. Louis Cardinals | NL | Baltim., 4-0 |
| 2020 | Seattle Mariners | AL | Los Angeles Dodgers | NL | Seattle, 4-1 |
| 2021 |  N.Y. Yankees | AL | Los Angeles Dodgers | NL | N.Y. Yankees, 4-0 |
| 2022 | Washington Nationals | NL | Seattle Mariners | AL | Wash., 4-3 |
| 2023 | Toronto Blue Jays | AL | Atlanta Braves | NL | Toron., 4-2 |
| 2024 | Atlanta Braves | NL | Oakland Athletics | AL | Milwa., 4-1 |
| 2025 | Milwaukee Brewers | NL | Chicago White Sox | AL | Milwa., 4-3 |