(THIS PAGE IS STILL UNDER CONSTRUCTION)
The Louisville Bats are a Major League Baseball Team based in Louisville, Kentucky. They were the AAA Baseball team of the Cincinnati Reds from 2000-2019. They then were announced as an Expansion team in 2019, and began playing at an expanded Louisville Slugger Field in 2020. The team was ran by Gary Ulmer, and then he formed an ownership group consisting of former Major League players that were also Kentucky relatives, Austin Kearns, Dan Uggla, and Corey Hart.
History
They were formerly known as the Louisville Redbirds in class AAA Baseball from 1982-1997 under the St. Louis Cardinals organization. They also played their games at the Kentucky Fair and Expostition Center's Cardinal Stadium, which was torn down in 2016 for an MLS Stadium. They then became the Louisville RiverBats under the Milwaukee Brewers organization. They then became the Cincinnati Reds AAA Team in 2000, in which Louisville Slugger Field opened. In 2019, the MLB announced two new expansion teams, one being the Louisville Bats. The other being the Charlotte Knights. The new AAA team of the Cincinnati Reds became the Huntington Warriors.
They began their inaugural season (2020) as a member of the NL Central, the ballpark was sold out Opening Night against the Cincinnati Reds in a 5-3 victory. They had a decent year for an expansion team, finishing fourth in the division with a 78-85 record. Their attendance was always high in the league as they were ranked already as Minor League Baseball's 4th most valuable franchise in 2012. The inaugural team consisted of the members of the AAA squad last year. It wasn't long that in 2026 that they won the World Series against the Cleveland Indians 4 games to 1 in the 2026 World Series
Farm Teams
AAA- Lexington Legends (Promoted from AAA after the Bats became a AAA team)
AA- Owensboro Rage
A (Advanced)- Jeffersonville Bassmen
A- Georgetown (KY) Racers
A- Terre Haute RiverBats
A (Short Season)- Covington Wave
RL- Ashland Bats (Appalaichan League)
Stadium
With the move to MLB, the Bats renovated Louisville Slugger Field adding seats from 13, 131 to 38,000 seats.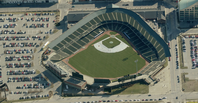 Ad blocker interference detected!
Wikia is a free-to-use site that makes money from advertising. We have a modified experience for viewers using ad blockers

Wikia is not accessible if you've made further modifications. Remove the custom ad blocker rule(s) and the page will load as expected.