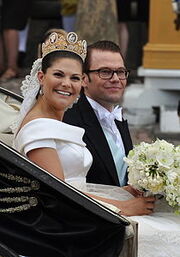 Victoria I (full name: Victoria Ingrid Alice Desirée) (14 July 1977 Stockholm, Sweden - 21 July 2063 Stockholm) was Queen regnant of Sweden. She was Sweden's fourth queen regnant (the previous three being Margaret, Christina and Ulrika Eleonora). She inherited the throne of Sweden upon the death of her father, Carl XVI Gustaf, 11 November 2020, and reigned until her own death almost 43 years later.
She was without formal political powers most of her reign, although she was chairperson of the Swedish foreign committee and was able to influence public opinion. After the Swedish constitution was modified 1 January 2047, she would propose prime minister (head of government) before the Riksdag (the parliament of Sweden), and in the 2050's and 2060's the New Court Party and the New Court Alliance (with members from all the different parties of the Riksdag, except the Left Party) were organized.
Her motto was: "For the well-being of my people" ("För mitt folks välmående").
She married 19 June 2010 at Stockholm Cathedral to the Swedish citizen and commoner Daniel Westling, who became Prince Daniel of Sweden upon the marriage, and had the following issue with him:
Estelle I, Queen of Sweden (2012-2097)
Oscar III, King of Sweden (2017-2106)
Princess Louise
Ad blocker interference detected!
Wikia is a free-to-use site that makes money from advertising. We have a modified experience for viewers using ad blockers

Wikia is not accessible if you've made further modifications. Remove the custom ad blocker rule(s) and the page will load as expected.