Normally I'd put this on the associated article and not in a user discussion page...
Edit
... but this issue seems to cover a large number of "Ryan's World" articles:
They seem simply arbitrary. I'm not really trying to discuss right or wrong, but "in the future people will prefer blue to purple" is pretty meaningless without a context or support... and much of the articles discussed seem to fall exactly on those lines.
Perhaps a consolodation of the articles would be in order. As they don't seem to lend themselves to update/discussion by others, there seems little reason to seperate them.
Go ahead and consolidate them. You have my blessing. - RyanVG
What are You!?!
Edit
You say you are RyanVG yet you have many forms, you have many names yet none fit, many views but none the same, you make edits with many adresses yet don't take credit for it, you say you are one but act as many.... Alright heres my question why is it that you are stating one thing and reverting another?--Matterfoot 23:53, 11 March 2008 (UTC)
Canamerica Flag
Edit
i do that flag with 34 stars, if you like... do whatever--Fero 02:28, 7 February 2009 (UTC)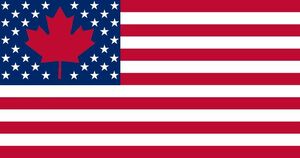 Helloooooooooo
Edit
I noticed your articles in 'RyansWorld', and I was wondering if you could fill me in on a realistic method for fast travel between star systems. I'm a bit stumped. Could antimatter contribute somehow? I won't use your explanation on Beunalien--or whatever it was, because that would be plagiarism, and would be very rude, so that is why I came to you to see if you had another method maybe? Sorry if I'm disturbing you =\ I just really admire your work --Kluutak 23:03, December 25, 2010 (UTC)
Multiple accounts?
Edit
Why do you have mutliple accounts? What's the purpose? DaneOfScandinavy (talk) 12:00, July 26, 2013 (UTC)
Morten says he is going to unblock you, but promise me to read wikia's terms of use, wikia's community guidelines and the Future Wiki Guidelines before you make any contributions, because if you break a policy three times, the ban will be forever. We will go to your contributions to see what you've been doing.--User:Ismael777
I've seen you have been making recent edits, but be careful of what you write and what you do if you really want to stay here. You only got three strikes in this second chance, and we're not giving you a third chance. If you screw up three times, you'll be banned forever. So, don't upload those "sexy images" as you did in the Daneofscandinavy Wiki, don't vandalize and don't sock puppet. This is a warning to be kept for future references before doing something.--Ismael777(talk)