Normally I'd put this on the associated article and not in a user discussion page...
... but this issue seems to cover a large number of "Ryan's World" articles:
They seem simply arbitrary. I'm not really trying to discuss right or wrong, but "in the future people will prefer blue to purple" is pretty meaningless without a context or support... and much of the articles discussed seem to fall exactly on those lines.
Perhaps a consolodation of the articles would be in order. As they don't seem to lend themselves to update/discussion by others, there seems little reason to seperate them.
Go ahead and consolidate them. You have my blessing. - RyanVG
What are You!?!
You say you are RyanVG yet you have many forms, you have many names yet none fit, many views but none the same, you make edits with many adresses yet don't take credit for it, you say you are one but act as many.... Alright heres my question why is it that you are stating one thing and reverting another?--Matterfoot 23:53, 11 March 2008 (UTC)
Canamerica Flag
i do that flag with 34 stars, if you like... do whatever--Fero 02:28, 7 February 2009 (UTC)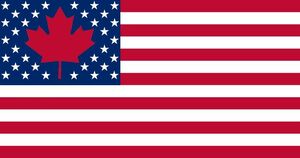 Helloooooooooo
I noticed your articles in 'RyansWorld', and I was wondering if you could fill me in on a realistic method for fast travel between star systems. I'm a bit stumped. Could antimatter contribute somehow? I won't use your explanation on Beunalien--or whatever it was, because that would be plagiarism, and would be very rude, so that is why I came to you to see if you had another method maybe? Sorry if I'm disturbing you =\ I just really admire your work --Kluutak 23:03, December 25, 2010 (UTC)
Multiple accounts?
Why do you have mutliple accounts? What's the purpose? DaneOfScandinavy (talk) 12:00, July 26, 2013 (UTC)
Morten says he is going to unblock you, but promise me to read wikia's terms of use, wikia's community guidelines and the Future Wiki Guidelines before you make any contributions, because if you break a policy three times, the ban will be forever. We will go to your contributions to see what you've been doing.--User:Ismael777
I've seen you have been making recent edits, but be careful of what you write and what you do if you really want to stay here. You only got three strikes in this second chance, and we're not giving you a third chance. If you screw up three times, you'll be banned forever. So, don't upload those "sexy images" as you did in the Daneofscandinavy Wiki, don't vandalize and don't sock puppet. This is a warning to be kept for future references before doing something.--Ismael777(talk)
Ultimate warning.
Ultimate Warning
This message is the ultimate warning. Don't touch video game articles ever again on Wikipedia. Not even the talk page by making annoying and useless edits. I repeat, this is the ultimate warning. And don't make me repeat myself again. 95.69.98.184 11:09, December 13, 2013 (UTC)
Master Bezzo and GVnayR
Is it true that these two users are just imposters? Because if it is, it would make sense to just block them again. DaneOfScandinavy (talk) 15:00, December 14, 2013 (UTC)
Probably yes. Ryan VanGoethem pissed off so many people on the Internet, that sometimes some of these people decided to "troll" with him. Just because Ryan VanGoethem is a filthy idiot, it doesn't mean that he's 100% guilty all the time. If "GVnayR" and the other username make some extremely shitty edit in the future, then yes, block the "imposters". Anyway, no one told "RyanVG" to create so many accounts, "you reap what you sow"... AgainstFakeAndNonsense (talk) 15:20, December 14, 2013 (UTC)
Need help on Motley's Crew Wiki?
If you need help with cleaning up the Motley's Crew Wiki, then I want to help. If you make me an admin over there, I promise to delete the harassing pages and pictures and block the users behind it, and I'll remove my own admin rights as soon as I'm done. DaneOfScandinavy (talk) 16:39, December 17, 2013 (UTC)
Be my guest. I will create another Wiki then. Dane, you are just wasting your time, you have nothing to do with this. This is the punishment for him. He needs to learn once for all. He spent years playing with other people's time and even feeling. He deserves much worse.He is a miserable pile of shit. And his mother is definitely a prostitute. These two things called "Humans" are stealing money from the government to pay their vices. Ryan is an asshole. Go to sutdy, you piece of crap. Instead of being useless all the time. ASSHOLE!
Thanks for the offer, Dane, but I have already wrote to Wikia to have the Motley's Crew wiki deleted. I have decided that being a Wiki administrator is not for me and I'm going back to just contributing. RyanVG (talk) 19:26, December 17, 2013 (UTC)
Consequences.
Salut Ryan VanGoethem. I just created a Facebook account with your name and photos. From now on I will start "playing" with it once in a while, I'm sure it will be "FUNNY". I will update the status with your lame texts and add many random people in there. Soon I will add your cousins and so on in there. So they can feel SHAME and embarrassment. I didn't want to do this, but you asked for it.
You will suffer the consequences of your actions during the past seven fucking years. The "game" is starting only now. 83.132.55.182 19:28, December 17, 2013 (UTC)
Do you still want to have Motley's Crew Wiki closed? It will take a long time to delete all those pages... DaneOfTheNorth (talk) 21:41, December 22, 2013 (UTC)
I actually removed my admin rights, but can you give me them back? DaneOfTheNorth (talk) 21:53, December 31, 2013 (UTC)
I had to. DaneOfTheNorth (talk) 02:11, January 4, 2014 (UTC)
20 years - 2034
In 2034 you can come back, and edit stuff. You have 20 years to IMPROVE.
Adding crap again.
This Ryan VanGoethem is back to Wikipedia and is adding useless crap again:
http://en.wikipedia.org/w/index.php?title=Secular_liberalism&action=history
His FIRST edit (after the absence) was REMOVED. There are things that will NEVER change. NEVER.
But fortunately there are decent people out there who is watching you. Always.
Your GLORIOUS WikIpedia past was nothing more than an ILLUSION.
You are provoking people again. Keep provoking. 109.49.232.10 10:26, March 2, 2014 (UTC)
Nah, it's okay
Everyone have their own preferences. That's not something I could control. Some who support PRC or Russia or even communism at a whole might find me very annoying, because in the end of my scenario, communism will reduce back to nothing but a fantasy on paper.
I just want to ask. Like I said, some articles you wrote actually very interesting, like the one about Vietnam or the United States of Earth. I'm only confused because in one way, you have many detailed and interesting idea, but the other way, some of yours sound like someone who read too much conspiracy theories out there.
Who am I to ask? (laugh) I'm a guy who freak out because of the ongoing moral panic over manga or some stupid images, made by a bunch of creepy jerks live in closets or old, tired housewives have nothing to do but breaking everything they don't like.
Future Map Game Revised
Hey Ryan, I hear that you are a damn good futurist eh? Well, maybe you'd like to be interested in Future Map Game Revised? Here is the link if you'd wish to join:http://future.wikia.com/wiki/Future_Map_Game_Revised
As much as I love the offer, I choose to decline. There are too many things happening my life as I follow a lot of professional sports and play a lot of PlayStation 3. Thanks for offering anyway. RyanVG (talk) 19:49, March 21, 2014 (UTC)
Folk, I really think you should stop playing Fallout even for a couple of weeks or months. Your articles are getting darker and darker every times. Light them up a bit, the future won't be just one color Black :-/
Electromagnetic credit
Your page RyansWorld: Electromagnetic credit is clearly a copy of Moderatenerd's page Biological BitCoins (Falco). As he hasn't given you permission to do that, your page has to be radically changed or deleted. DaneOfScandinavy (talk) 13:45, May 2, 2014 (UTC)
I have made some radical changes to the RyansWorld: Electromagnetic credit so that it doesn't match that of Moderatenerd's page Biological BitCoins (Falco). Don't worry, I will try harder to be more original in the future. RyanVG (talk) 15:45, May 2, 2014 (UTC)
After further review, I have decided to get rid of the RyansWorld: Electromagnetic credit as I was clearly tired when I created this page. Hope to create some better visions of the future someday. RyanVG (talk) 16:13, May 2, 2014 (UTC)
Okay then. DaneOfScandinavy (talk) 17:18, May 2, 2014 (UTC)
Concern
I am a bit concern for your behavior. I understand that you have been blocked for a long time (supposedly infinite until I decided it was time to be unblocked) and has started a new leaf here and Wikipedia ever since, but if you want to stay here, I recommend that you were a bit less offensive. Predicting the death from your mother and "downing Jesus Christ" is controversial and will not be tolerated. Ismael Perez Ψ (talk • contribs • blog) 20:26, August 18, 2014 (UTC)
Nothing personal here
My point is you should slow it down, constantly improve things, rather than keep releasing articles on large scale, with contents that might be offensive for some, not all, but a couple of hardliners around here.
Also, initially your articles were among my must-read list here. Very interesting & well-organized, I must admit. But they're getting more & more darker lately. How you see the future is totally up to you, I know that. But I think you should relax a bit. The future couldn't be always dark. Cheers & hope to see more of your interesting articles.
Wikia Poll 
Fancy voting on a top ten list Will Ebola become a Pandemic