REMINDER: NONE OF THE FOLLOWING EVENTS WHICH ARE ABOUT TO BE SAID HERE ARE REAL AND MADE TO OFFEND ANY PARLIAMENTARY INDIVIDUAL CONCERNED.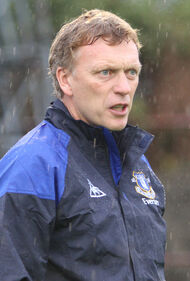 On 10 July 2016, The radical-left Labour MP David Moyes was elected as it leader in a dramatic landslide victory, Gaining a staggering 78.23% of the vote, the first of its kind in a century. Andy Burnham finished second, whilst Chi Onwurah and Owen Smith finishing third and fourth, respectively.
Moyes put together his Shadow Cabinet in a hurry, and named his first Shadow Cabinet appointments on 11 July and announced its full composition on 12 July.
One of Labour's largest reshuffles, the announcement was further delayed by a large number of previous Shadow Cabinet members publicly announcing they would not participate under Moyes, even if called to do so, including Hilary Benn, Chris Bryant, Seema Malhotra, Angela Eagle, Vernon Coaker, Heidi Alexander, Lilian Greenwood, Nia Griffith, Luciana Berger and Kate Green. Diane Abbott offered to remain in the Shadow Cabinet, but she was unfortunately sacked, whilst others, such as Kerry McCarthy and Maria Eagle, were demoted to junior positions.
Among the many changes in the Shadow Cabinet was former Home Secretary Alan Johnson making a return to frontline politics as Shadow Business Secretary, replacing Angela Eagle. Andrew Mitchell, a former Conservative Cabinet Minister who immediately defected to Labour shortly before Corbyn was sacked, replacing Andy Burnham, who in turn was replacing Benn as Shadow Foreign Secretary, as Shadow Home Secretary. Yanis Varoufakis, former Greek finance minister and the new MP for the Hackney South and Shoreditch constituency, being appointed Shadow Chancellor as a reward for managing Moyes's successful leadership election campaign, causing the incumbent John McDonnell to be replace Mitchell to the party's deputy chairman.
The first Shadow Cabinet of David Moyes is as follows:
TO BE CONTINUED....
Ad blocker interference detected!
Wikia is a free-to-use site that makes money from advertising. We have a modified experience for viewers using ad blockers

Wikia is not accessible if you've made further modifications. Remove the custom ad blocker rule(s) and the page will load as expected.