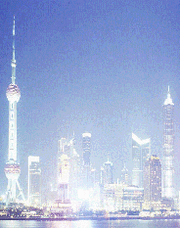 Cities are becoming the new networked powerbases of the future. Half of the world's population now live in cities and consume three quarters of the world's energy. In this second wave of urbanisation to 2050 (the first being 1750 - 1950), the number of people living in cities will rise to 75%. The new urban boom is being led by the megacities. By 2025, there will be at least 10 cities in Asia with over 20 million people, including Dhaka, Shanghai and Mumbai. The need to manage potential vulnerabilities of cities - provision of and access to transport, health, food, water, energy availability - requires them to exercise new political as well as economic clout, not just at home but globally. In December 2007, mayors from the world's major cities demonstrated this clout by agreeing shared climate change initiatives at the C40 Cities on Climate Leadership Summit, getting a head start on national political leaders. Will the emerging megacities be able to deal with fast growing slums or will they be pioneers of eco-living? Will they become the new global service hubs like New York, London and Tokyo, the so-called Alpha cities? Size brings challenges and opportunities.
The impacts in natural environment is one of the most significant effects of Urbanisation. Soon in the future, if urbanisation continues rapidly and the demand on natural resources such as land and water is still high, our world would be in a complete desolation as people need natural resources such as clean water, trees and hills to survive. Without these, human survival will be difficult and a decline in population is likely to happen.
This is part of Outsights 21 Drivers for the 21st Century ™, a future-orientated scan of the 21 key forces shaping this century.
Links