‹ 2012  2020 ›
United States Presidential Election, 2016
November 8, 2016
Nominee
Chris Christie
Hillary Clinton
Robert Downey Jr.
Party
Republican
Democratic
Independent
Home state
New Jersy
New York
New Hampshire
Running mate
Marco Rubio
Gavin Newsom
Dean Barkley
Electoral vote
322
202
14
States carried
33
15 + DC + NE-02
2
Percentage
44.4%
44.3%
10.0%

President before election
Barack Obama
Democrat

Elected President
Chris Christie
Republican
The United States presidential election of 2016 was the 58th quadrennial U.S. presidential election and took place on Tuesday, November 8, 2016. Actor Robert Downey Jr. became discouraged with both Republicans and Democrats and decided to run for president. Meanwhile, Democrats nominated Former Secratary of State Hillary Clinton of New York. Democrats expected to smash the whoever the GOP's nominee was. However, Republicans nominated New Jersy Governor Chris Christe who gained much respect in many typically liberal, northern states which gave Christie a major advantage. Christie had originally narrowly defeated the front runner, young Senator Marco Rubio for nomination. Clinton was in the lead in the Latino vote up until Christie chose Rubio for Vice President. Christie took the lead when he smashed Hillary in all three debates, and when Rubio smashed California leuitenant governor Gavin Newsom (Clinton's VP nominee) in the Vice Presidential debates. The election was close, but Christie pulled out an overwhelming victory.
Republican primaries
Edit
Chris Christie narrowly defeated the front runner, Marco Rubio.
The following were potential candidates who declined to run.
Democratic primaries
Edit
Independent primaries
Edit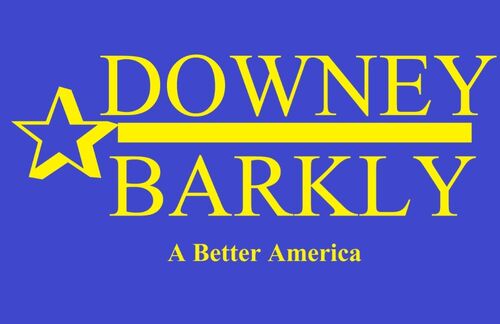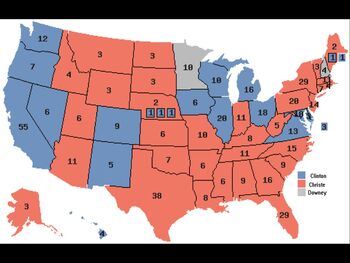 The Red denotes to states won by Christie/Rubio, the Blue denotes to states won by Clinton/Newsom, the Grey denotes to states won by Downey/Barkley.
Ad blocker interference detected!
Wikia is a free-to-use site that makes money from advertising. We have a modified experience for viewers using ad blockers

Wikia is not accessible if you've made further modifications. Remove the custom ad blocker rule(s) and the page will load as expected.