United States Senate elections, 2020 (BLZ World) is under construction. Therefore, please excuse its informal appearance while it's being worked on. We hope to have it completed as soon as possible. Thank you.

Note: Please do not edit or alter this page unless you have permission from the pages' author(s).

Some minor grammar and spelling fixes are allowed if you find any errors of this type.
‹ 2018  2022 ›
US Senate Elections, 2020
36 of the 102 seats, 52 seats needed for the majority
November 3, 2018
First party
Second party
Third party
Leader
Chuck Schumer
John Thune
Gary Johnson
Party
Democratic
Republican
Libertarian
Leader's seat
New York
South Dakota
New Mexico
Last election
48+2 (50)
49
1
Seats won
52+4 (56)
44
2
Seat change
+6
-5
+1

Incumbent Majority Leader
Chuck Schumer
Democratic

Resulting Majority Leader
Chuck Schumer
Democratic
Note: Puerto Rico becomes a state during this election cycle. Both of their seats go to Democrats in this election cycle.
-
-
-
-
-
-
-
-
-
-
-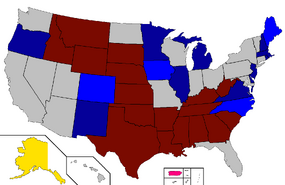 -
-
-
-
-
Special Elections
State
Incumbent
Result
Results
Puerto Rico (C1)
N/A
PDD Gain
Alejandro García Padilla (PDD)

Rubén Ángel Berríos Martínez (PRI)

Puerto Rico (C3)
N/A
PDD Gain
Eduardo Bhatia (PDD)

Ricardo Rossell (NPP)
Note: All PDD politicians caucus with the Democratic Party when representing Puerto Rico in Washington.
Note: John McCain vacated his Arizona seat because of a health problem.
State
Incumbent
Result
Candidates
Alabama
Jeff Sessions (R)
Incumbent re-elected, Republican Hold
Jeff Sessions (R)

(and other minor candidates)

Alaska
Dan Sullivan (R)
Incumbent defeated, Libertarian Gain
Joe Miller (L)

Dan Sullivan (R)

Ray Metcalfe (D)

Arkansas
Tom Cotton (R)
Incumbent re-elected, Republican Hold
Tom Cotton (R)

Bob Ross (D)

Colorado
Cory Gardner (R)
Incumbent defeated, Democratic Gain
Jared Polis (D)

Cory Gardner (R)

Beau Woodcock (L)

Delaware
Christopher Coons (D)
Incumbent re-elected, Democratic Hold
Christopher Coons (D)
Georgia
David Perdue (R)
Incumbent faced in second runoff election
David Perdue (R)

Jason Carter (D)

Allan Buckley (L)

Georgia (runoff)
David Perdue (R)
Incumbent re-elected, Republican Hold
David Perdue (R)

Jason Carter (D)

Idaho
Jim Risch (R)
Incumbent re-elected, Republican Hold
Jim Risch (R)

Dale Hatch (D)

John Charles Smith (L)

Illinois
Richard Durbin (D)
Incumbent re-elected, Democratic Hold
Richard Durbin (D)

Leslie Munger (R)

Kent McMillen (L)

Iowa
Joni Enrst (R)
Incumbent defeated, Democratic Gain

 Michael Fitzgerald (D)

Joni Ernst (R)

Bryan Jack Holder (L)

Kansas
Pat Roberts (R)
Incumbent retired, Republican Hold
Jeff Coyler (R)

Anthony Hensley (D)

Kerry Burt (L)

Kentucky
Mitch McConnell (R)
Incumbent retired, Republican Hold