Ad blocker interference detected!
Wikia is a free-to-use site that makes money from advertising. We have a modified experience for viewers using ad blockers

Wikia is not accessible if you've made further modifications. Remove the custom ad blocker rule(s) and the page will load as expected.
United States Gubernatorial Elections, 2018 is under construction. Therefore, please excuse its informal appearance while it's being worked on. We hope to have it completed as soon as possible. Thank you.

Note: Please do not edit or alter this page unless you have permission from the pages' author(s).

Some minor grammar and spelling fixes are allowed if you find any errors of this type.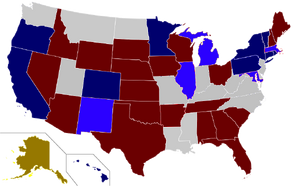 The United States Gubernatorial Elections were held on November 6, 2018. It gave the Democrats a gain of +5 in the Gubernatorial Races, and gave them a majority.
| Party | Seats | Seat Change |
| --- | --- | --- |
| Democratic | 25 | +5 |
| Republican | 24 | -5 |
| Independent | 1 | = |
State
Result
Candidates
Alabama
Incumbent ineligible for re-election, Republican Hold
Luther Strange (R)

Christopher Countryman (D)

Alaska
Incumbent re-elected, Independent Hold
Bill Walker (I)*

Ray Metcalfe (D)

Daniel A. Sullivan (R)

Arizona
Incumbent re-elected, Republican Hold
Doug Ducey (R)*

Ann Kirkpatrick (D)

Arkansas
Incumbent re-elected, Republican Hold
Asa Hutchinson (R)*

Connor Eldrige (D)

California
Incumbent retired, Democratic Hold
Gavin Newsom (D)

Carly Fiorina (R)

Colorado
Incumbent ineligible for re-election, Democratic Hold
Michael Bennet (D)

Jillian Joyce (R)

Connecticut
Incumbent re-elected, Democratic Hold
Dan Malloy (D)*

Dan Carter (R)

Florida
Incumbent ineligible for re-election, Republican Hold
Marco Rubio (R)

Bob Buckhorn (D)

Georgia
Incumbent ineligible for re-election, Republican Hold
Casey Cagle (R)Jason Carter (D)
Hawaii
Incumbent re-elected, Democratic Hold
David Ige (D)*(and other minor candidates)
Idaho
Incumbent ineligible for re-election, Republican Hold
Mike Crapo (R)(and other minor candidates)
Illinois
Incumbent defeated, Democratic Gain