The United Kingdom general election of 2020 was held on 7 May 2020 to elect the 57th Parliament of the United Kingdom. Voting took place in all 600 parliamentary constituencies of the United Kingdom, each electing one Member of Parliament to the House of Commons, the dominant house of Parliament. Local elections took place in most of England on the same day, excluding Greater London. It was the second general election to be held at the end of a fixed term parliament following the enactment of the Fixed-term Parliaments Act 2011, and the first to be held after Scotland voted to leave the United Kingdom in the more recent Scottish Independence Referendum. Due to this, the number of seats in parliament were reduced.
Polls and commentators correctly predicted Jeremy Corbyn's Labour Party to win the general election due to voter dissatisfaction with the Conservative Party and the electorate disliking George Osborne as Prime Minister due to David Cameron resigning in 2018. New party Choice took well in opinion polls, steadily crawling up opinion polls since its founding in 2017. It managed to win 12 seats due to heavy and steady campaigning in selected target seats, mostly feeding of the few remaining Lib Dem seats and an equal share of Tory and Labour seats. The Lib Dems suffered an even worse defeat than the previous election, coming fifth place behind UKIP. UKIP despite loosing much support still managed to gain a seat in South Thanet. The Green Party lost virtually all support built up in the previous election due to the more left-wing policies of Jeremy Corbyn's Labour and he was more likely to win. Thus they thought "ah, why not" and voted for them. Choice is the only mainstream party to have won seats in Northern Ireland due to promising a referendum on Northern Irish independence in the same method of the Scottish Referendum and promising more competent representation of Northern Ireland in parliament than the other less effective Northern Irish parties.
Election Results
| | Party | Leader | Vote % | Seats (change) |
| --- | --- | --- | --- | --- |
| | Labour Party | Jeremy Corbyn | 33.8% | 325 (+3*) |
| | Conservative Party | George Osborne | 31.2% | 254 (-76*) |
| | Choice | Enzo Tyler | 16.7% | 12 (New) |
| | UK Independence Party | Nigel Farage | 7.5% | 2 (+1) |
| | Liberal Democrats | Tim Farron | 6.8% | 2 (-6) |
| | Other Parties | N/A | 3.9% | 5 (N/A) |
↓
325
254
12
9
Labour Party
Conservative Party
C
O
Parliament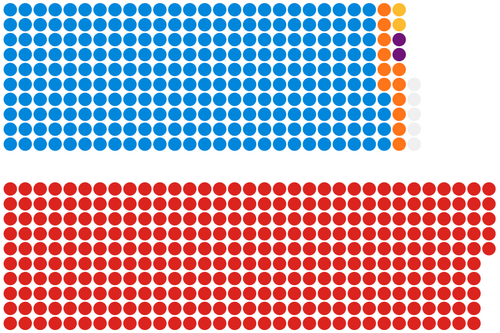 Labour: 325 seats      Conservative: 254 seats      Choice: 12 seats      UKIP: 2 seats      Lib Dem: 2 seats      Others: 5 seats
Ad blocker interference detected!
Wikia is a free-to-use site that makes money from advertising. We have a modified experience for viewers using ad blockers

Wikia is not accessible if you've made further modifications. Remove the custom ad blocker rule(s) and the page will load as expected.