The United Kingdom general election of 2031 was held on 3 January 2031 to elect the 60th Parliament of the United Kingdom. Voting took place in all 600 parliamentary constituencies of the United Kingdom, each electing one Member of Parliament to the House of Commons, the dominant house of Parliament. Local elections took place in most of England on the same day, excluding Greater London.
An early election was called, the previous one being held only a year earlier due to the nation being lead into disaster by sitting Prime Minister Ian Liddell-Grainger with many members of the Conservative Party and their coalition partners Choice leaving the coalition and joining opposition MPs calls for an early election, managing to reach the 2/3rds of the commons to attain it. None of the coalition agreements such as a devolved parliament in England or a Northen Irish Independence referendum had managed to take place in this short parliament, although there were signs that Liddell-Grainger planned to block these changes. The Conservatives also fired Liddell-Grainger from the party. Tim McGann was elected as the new Labour leader, placing the party back to the centre-left to centre, although avoiding being in the centre-right as in the Blair years. This election saw a massive collapse in support for the Conservatives, coming second in terms of seats and only third in terms of votes behind the Liberals. Labour's campaign was also flawed, thus hindering them from gaining a majority along with the fact the party was in power only a year previously. Support for the Liberals grew in this election and ran a sleek campaign, managing to boost them from fourth place in terms of both seats and votes into second place in terms of votes and third in terms of seats. Choice although losing votes, managed to gain three seats. A new party, Eco Green rose to prominence with many left-wing voters choosing them over Labour.
The result was another hung parliament, with Labour leading a coalition with the Liberals much to the delight of the public. This election also marked the first time an MP was elected who had severe mental illnesses.
Election Results
Edit
| | Party | Leader | Vote % | Seats (change) |
| --- | --- | --- | --- | --- |
| | Labour Party | Tim McGann | 31.4% | 287 (+28) |
| | Liberals | Joseph Gillian | 21.9% | 93 (+74) |
| | Conservative Party | Jean Davis | 18.7% | 157 (-121) |
| | Choice | Enzo Tyler | 18.8% | 34 (+3) |
| | Eco Party | Michelle Anato | 4.9% | 2 (New) |
| | Other Parties | N/A | 4.3% | 27 (N/A) |
↓
287
93
157
34
29
Labour Party
Liberals
Conservative Party
Cho
Oth
Parliament
Edit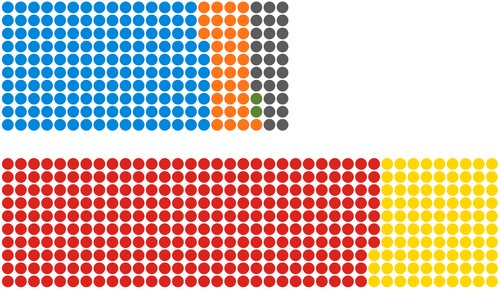 Labour Party: 287 seats      Conservative Party: 157 seats      Liberals: 93 seats      Choice: 34 seats      Eco Party: 2 seats      Others: 27 seats