United Kingdom General Election, 2025 (Unrealistic World)
Comments

0
Share
Ad blocker interference detected!
Wikia is a free-to-use site that makes money from advertising. We have a modified experience for viewers using ad blockers

Wikia is not accessible if you've made further modifications. Remove the custom ad blocker rule(s) and the page will load as expected.

The United Kingdom general election of 2025 was held on 7 May 2025 to elect the 58th Parliament of the United Kingdom. Voting took place in all 600 parliamentary constituencies of the United Kingdom, each electing one Member of Parliament to the House of Commons, the dominant house of Parliament. Local elections took place in most of England on the same day, excluding Greater London. It was the third general election to be held at the end of a fixed term parliament following the enactment of the Fixed-term Parliaments Act 2011, and the second to be held after Scotland voted to leave the United Kingdom in the more recent Scottish Independence Referendum.
Due to Jeremy Corbyn's extremely popular government, Labour managed to increase their majority. The Conservatives were lead by Ian McBradbury, who was even less popular with the public than George Osborne and due to this, they lost even more seats. Choice made minor losses but retained most of their support form the previous election. The Lib Dems rebranded themselves as the Liberals, a hark back to the classic party of the same name. It was lead by Joseph Gillian and they managed to gain three seats. UKIP were completely wiped out in this election due to their lack of relevance in the current political climate.
Election Results
| | Party | Leader | Vote % | Seats (change) |
| --- | --- | --- | --- | --- |
| | Labour Party | Jeremy Corbyn | 36.2% | 339 (+14) |
| | Conservative Party | Ian McBradbury | 29.7% | 243 (-11) |
| | Choice | Enzo Tyler | 15.8% | 10 (-2) |
| | Liberals | Joseph Gillian | 15.4% | 5 (+3) |
| | Other Parties | N/A | 2.9% | 3 (N/A) |
↓
339
243
10
8
Labour Party
Conservative Party
C
O
Parliament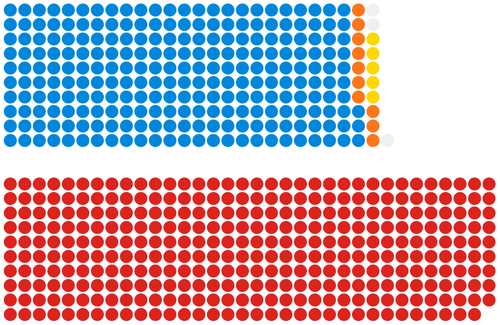 Labour: 339 seats      Conservatives: 243 seats      Choice: 10 seats      Liberals: 5 seats      Others: 3 seats