‹ 2016 Election {{{next_year}}} ›
U.S. Presidential Elections 2020
Nominee
Joaquín Castro
Rand Paul
Party
Democratic
Republican
Home state
Texas
Kentucky
Running mate
Kirsten Gillibrand
Scott Brown
Electoral vote
379
164
States carried
28 + DC
23
Percentage
48%
41%
The 2020 presidential election was the 59th quadrennial election. It was a race between the Democratic nominee Vice President
Joaquín Castro
and the Republican nominee, former Kentucky Senator Rand Paul. The sitting Democratic President
Hillary Clinton
opted not to run for a second term owing to her age and the death of her husband, 42rd President William J. Clinton.
Vice President Castro won the election winning a slim plurality of 48%. He won 379 electoral votes carrying 28 states including Washington DC, Texas and Puerto Rico. Paul got 41% of popular vote with 164 electoral votes carrying 23 states. This marked the first time that the new state of Puerto Rico participated in a federal general election with 5 electoral votes.
Background
Edit
Throughout President Hillary Clinton's term, the country faced a period of faster recovery after the meager gains in the previous 10 years. Unemployment was reduced to below 5% and Clinton's recovery policies were popular among Americans. Her efforts to further expand affordable healthcare including implementing a public option and ending the war on drugs were also popular.
Paul's stances were against all these policies. His argument was that the economy had improved in spite of the Democrat's polices, and Republican small government would boost growth and employments with the aid of across the board tax cuts. He also promised a balanced budget and to turn the deficit into a surplus.
Castro promised to do the same things while continuing to carry out the polices and promises of President Clinton. He also pledged to make a stand against "far-right" Republican policies - despite a more measured tone coming from the Republicans compared to previous years. However, a growing weariness from the public towards Democratic leadership, Obama "deja vu", and new-found Republican moderation resulted in a general public apathy towards Castro's candidacy.
Paul's biggest challenge however was hampered by a conservative split in the Republican party. He had been simultaneously dubbed by the media as the inheritor of the "Christie wing" of the Republican party following Christie's death from a massive heart attack in 2019, but also demagogued as a radical isolationist Libertarian. As the remaining runner up from the previous Republican primary he had been expected by many to be the presumptive Republican nominee. However the party refused to coalesce around him. When Governor of Kansas Kris Kobach pursued a third party run focused on immigration his support collapsed by 8 points.
Nominations
Edit
Democratic Nomination
Edit
Democratic Candidates
Joaquín Castro (45), Vice President (Nominee)
Cory Booker (51), Senator from New Jersey
Kirstin Gillibrand (53), Senator from New York
Michael Bennet (55), Senator from Colorado
Andrew Cuomo (62), U.S. Attorney General and former Governor of New York
Russ Feingold (67), U.S Senator from Wisconsin
Martin O'Malley (57), Secretary of Homeland Security and former Governor of Maryland
Christina Moriarty (69), business owner
When President Hillary Clinton declined running for a second term, many assumed Castro would be her natural successor. However when she continually abstained from endorsing him many Democrats took this as a cue that the nomination was up for grabs. New Jersey Senator Cory Booker and New York Senator Kirstin Gilibrand competed against each other as early favorites, but Castro's popularity held with a populist come-from-behind campaign that took the rest of the primary by storm. Gilibrand was leading polls in Iowa until the day of the caucus when Castro won contributing to echos of the 2008 primaries. When Gilibrand dropped out after Super Tuesday, she endorsed Castro, as did Booker when she dropped out in late July after the California primary, long after the writing was on the wall. After winning the nomination Castro selected Kirstin Gillibrand as his running mate.
Republican Nomination
Edit
Republican Candidates
Rand Paul (57), former Senator from Kentucky (Nominee)
Kris Kobach (54), Governor of Kansas
Jon Huntsman Jr (60), former Governor of Utah
Tom Graves (50), Senator from Georgia
Tom Cotton (43), Senator from Arkansas
Ted Cruz (49), former Senator from Texas
Dwayne Johnson (48), actor from California
Former New Jersey Governor Chris Christie had long been considered the inevitable 2020 Republican nominee ever since losing out the nomination to Donald Trump in 2016. Since many thought that only his unique persona and style could defeat Clinton, his premature death in 2019 after a massive heart attack therefore came as a great shock to the party.
With President Hillary Clinton's declaring her intention not to run for a second term, a dejected view of 2020 was turned into a golden opportunity. Jon Huntsman positioned himself to be Christie's successor emphasizing the need for a more moderate party but a sense of deja-vu among the Republican primary electorate ("I am not Mitt Romney" he announced in the first debate), however the vast majority of Republican activists soundly refused to embrace him.
In the years leading up to 2020 Rand Paul had kept himself in the national spotlight through his criticisms of the government's military and surveillance overreach and the degradation of civil liberties. Massively popular with the Libertarian wing and his lack of interest in polarizing social issues making him also appealing to moderates he became the de facto alternative to Hunstman.
However, Republican divisions once again came to the forefront when Kris Kobach, a popular figure in the conservative grassroots was drafted into the race. His social conservatism and his anti-immigration rhetoric kept the competition close.
Though he had an early strong showing, Tom Cotton dropped out before the primaries began. Kobach won the Iowa Caucuses with Graves in second and Huntsman in third. Paul won the New Hampshire primaries and Graves won South Carolina and Paul Florida. At this point Huntsman dropped out and endorsed Paul who eventually won the nomination, picking Tom Graves as his running mate in an effort to win over supporters of Kobach.
General Election
Edit
Paul's ambivalence or soft support of social issues such as same-sex marriage, abortion and marijuana legalization, coupled with his defense of civil liberties gave him a lot of cross-over appeal into the Democratic youth and activist base. However what could have been a winning coalition was stymied by conservatives. After being spurned by the party establishment, Kobach threatened a third party run, and eventually carried out the threat with his "Conservative" party, which greatly contributed to Paul's loss though failing to win any electors in the electoral college. After the election Kobach was blamed for the Republican loss, especially the loss of previously staunch Republican state Texas - though it was also attributed to last minute campaigning on President Clinton's part, who remained extremely popular, as well as support from Castro's twin brother, Texas Governor Julián Castro.
Take a small poll on the 2020 election
This poll will help give an idea of who will be the 2020 president.
https://www.surveymonkey.com/r/BSNN568
*results of this poll will be posted soon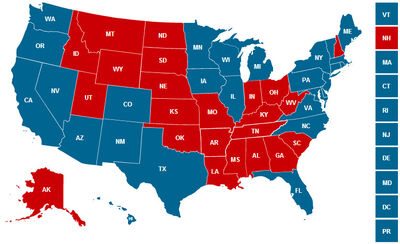 Ad blocker interference detected!
Wikia is a free-to-use site that makes money from advertising. We have a modified experience for viewers using ad blockers

Wikia is not accessible if you've made further modifications. Remove the custom ad blocker rule(s) and the page will load as expected.