Votran - Volusia County Transit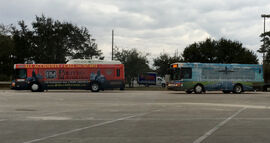 Routes
Route
Name
Type
Headway

(in Min)

Hubs
1
North A1A
Local
60
Transfer Plaza
3A
North US 1
Local
60
Transfer Plaza
3B
North US 1
Local
60
Transfer Plaza
4
South US 1
Local
30
Transfer Plaza,

Dunlawton Square

5
Center St
Local
60
Transfer Plaza
6
North Nova Road
Local
60
Transfer Plaza,

Ormond Beach Walmart

7
South Nova Road
Local
60
Transfer Plaza,

Dunlawton Square

8
Halifax Ave
Local
60
Transfer Plaza
10
Volusia Mall/Halifax

Medical Center

Local
30
Transfer Plaza,

Volusia Mall

11
Volusia Mall/Daytona

Yellow Line Station

Local
60
Transfer Plaza,

Volusia Mall, Daytona

Yellow Line Station

12
Clyde Morris Blvd
Local
60
Transfer Plaza,

Dunlawton Square

15
Orange Ave
Local
30
Transfer Plaza
17A
South A1A /

Ponce Inlet

Local
60
Transfer Plaza
17B
South A1A /

Dunlawton Ave

Local
60
Transfer Plaza,

Dunlawton Square

18
US 92 / Williamson
Local
60
Transfer Plaza,

Daytona Beach International

Airport, Ormond Beach Walmart

19
Granada / A1A
Local
60
Transfer Plaza, Ormond Beach

Walmart

20
DeLand / Orange City
Local
30
DeLand Walmart, DeLand ITF,

Market Place Transfer Ctr

21
Deltona

(Counter-clockwise)

Local
60
Market Place Transfer Ctr,

DuPont Lakes, Osteen Walmart

22
Deltona

(Clockwise)

Local
60
Market Place Transfer Ctr,

DuPont Lakes, Osteen Walmart

23
DeBary/Ft. Smith
Local
60
Market Place Transfer Ctr,

Saxon Park & Ride/Yellow Line

24
Pierson/Seville
Local
120
DeLand Northgate Plaza,

DeLand Walmart

25
DuPont Lakes
Local
60
Market Place Transfer Ctr,

DuPont Lakes

31
US 17/92 / DeBary

SunRail Station

Local
30 (peak),

60 (off-peak)

DeLand Northgate Plaza,

DeLand ITF, DeBary SunRail

Green/Yellow Line Station

32
Deltona Plaza / DeBary

SunRail Station

Local
60
Deltona Plaza, Saxon Park &

Ride/Yellow Line, Market Place

Transfer Ctr, DeBary SunRail

Green/Yellow Line Station

33
DuPont Lakes / DeBary

SunRail Station

Express

Express
60 (peak only)
DuPont Lakes, Saxon Park & Ride/

Yellow Line, Market Place Transfer

Ctr, DeBary SunRail Green/Yellow

Line Station

34
US 92 / Daytona Yellow

Line Station

Local
60
Transfer Plaza, Volusia Mall, Daytona

Beach International Airport, Daytona

Yellow Line Station

40
Port Orange / New Smyrna
Local
60
Dunlawton Square, New Smyrna Beach
41
New Smyrna / Edgewater/Oak Hill
Local
60
New Smyrna Beach
50
New Smyrna Beach (Beachside)
FLEX
New Smyrna Beach
51
New Smyrna Beach (Mainland)
FLEX
New Smyrna Beach
52
Ormond Beach
FLEX
Ormond Walmart
53
Holly Hill
FLEX
Based from Holly Hill Shopping Ctr
54
South Daytona
FLEX
Based from Beville Walmart
55
Port Orange
FLEX
Based from Dunlawton Square
56
DeLand
FLEX
Based from DeLand Walmart and

DeLand ITF

57
Orange City
FLEX
Based from Market Place Transfer Ctr
58
DeBary
FLEX
Based from DeBary SunRail Green/Yellow Line
60
East/West Connector - US 92
Local
60
Transfer Plaza, Volusia Mall, DeLand

Northgate Plaza, DeLand Walmart

61
East/West Connector - SR 44
Local
60
DeLand ITF, New Smyrna
Hubs
Transfer Plaza
Ormond Walmart
Dunlawton Square
New Smyrna Beach
DeLand Northgate Plaza
DeLand Walmart
DeLand Intermodal Transfer Facility (ITF)
Market Place Transfer Center
Osteen Walmart
DuPont Lakes
Daytona Beach Yellow Line Station
Saxon Blvd Park & Ride / Yellow Line Station
DeBary Green/Yellow Line Station
Fleet
Big Tree Garage
Total: 58
Make
Model
Year
Length

(in FT)

Fleet Numbers
Propulsion
Gillig
Phantom
2000
35
1201-1206,1210-1213, 1216

(11)

Diesel
Gillig
Phantom
2003
35
1301-1303

(3)

Diesel
Gillig
Low Floor
2006
35
1601-1606

(6)

Diesel
Gillig
Low Floor
2008
35
1701-1709

(9)

Diesel
Gillig
Low Floor
2008
29
1801-1802

(2)

Diesel
Gillig
Low Floor
2010
35
1901-1903, 1906, 1909

(5)

Diesel/Electric

Hybrid

Gillig
Low Floor
2012
35
2002-2003

(2)

Diesel/Electric

Hybrid

Gillig
Low Floor
2013
35
2103

(1)

Diesel/Electric

Hybrid

Gillig
Low Floor
2014
35
2201-2204, 2206-2209

(8)

Diesel
Gillig
Low Floor
2015
35
2301-2311

(11)

Diesel
Rhode Island Garage
Total: 24
Make
Model
Year
Length

(in FT)

Fleet Numbers
Propulsion
Gillig
Phantom
2000
35
1207,1209, 1214-1215

(5)

Diesel
Gillig
Low Floor
2003
29
1401-1408

(8)

Diesel
Gillig
Low Floor
2010
35
1904-1905, 1907

(3)

Diesel/Electric

Hybrid

Gillig
Low Floor
2012
35
2001, 2004-2006

(4)

Diesel/Electric

Hybrid

Gillig
Low Floor
2013
35
2101-2102, 2104

(3)

Diesel/Electric

Hybrid

Gillig
Low Floor
2014
35
2205

(1)

Diesel
Future Fleet:
Make
Model
Year
Length

(in FT)

Fleet Number
Propulsion
Gillig
Low Floor
2016
29
2401-2405

(5)

Diesel
Gillig
Low Floor
2017
35
2501-2511

(11)

Diesel/Electric

Hybrid

Gillig
Low Floor
2017
40
2512-2516

(6)

Diesel
Ad blocker interference detected!
Wikia is a free-to-use site that makes money from advertising. We have a modified experience for viewers using ad blockers

Wikia is not accessible if you've made further modifications. Remove the custom ad blocker rule(s) and the page will load as expected.