2010s
Withdrawal from Afghanistan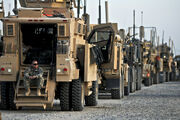 In early 2013, President Barack Obama begin making plans to withdrawal troops from Afghanistan and Saudi Arabia, after the unintentional burning of the Quran by US forces, and the massacare of 16 civilians by an U.S Army staff sergeant.
The East, mostly China and Russia, view the withdrawal as an show of "weakness" in America, while the West viewed it as an tatical and necessary goal to bring peace to the Middle East.
Russian President Vladmir Putin stated in an press conference, "The US withdrawal from Afghanistan was an peaceful solution to ending the War in Afghanistan, and hopes that this withdrawal will bring peace to the Middle East."
Chinese President Hu Jianto stated: "This is an very good decision made by President Obama as it brings to the nearly 11 year long war that took the lives of so many. We, the people of the People's Republic of China, hopes that this would bring benefits to the people of Afghanistan, the US, and the rest of the world."
Ad blocker interference detected!
Wikia is a free-to-use site that makes money from advertising. We have a modified experience for viewers using ad blockers

Wikia is not accessible if you've made further modifications. Remove the custom ad blocker rule(s) and the page will load as expected.