The Islamic Caliphate

2024 – 2055

Motto

"لا إله إلا الله , محمد رسول الله " "There is no god but God: Muhammad is the Messenger of God"




Capital
Jerusalem
Official languages
Arabic, Turkish, Azeri, Farsi, Russian, Uyghur
State ideology
Islamic Empire
Government
Caliphate
Head of state


- 2026 –

Caliph


Khaled Mesh'al

Head of government


-2033

Prime Minister


Ismail Haniya

Area
(2033)
Population
1.5 Billion (2033)
Currency
Dinar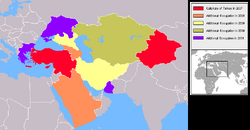 Ad blocker interference detected!
Wikia is a free-to-use site that makes money from advertising. We have a modified experience for viewers using ad blockers

Wikia is not accessible if you've made further modifications. Remove the custom ad blocker rule(s) and the page will load as expected.