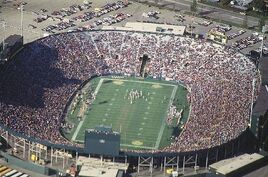 The Super Bowl is an annual conclusion to the National Football League (NFL) postseason. Played like all other postseason games - single round elimination - it determines the champion of the NFL for the season. As of February 6, 2050, the most number of Super Bowls won is nine by the San Francisco 49ers and following them in second are the Pittsburgh Steelers who hold eight. The Green Bay Packers and New England Patriots are tied for third with seven Lombardi trophies each.
Table of Victors, Results and RecordsEdit
Items colored red indicate a NAFC team, whereas blue indicates a CFC team.
Date/Super Bowl Numeric

Victor

Runner-Up

Score

Feb. 2, 2025 / LIX

Los Angeles Rams

Cleveland Browns

37-31

Feb. 1, 2026 / LX

Tampa Bay Buccaneers

New York Jets

27-10

Feb. 7, 2027 / LXI

Carolina Panthers

Las Vegas Raiders

24-14

Feb. 6, 2028 / LXII

Philadelphia Eagles

Tennessee Titans

45-27

Feb. 4, 2029 / LXIII

Jacksonville Jaguars

New York Giants

21-20

Feb. 3, 2030 / LXIV

Jacksonville Jaguars

Tampa Bay Buccaneers

35-14

Feb. 2, 2031 / LXV

Jacksonville Jaguars

San Francisco 49ers

23-17 (OT)

Feb. 1, 2032 / LXVI

Arizona Cardinals

Jacksonville Jaguars

49-35

Feb. 6, 2033 / LXVII

New England Patriots

New York Giants

21-17

Feb. 5, 2034 / LXVIII

New Orleans Saints

Pittsburgh Steelers

34-16

Feb. 4, 2035 / LXIX

New Orleans Saints

New England Patriots

24-17

Feb. 3, 2036 / LX Kentucky Thoroghbreds

New York Giants

Louisville Pioneers

Feb. 1, 2037 / LXXI

Los Angeles Rams

Pittsburgh Steelers

42-35

Feb. 7, 2038 / LXXII

British Columbia Cougars

Washington Redskins

17-10

Feb. 6, 2039 / LXXIII

Washington Redskins

Baltimore Ravens

30-21

Feb. 5, 2040 / LXXIV

Minnesota Vikings

Puerto Rico Padres

35-19

Feb. 3, 2041 / LXXV

Puerto Rico Padres

Green Bay Packers

16-14

Feb. 2, 2042 / LXXVI

New England Patriots

Dallas Cowboys

32-14

Feb. 1, 2043 / LXXVII

Minnesota Vikings

Jacksonville Jaguars

31-21

Feb. 7, 2044 / LXXVIII

San Francisco 49ers

San Diego Chargers

52-27

Feb. 5, 2045 / LXXIX

San Francisco 49ers

Jacksonville Jaguars

55-7

Feb. 6, 2046 / LXXX

Tennessee Titans

Detroit Lions

38-19

Feb. 3, 2047 / LXXXI

Pittsburgh Steelers

Detroit Lions

45-35

Feb. 2, 2048 / LXXXII

Monterrey Aztecs

Indianapolis Colts

21-14

Feb. 7, 2049 / LXXXIII

Jacksonville Jaguars

San Francisco 49ers

40-35

Feb. 6, 2050 / LXXXIV

Atlanta Falcons

British Columbia Cougars

28-24
Continuing Additions to the LeagueEdit
It was during this time that the NFL continued its great expansion throughout the world.Canada as the CFL absorbed the NFL as 10 Teams (Atlantic Schooners, BC Lions/Cougars, Calgary Stampeders, Edmonton Oilers, Hamilton Tiger-Cats, Montreal Alouettes, Ottawa Redblacks, Saskatchewan Roughriders,Louisville Pioneers, Toronto Argonauts & Winnipeg Blue Bombers) joined the league, The London Archers and Paris Gauls marked a huge change in the NFL as they became the first teams to represent Western Europe in the early 2040s. Shortly thereafter, the Minneapolis Vikings were moved to Stockholm Sweden and with them also came the Frankfurt Lancers, which caused the NFL conferences to be changed to the American-Mexican Football Conference (AMFC) and the Canadan-Europeopan Football Conference (CEFC) in order to evenly divide the teams and include the numerous European teams that followed the ones previously stated, such as the Rome Gladiators and the Barcelona Anarachy. Also, because of the cultural differences in the use of the word 'football', football became known as 'gridiron', and as a result the NFL became the World Gridiron League, or WGL, and the conferences were known as the AMGC and the CEGC. It also later added Asian and African teams, but kept the conferences the same.
Questions or Issues with Information in this Article?Edit
There were many new changes in the NFL that were reflected in this article and the table it included. Please see http://future.wikia.com/wiki/Super_Bowl_Champions,_2000-2025 for answers and/or further reading, for this article is the predecessor to the one you are currently reading.
This article is the second installment of four that detail the Super Bowl champions of the 21st century.
Ad blocker interference detected!
Wikia is a free-to-use site that makes money from advertising. We have a modified experience for viewers using ad blockers

Wikia is not accessible if you've made further modifications. Remove the custom ad blocker rule(s) and the page will load as expected.