This is the second installment in the Standard Future Map Game series, and another map game by the community for the community.
Rules
Related Pages
Nation Pages
Wars and Treaties
Other Pages
Archives
Map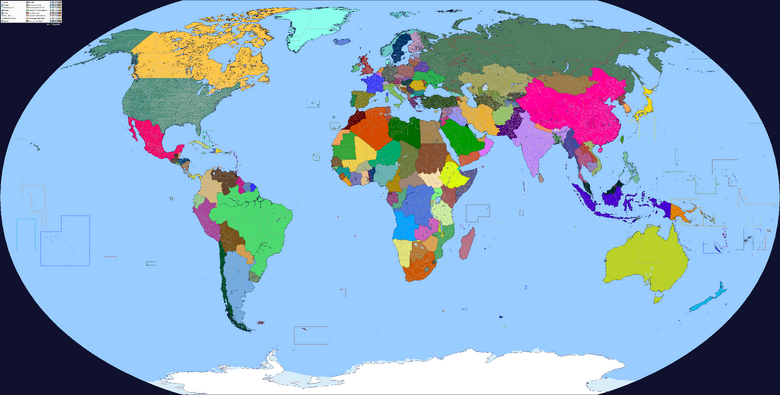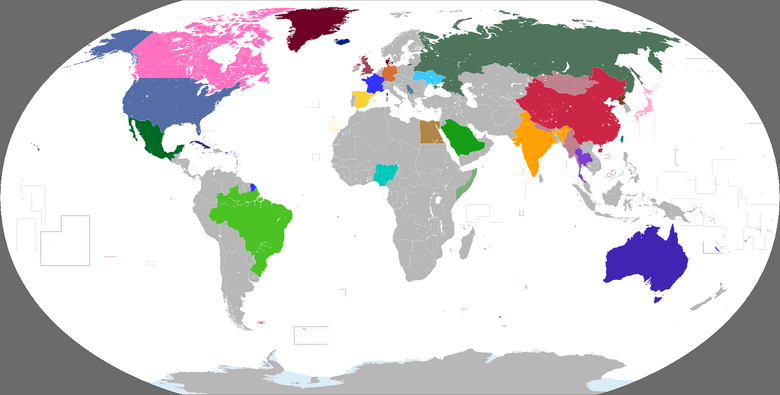 Nations
Mods
Gameplay
2019
North Korea begins denuclearization and adopts a more China-like political and economic policy. The "Hermit Kingdom" is no more, as censorship is slightly loosened and Western companies start setting up shop in Pyongyang.
The trade war between China and the United States escalates to a point where some begin to see a potential Second Cold War in the near future.
ISIS and Al-Qaeda affiliate groups, and other Islamist extremist groups grow in power in Southeast Asia, specifically in Myanmar's Rakhine State and the region of Pattani in Thailand.
The Venezuelan government teeters on the brink of collapse, as pro-democracy groups begin arming themselves, and the economy continues to collapse.
Ukraine: We hold both our presidential election and parliamentary elections, which are held both every 5 years. Incumbent independent President Petro Poroshenko has lost the presidential election to former Prime Minister Yulia Tymoshenko of the Fatherland Party; with the ballot being 57.8% to 42.1%. In the parliamentary elections, the incumbent government parties of the Poroshenko Bloc and People's Front lose 83 and 22 seats respectively, with 100 of them going to Tymoshenko's Fatherland Party and 5 of them going to the Opposition Bloc. The government parties seats are thrown back to 114, while Fatherland and Opposition both gain to 168 seats. The Self Reliance Party, Revival, and 7 independents aligns itself with Fatherland and Opposition bringing it up to 226 Seats. It was thought that Poroshenko might fight the election results, but eventually conceded the race to Tymoshenko. She was inaugurated on April 30th in front of the Ukrainian parliament; while also becoming the first woman president in Ukrainian history. Official actions by the new Ukrainian government will begin next year.
2020
Several suicide bombs explode in Shwedagon Pagoda in Yangon, killing 607 and making it the deadliest terrorist attack in Southeast Asian history. ISIS claims responsibility (as it likes to do for every terrorist attack under the sun). Soon after, the Arakan Rohingya Salvation Army (ARSA) begin attacking Sittwe, the capital city of Myanmar's Rakhine State, capturing the city after a deadly 3-month long siege with heavy losses and atrocities commited by both sides.
Bernie Sanders is elected President of the United States in a near-landslide election, carrying 340 electoral votes and nearly three-quarters of the popular vote. He immediately reverses Trump's tariffs that have been hurting the American economy and halts construction on Trump's wall (around 200 miles of wall had already been built).
The Syrian Civil War concludes with a victory for Bashar al-Assad and the Syrian Government.
Skirmishes between the Venezuelan army and well-armed guerilla forces begin in the southern half of the country.
Japan: In January, the departure tax for both citizens and foreigners begins. In June, the referendum to revise Article 9 does not pass as 75% of the votes in the public voted against the changes. Shinzō Abe's approval rating also drops as a result, and calls for early elections next year in March. With the reform and newer scandals coming to light, the LDP also sees approval ratings drop. With that, the Liberal Democratic Party announced a leadership election this September. The leadership elections take place, and see Shinzō Abe voted out, and Fumio Kishida elected as the president of the Liberal Democratic Party and also succeeding as the Prime Minister of Japan. Sony announces the PlayStation 5 to be released sometime next year. Bandai Namco Entertainment also announces an anime based on Idolmaster Million Live!.
Canada: A new, young but intelligent political adviser has been appointed to the PM's Cabinet. This continues the trend of more and more young politicians in Canada representing a new type of politics, one devoted to answering to voters, one devoted to nurturing the talents of the young generation and making Canada the leader of the progressive world. Previously mentioned political adviser is the mastermind behind the newly created Voter Communication Unit (VCU), headed by yet another young official. (To be fair young here means late 20s to 30s so their not like fresh-grads or anything). The main function of the VCU is to communicate to voters by explaining political actions, bills, as well as communicating daily news about the going-ons of government via social media. Additionally, politicians in Trudeau's party are encouraged to regularly engage in social media as a medium to engage with voters. In other news, a delegation has been sent to Silicon Valley and Paris respectively to learn about how to create and manage a successful science and business park. In domestic policy, corporate tax for tech companies have been lowered to encourage startups as well as entice already well-established companies. Canada puts itself as a tech hub of the 21st century. Last but not least, the city of Bathurst in New Brunswick is declared a special economic zone meant to encourage shipping and manufacturing.
Brazil: We begin building Brazil's reputation as the tech and business hub of South and Latin America by lowering the corporate tax by 5% to attract both small startup companies and larger, more established companies to the country, as well as subsidizing tech startups for their first 3 years. It is also declared that Santos, being a port city in close proximity to Brazil's and South America's largest city, Sao Paulo, is a special economic zone, as well as the site of Brazil's first designated science and business park. The corporate tax within Santos's boundaries will be lowered to just 2%, on top of other incentives meant to encourage free trade, new companies, and the relocation of larger companies, and ultimately, the establishment of Brazil's tech business. We also extend an millitary alliance and free trade agreement offer to Portugal, Angola and Mozambique, citing our shared language and cultural heritage, as well as potential economic benefit [Mod Response Needed]. We also begin funding and equiping the police force more and paying police officers higher wages, in an effort to cut down on crime. Secret funding and arming of the Venezuelan rebels continues. President Geraldo Alckmin expresses a desire for a Brazillian Space Program, but the general population currently opposes this, as Brazil has other problems to solve first.
2021
Most of Rakhine State is now under control of ARSA (which earlier this year swore allegiance to Islamic State and rebranded themselves the Islamc State of Arakan, or ISA). On the other side of the border in Bangladesh, ARSA/ISA has been radicalizing and recruiting the persecuted amd disenfranchised Rohingya in the overcrowded refugee camps, and their army is estimated at nearly 90,000 troops. Terrorist attacks in Southeast Asia, mainly in Myanmar and Thailand, become commonplace.
The successful Ukranian attack of Donetsk International Airport reignites the Donbass War, and a sizeable Russian force of around 20,000 troops, 12 tanks and 2 aircraft amass in Crimea, ticking off fears of war.
Kurdistan declares independence from Iraq. After a few victories by the Kurdish forces against the Iraqis, the Iraqis decide to leave Kurdistan alone, and it is recognized by 89 UN member states.
Facebook ,facing more privacy scandals, namely the leaking of data in 100 million Facebook accounts to hackers potentially working for Russia, is bought out and merged with Google. CEO Mark Zuckerberg is fired.
Cuba: The first presidential election are held since the overthrow of the communist government and the leader of the socialist party wins by a landslide. The newly elected president promises the establishment of a full democracy, the improvement of local infrastructure, the abolishment of a planned economy and establishing a mixed economy. Next year, parliamentary elections will be held. The president condemns the violence in Southeast Asia and fears for an escalation of the Ukrainian conflict, the government recognizes Kurdistan as an independent nation.
2022
Stability in Myanmar reaches an all time low, as radical groups execute regular attacks on the military. Government sites have also been vandalised by rebel hackers, who suspiciously seem to have been trained by experts in their craft. The Myanmarese government requests for Chinese military support for both physcial security and cybersecurity. Anti-Islam sentiment in Myanmar and Thailand also reaches new records, prompting minor squabbles between Thais and Malays down south.
Russia amasses their military on the Ukrainian border further, with analysts claiming that "Russia could begin a march onto Kiev at any time in one go." An increase in traffic from Western Europe in the Bosphorus Strait sparks suspicions that NATO is planning on an intervention the moment the Russians come knocking.
Qatar accuses the United Arab Emirates of funding Somaliland and potentially Puntland rebels in Somalia. This comes after a few backwater deals between the latter few that would seemingly allow Emirate troops to be stationed in port bases in their respective provinces and undermine Somali sovereignty in the long run. Somalia has responded violently towards this, particularly with their shift towards Iran and Turkey. The UAE expects Saudi Arabia to do something about the Somalian Question, but nothing has surfaced yet.
The United States is the first nation to plant their flag on Mars via a robotic arm. Other countries are expected to follow, especially Russia, China, Japan, Australia and a potential joint program by the EU.
Japan: Despite a proposal towards the boosting the budget of JAXA in light of increasing interest in space exploration; it goes largely ignored by both Prime Minister Fumio Kishida and the Liberal Democratic Party. The Japanese economy begins to show signs of stagnation again in part of a few of Fumio Kishida's polices not working as well as intended. Aqours hold their final live show in June, and a new Love Live! idol group is formed in November to continue the franchise. The Super GT begins making plans on requiring electric/hybrid cars and the eventual ban on fossil-fuel based cars for the series; with further information to arrive soon.
Cuba: In the legislative elections, the Socialist party also wins by a landslide. "Project Havana" is started, it's a project to improve and build new infrastructure in Havana: New roads, schools, flats, ports are built. It's assumed the project will be finished in 2024. The planned economy is abolished and Cuba slowly goes to a mixed economy.
Canada: This year, much effort is put into redesigning Canada's energy production, energy distribution, and energy consumption systems. The government announces a binding national goal of achieving a national grid powered 100% by Renewable Energy by 2028. Immediately, plans are put into place by provincial governments to decommission fossil fuel power plants and replace them with renewable alternatives such as hydroelectricity, starting with those that pollute the most. In addition to that, Canada is pioneering an effort to integrate Artificial Intelligence into a newly networked national grid that will be able to actively manage and divert electrical energy to areas that need it the most in real time to severely reduce the amount of energy wasted by over production. This will be coupled with an initiative encouraging private production of energy by buying electricity back into the grid from private energy producers. In separate news, preliminary trials of electric car infrastructure have begun in Ontario with the aim of ultimately banning fossil fuel cars by 2050. To help ease citizens off fossil fuel cars and cars in general, the autonomous taxi trials by companies such as Google, Airbus, and Uber are given clearance in Canada and if the results are promising, they may be given licence to operate by 2024. The implications of large fleets of autonomous transport for hire is to make personally owned vehicles obsolete. It could be that the future of independent transport is fleets of autonomous cars. This fits wonderfully with the rising trend of non-car ownership among the younger working population. Public transportation also sees much revamping with AI playing a prominent part in increasing efficiencies and decreasing costs.
Saudi Arabia: King Muhammed Bin Salman creates the "Make Arabia Green Again" program, aiming to reforest Arabia by creating artificial oasis's and eventually linking them up. It is expected to be completed in 2070. Neom sees further development and construction. In terms of the Somali question, Saudi Arabia questions the need to free Somaliland officially when they already have full on autonomy and the need for an armed struggle. Nevertheless, due to the diplomatic rift of Qatar, Crown Prince Muhammed Bin Salman says, "the Somali people will speak, not the Qatari people." Fahd tanks continue production. Meanwhile, Arab Legion volunteers travel to Libya, continuing to fight for Haftar's forces, and bombing the sh*t out of Tripoli based military targets. The Arab Legion teams up with the Libyan green resistance, and Muhammed Bin Salman shocks the arab world by saying that the Nato intervention in Libya was the biggest mistake of the 2010s. A common Arab Market is planned, so envoys are sent to the Gulf Monarchies (minus qatar) Egypt, the Syrian Arab Republic, Jordan, Lebanon, Iraq offering membership (response). A common Arab currency, the "Arab Diner" is proposed. Following that, a Pan Arab Political Union might be formed. World Diplomacy in UN Human Rights Panel: Should Ukraine attempt to fight a war with Russia, a global intervention be set in place to stop the Crisis. The people are afraid Ukraine has gone insane.

Mod: Jordan, Lebanon, and Iraq accept the offer. Syria respectfully declines as they are focusing on fixing the national economy first. The UN has passed a resolution stating that sanctions will be placed on any aggressor towards internationally recognised bodies.
2023
In a UN General Meeting, 122 member states voted to recognise the independence of Somaliland, including the P5, and is now officially a sovereign state. This has been met with fierce resistance from Mogadishu.
The effects of the European Migrant Crisis begin to slow due to the resolution of the Syrian Civil War a few years back, and migrant centers are less cramped with Levantines, replaced by more Sub-Saharan Africans.
Fearing instability in East Africa, Kenya, Tanzania, Uganda, Rwanda and Burundi begin talks on unification into an East African State.
Japan: JR Hokkaido begins plans of expanding the Hokkaido Shinkansen all the way to Asahikawa. The popularity of Love Live! begins to wane a bit, while Bandori begins to surpass its popularity. The LDP and Fumio Kishida raises the Self-Defence Forces budget a bit, with some going towards buying new equipment. This action contributes the approval rating for the LDP to drop to an average of 27%, as pacifism is more preferred among the population and are not keen on the continued focus on the SDF, especially since Abe's attempts to revise Article 9 and the fact there are more important issues to deal with. With continued unpopularity, Prime Minister Fumio Kishida calls for elections in August of next year. Meanwhile a few companies begin plans for more automation due to not enough jobs being filled in.
Saudi Arabia: Neom continues construction. King Mohammed Bin Salman continues to promote Arab-Islamic nationalism and the sciences. A high speed network is planned to link all of the major Saudi cities, with Dubai-Style buisness sectors boosting each. Meanwhile in what currently has been built in Neom a hyperloop style system is proposed. "Make Arabia Green Again" continues, with good agriculture established, with Lemons, limes and cucumbers cultivated for a growing agricultural sector. Also planned to to create verticle farms in Neom to really boost our agricultural sector. Meanwhile in solution to water issues, the water conservation project in modeled off of Israels, and desailination plants are built. The Arab Islamic legion continues to help haftars forces in Libya. Somaliland is recognized as it is the will of the people. Seeing aggression from the government in Mogadishu towards Somaliland and a growing Al Shabab Terror Threat, we invade Somalia, to try to force the current gov to resign. Also fears are Iran will infiltrate the Mogadishu gov.

Yemen (under Saudi Wings): Al Islah, Socialist Party, and Ansar Allah unite to oppose the ruling General People's Congress in the elections. That tyrant everyone hates Hadi is ousted, often blamed for throwing Yemen into chaos by refusing to give fair elections earlier. Abdulraham Al-Saqqaf is elected President, and Yemen begins to rebuild using a "small lone" of 10 billion saudi dollars to begin reconsturction. A truth and reconiliation committee is formed. Plans are made to turn Yemen into an investment economy, like the UAE, the get it off of oil reliance. Schools are rebuilt with Saudi help, and a few modern hospitals and many makeshift clinics are built. The Arab Islamic Legion assists in rebuilding.

 United States: The government begins investing more in the impoverished nations of Africa, in order to secure trade deals and stakes in natural resources. As part of the Mars Initiative, the Falcon II is launched, sending 200 colonists to Mars, where the colony has been prepped by automatons sent earlier. NASA also begins work on a second colony to be ready for deployment after the first Mars Initiative. We firmly recognise the independence of Somaliland, and will gladly sign a few trade deals to strengthen the new country. We praise Saudi Arabia for their wise efforts, and let them know the United States is standing with them on all matters in the Middle East excluding Israel. Research on AI is ongoing, with plans to implement them in national infrastructure ongoing.
2024
Myanmar continues to face the full heat of multiple insurgencies, and the cracks are beginning to show in the government. Representatives of the Union Solidarity and Development Party are noted to oppose most actions taken by the current government, citing they are not effective enough to counter this terrorism, and that the people are bothered by the fact that Myanmar as a nation cannot defeat "squatters in the jungle" even with the likes of the Chinese military.
With international support and a wave of fresh elections, the East African Union is formed.
Somalia verbally attacks the leadership of Saudi Arabia, denouncing them as "violators of Somali sovereignty". Meanwhile Iran supports Somalia by sending them more "supplies" and such.
Japan: Elections are held in August. The Liberal Democratic Party sees another decline in seats, now sitting at 81. Komeito also falls from 29 seats to 20 seats. The Constitutional Democratic Party, also in part of a stronger campaign, gains 93 seats bringing the party to a total of 204 seats. The Democratic Party for the People gains 14 seats, now having 103 seats. Yukio Edano from the Constitutional Democratic Party is elected Prime Minister. Shortly after being elected, a portion of the budget from the Self-Defence Forces towards other areas such as infrastructure and a few also going to JAXA. New economic plans and policies are being proposed, though faces some opposition from Democratic Party for the People due to some differences. The Super GT series announces a new rule stating that all car manufactures entering must have the cars run on electric/hybrid with environmentally-friendly fuels, an this rule will begin to enter force starting in the 2027 season.
China: The PRC is to bypass the government of Myanmar in any further aid to the country, instead dealing with the military and police directly. Funding for many Insurgent groups that are splinters of the old Burmese Communist party is to be secretly further increased. Chinese agents are also to contact several generals and leading military leaders discontent with their crumbling government. The Chinese Military operation is to be increased to 120,000 troops however only the minimum number of these forces are sent to Arakan state and the offensive is temporally ceased. The majority of these forces are sent to reinforce existing garrisons of cooperative Generals in the Myanma military. The quality of the peacekeeping forces in Myanmar also undergoes a dramatic change, from mainly armed police to regulars and even special forces. The South Chinese Sea Fleet, with both the Shandong and Liaoning attached is to be sent to the Andaman Sea (south Myanmar). The East Sea Fleet will be reinforced with new vessels and sent southwards to temporally fill the gap left in southern China. Effective control of UWSA, NDAA and MNDAA are to be transferred to the Central Military Commission. Tianzhou is launched on schedule carrying a group of 12 Chinese research scientists to the moon. 5 scientists are to land each in 2 different sites on the near and far side of the Moon while 2 remain in orbit with the Tianzhou which will orbit several times before returning to Earth for resupply. The flag of China is raised for the first time on the moon. The scientists are to set up temporary research labs and accommodation. The primary goal of the mission is to find significant deposits of Helium-3 although this is not officially announced. A second supply ship following a similar design is to be constructed by 2026, with many speculating whether it is for a Mars mission. The CPC has not commented on its purpose although it reaches out to Russia for possible cooperation in its space ventures [RUSSIAN RESPONSE NEEDED]. China is also to begin heavily funding the development and cheap production of electric cars. Funding to the Experimental ­Advanced Superconducting ­Tokamak facility in Hefei is to be tippled and another larger facility is to be established in rural Weinan. A similar union with that of Mongolia is suggested to the Nepalese Government (primarily the NCP, which China put in power in the first place) [MOD RESPONSE NEEDED]. China also suggests the entry of Nepal, Mongolia, North Korea and Iran as full members of the Shanghai Cooperate Organisation [RUSSIAN, NORTH KOREAN AND MOD RESPONSE NEEDED].

Mongolia (Union State): The Mongolian People's Party and Communist Party of China take a vast majority as expected in the new congress. The Mongolian People's Party is also to join the United Front
Wa State (Puppet): All insurgent groups under Chinese control in the Eastern region are to officially join under the command of the Wa State. The insurgents number ~34,000 and are to be reinforced with Chinese volunteers and unofficial military contractors and advisers.
Mod: Nepal graciously accepts. Nepal, Mongolia, Iran and North Korea are all admitted into the SCO as full members.

Ukraine: With the recent success in the east, President Tymoshenko is able to ride a massive wave to victory in this years Presidential election, winning 78% of the vote against her opponent former mayor of Kharkiv, Mykhailo Dobkin of the Social Democratic Party. In the parliamentary elections, Tymoshenko's party The Fatherland Party and the government alliance gain 5 seats, further situating their majority to 231 seats in total. Tymoshenko is inaugurated again for another 5 year term. After her inauguration, the 46th Air Assault Brigade begins lowering in 15 T-80 battle tanks, 13 HMMWV M1114 UAHs, and 5 Dozor-Bs into the captured Luhansk International Airport, along with using the 25th Airborne Brigade to parachute in 1,200 troops around the city at random points to surprise and confuse rebel forces in an attempt to capture the city once and for all and imprison the remaining government and military leaders [MOD RESPONSE].

Mod: This is largely successful, but the operation is hindered by the arrival of Russian soldiers.

  Cuba: This year, project Havana is finished and soon other projects to improve infrastructure start throughout the country. The budget for the military is cut and the budget for Welfare, Infrastructure and Public Transport is increased. Next year presidential elections will be held again and it is assumed that the Socialist party candidate and current president  will win again. Current polls show that his popularity is around 33%, this is slightly lower than in 2021, then 37% of the people voted for him. It is assumed that less people will vote for him because of the rumors about corruption and bribery in the government.
2025
The Myanmar Civil War begins, with the amalgamation of the opposition parties going against the government, with extremist groups and rising communist insurgencies watching and fighting on the sides. India, Thailand and even Bangladesh have touched upon the notion of intervening to prevent spillage into neighbouring territories.
Multiple European nations have spoken out against Russian aggression in Eastern Europe, and signal for precautionary measures to be taken up against it.
Many economies begin investing in Africa, seeing many poorly utilised resources begging to be stolen used for a greater cause, particularly China, the US, and other minors.
Somalia surrenders after several riots occur in Mogadishu and elsewhere. A new puppet "democratic" regime is established in Somalia, while the Punt Confederation is now independent as a result of the Treaty of Socotra.
Japan: A slide to neutrality and overall scaling back the Self-Defence Forces is proposed in the National Diet, though is blocked by both Democratic Party for the People and the Liberal Democratic Party. The Constitutional Democratic Party, despite the setback, plans to re-propose the plans at a later date. Meanwhile new economic policies and some regulations towards companies are implemented, along with new laws to improve the work culture. Honda introduces the third generation NSX, ran entirely on environmentally-friendly fuels, and announces plans to stop the production of fossil fuel-powered cars by 2037. Mitsubishi, Toyota, Subaru, and Mazda later announces similar plans as well. An anime based on The Idolmaster Shiny Colours airs in autumn.
Germany: Multiple political analysts predict the Alternative For Deutschland Party will gain approximately 68 new seats, outnumbering the Social Democratic Party, and putting the Christian Democratic Union under considerably more pressure. The AFD Party calls for a cease on German sanctions and " a cordial relationship between two great nations". (Germany and Russia). Instead the AFD calls for focusing on "maintaining border integrity" and "preserving the German identity". Chancellor Julia Klockner of the CDU, elected Chancellor in the 2022 Parliamentary Elections, has announced Germany will honor it's commitments to NATO should the need arise. The Bundestag has agreed to raise the Bundeswehr Budget by 10 billion EU; with an emphasis on advanced training programs and increased combat readiness. The Bundeswehr will also be increasing funds and assets allocated to the Cyber and Information Space Command. We ask the United States if it would be possible to purchase 5 General Atomics MQ-9 Reapers and four ground control stations, plus related support material and training. [PLAYER RESPONSE]. The Deutsche Marine will begin construction of 3 new destroyers which will be operational by 2029. We ask the European Space Agency to follow up on plans for a joint mars mission. [MOD RESPONSE]. Bundestag passes the Public Transportation Act of 2025 which is designed to encourage citizens to utilize public transport. Government spending on Public Transportation is increased to maintain existing assets, purchase improved ones, and create/maintain transport lanes for said assets to be used. We deliver numerous PSAs throughout the course of the year, especially in urban areas, highlighting the pros of public transportation. [MOD RESPONSE]. The Federal Foreign Ministry hints at backing down from the 2015 Iran Accord, in hopes of deescalating German-Saudi tensions, and perhaps revitalizing trade between the two nations. [PLAYER RESPONSE].
United States: Confidential research is conducted by DARPA and similar government-funded agencies. For confidentiality the nature of this research is omitted from this turn as well as to not allow other players spies to know any better. The first Artemis I launch is scheduled for 2026, and will include the surveying of the Moon for natural resources, and follow-up missions will set the stage for a lunar mine. Plans to revitalise the American economy by building infrastructure and manufactories are underway. Multiple speeches by politicians sum up the American opinion on Russia and China, ranging from "could you please stop?" to content that is heavily censored on news networks for the sake of preserving the innocence of America's young. We pledge help to Ukraine "if Russia tries anything funny. Like invade-southern-Ukraine-funny."
2026
The apparent intervention of China in the Myanmarese Civil War seems to have set something in motion in Asia. India begins arming the opposition parties under the pretense "that the government of Myanmar has been replaced with nothing more than a puppet of the cursed Chinese. India will help bring justice and self-determination to the Myanmarese peoples!" Anti-Chinese sentiment rises in Myanmar as well, as a result of certain suspicions of where some of their politicians went, with many opposing the junta in secret for fear of execution.
NATO increases military exercises in the Mediterranean, with some speculating that it is but a show of force to the Russians.
The EU announces a mission to the Moon in 2027 to gather information on the economic advantages of a lunar mining facility.
With the rise of Tesla as a major car brand worldwide, electric vehicles are increasingly becoming the norm on roads as an alternative to petrol-fueled vehicles and the increasing price of oil.
Taiwan (ROC): In response to the developments in Myanmar, the Kuomintang accepts the request from the rebels there and secretly sends aid to them against the communist-controlled regime. The ROC Army Special Operations Command deploys by boat the 862 and 871 Special Operations Groups into Myanmar, which begin assisting the guerrilla insurgents. They provide training to the rebels, as well as tactical, operational and strategic advising. Secretly, the ROC government also asks India if they wish to coordinate their activities in support of the rebels. [Mod Response] Meanwhile, the KMT adopts an economic plan to develop the island's infrastructure to build the western third of the island into one large metropolitan area. Economic growth steadily continues, with Taiwan continuing to be a manufacturer of electronics and other devices. Investment is put into creating cars that run on renewable energy. The ROC also reaches out to South Korea, Japan, the Philippines, and Vietnam, asking them to form a regional military alliance, an Asian NATO essentially, to counter potential PRC aggression. [Player/Mod Response]

Japan Diplomacy: Prime Minister Yukio Edano declines the offer.
Philippine Diplomacy: The government announces that it could accept the offer, but there are two things that is blocking them from directly accepting- The relations with mainland China and the anti Filipino sentiment in Taiwan, which is why many Filipino citizens had voted that they dislike the Taiwanese in a public poll. [Player/Mod Response]
ROC Diplomacy: The government assures the Philippines that any anti-Filipino sentiment among citizens has no effect on official policy and that we have no problem with them. Regarding the PRC, this alliance is meant to be defensive precisely from the communists, as the entire region is under threat.
Mod: South Korea and Vietnam respectfully decline, due to the looming authority of the PRC.

Thailand: In response to the events unfolding on the other side of Thailand's border, Thailand begins to secretly deliver arms to the rebels and sends 2,000 Thai soldiers and a few armored vehicles piecemeal throughout the year to aid the rebels against the government of Myanmar by providing tactical support. These soldiers are disgusied as various myanmarese militants. Thailand also begins to militarize its border with Myanmar as a result of the current civil war and begins the use of drones to monitor the conflict. Thailand also reaches out to Taiwan in regards to its inclusion in a potential "Asian NATO".[Player Response] Thailand begins to subsidize higher education to help our people become more educated and advance more rapidly. Due to the increasing severity of monsoon rains as a result of global warming, Thailand begins the construction of a series of levies around Bangkok. Thailand offers a free trade agreement with Vietnam, Laos, Cambodia, and India, in hopes of improving the economies of all parties.[Player/Mod Response] Thailand also increases its military spending to 2.8% of its GDP as a result of the events unfolding in Myanmar. Thailand also offers asylum to all refugees from Myanmar due to the Civil War. Thailand also begins to subsidize alternative energy in an effort to move our energy grid to renewable resources. As a result of these subsidies, Thailand increases its taxes moderately. We also secretly prepare for a cyber warfare operation against China by working to improve our cyber infrastructure.   

ROC Diplomacy: Taiwan accepts Thailand's offer to be part of the organization.
Indian Diplomacy: India accepts Thailand's offer of a free trade agreement.
Mod: Vietnam, Laos and Cambodia accept.

Australia: with the movement to allot a fairer share of the GST to WA rapidly gaining momentum, the Australian government (as a temporary measure) quietens them by lowering the shares given to Queensland, NSW and Victoria. However a better solution than simply shifting money around is still needed. Away from the disgruntlement of the Australian people, Australia supports the creation of a united East Africa and offers support for any such nation, both economically and for defence. Seeing the emergence of alliances and rising tensions in Southern and Eastern Asia, Australia wishes to remain neutral in any upcoming conflicts, but as this may not be possible, 4 destroyers and a new aircraft carrier begin construction costing around 13 billion dollars and expected to be finished 2029-2031.