Sidewinder's Timeline is under construction. Therefore, please excuse its informal appearance while it's being worked on. We hope to have it completed as soon as possible. Thank you.

Note: Please do not edit or alter this page unless you have permission from the pages' author(s).

Some minor grammar and spelling fixes are allowed if you find any errors of this type.
Sidewinder here, welcome to my timeline!
2017
January
The year begins with Donald Trump taking office in the White House.
Tensions are very high in the South China Sea due to China's artificial island building.
Scotland holds a referendum to leave the UK and join EU as an independent nation.
ISIS gains power in the Middle East.
Norway commits to zero carbon emissions by 2020, while Sweden commits to zero deforestation.
February
Russia begins urbanizing rural areas, and constructs a highway stretching from Moscow, running across the Bering Sea, and ending in Seattle, with permission from Canada and the U.S.
ISIS terrorists attack Kuching, Malaysia during Chinese New Year, resulting in the deaths of 43 and damage of up to 6300 USD.
Civil war in Belarus, with the people rising against the Belarusian dictatorship government.
The government in El Salvador is taken over by gangs, and nearby countries experience a surge of immigrants.
March
The China declare war on Philippines over claims in the South China Sea, allied with Vietnam and North Korea . The Philippines allies itself with Indonesia, Malaysia, Singapore, and Japan and South Korea.
The U.S. allies with the Philippines in response to the South China Sea War.
Latvia merges with Lithuania and Estonia via referendum to create the Unified Baltic State.
Filipino battleships attack the artificial islands in the South China Sea, while Chinese president Xi Jinping orders air strikes on Filipino naval bases.
Malaysia, Indonesia, Singapore and the Philippines create and join the Manila Pact.
April
Scotland gains independence after the referendum's results say "YES", and joins the EU as an independent nation.
Volcanic eruption in Iceland grounds flights to Europe.
North Korea conducts a sixth nuclear warhead test, which results in North Korea possessing more powerful nuclear weapons.
End of Belarusian Civil War, with a democratic government put in place.
Several naval battles in the South China Sea end in a victory by the Manila Pact, while Vietnam decides to join the Manila Pact and switch sides.
May
Uprising of workers in Japan due to long working hours, leading to shorter working hours and laws limiting the length of standard working hours.
Australia begins construction of solar farms in the Australian outback, while New Zealand begins using renewable energy sources in response to its deteriorating environment.
The territorial conflict between Pakistan and India over Kashmir is resolved with the region becoming a new nation, Kashmir.
The South China Sea War ends in a victory by the Manila Pact, with China seceding all extended claims on the region, allowing the South China Sea to become an international region.
June
Laos, Papua New Guinea and Thailand ask to join the Manila Pact, and they are accepted.
Hottest summer recorded so far. The UN holds a meeting in Berlin to discuss ways to combat global warming.
ISIS attack in Berlin, targeted at the UN meeting, but is effectively stopped by German police, but not after seven civilian casualties and the destruction of the Brandenburg Gate.
Countries across Europe begin increasing security in response to the Berlin attack.
India holds meetings with Nepal to discuss the possibility of a merger between the two nations.
July
The UBS invites Belarus to join as an autonomous state, and accepts in the light of its new government.
El Salvador threatens nearby nations Guatemala, Honduras, Nicaragua, Costa Rica and Belize with war in gang-like fashion, leaving said nations considering standing united to fight El Salvador.
32 people defect to South Korea, but 3 have been injured by North Korean guards who noticed them. South Korean president Park Guen-hye condemns North Korea for their actions, stating "We can't dismiss the fact it was their decision to defect", increasing tensions between both Koreas.
The United States lands the Olympus surveyor satellite on Mars to look for more signs of microbial life.
August
European airspace is now safe for commercial flights again.
Japan experiences a small earthquake, measuring 4.2 on the Richter scale, with no casualties.
Tensions very high between Morocco and Mauritania over the ownership of West Sahara.
El Salvador invades Guatemala and tries to capture its capital of Guatemala City. The city was taken, but Guatemalan troops managed to recapture it. Unification talks among Central American nations take place in Panama City.
September
Guatemala, Honduras, Belize, Nicaragua, Costa Rica and Panama unify into the Republic of Central America, or the RCA.
The RCA invades El Salvador in 2 weeks, thanks to its combined armies. It releases El Salvador as a sovereign nation with a new diplomatic government.
El Salvador joins the RCA.
Russia sells Sakhalin Island to Japan for 2 million USD equivalent.
India merges with Nepal, and Bhutan asks to merge with India as well.
Japan enforces new whaling policies and laws, abolishing illegal whaling effectively and increasing awareness.
October
Morocco invades Western Sahara, with Mauritania declaring war in retaliation.
Morocco is supported by Tunisia and Algeria, and Mauritania backed by European nations.
The Sahara War is ended with the Treaty of Casablanca signed by all participating members,granting Morocco full control of Western Sahara and slightly changed borders with Mauritania.
French Guiana gains independence via referendum, and is renamed to Guiana.
November
A massive oil field is discovered in Greenland, leading to a scramble for claims on the oil. Denmark announces that Greenland is still Danish territory, and they have the right to the oil.
Greenland rebels declare independence from Denmark, and starts selling oil.
Denmark declares war on Greenland, which has a good economy thanks to oil trading.
Greenland manages to defend against Danish invasion with US backing.
Peace Treaty signed in Copenhagen, with Denmark requesting a share of acquired oil.
Uzbekistan and Kazakhstan unite to undergo a national project to bring back the Aral Sea. Russia financially supports both countries
December
South Africa embargoes Lesotho, cutting off trade routes.
Kaliningrad declares independence from Russia.
Oil tanker explosion in the Black Sea causes international alarm, and officials restrict access to the Black Sea for commercials purpose, leaving Russia unable to conveniently export oil.
2018
January
North Korea launches a nuclear strike at Seoul, and nukes San Francisco and Los Angeles.
South Korea declares war on North Korea, starting the Second Korean War. South Korea is supported by the US, Japan, Australia, New Zealand, the Philippines, Indonesia, Malaysia and Singapore. North Korea is financially supported by China, but it has cut almost all ties with the nation. Russia, not wanting to be involved due to financial crisis, cuts all ties with North Korea as well.
South Korea begins invading North Korea, and captures the city of Pyongyang in 3 weeks.
Peace treaty signed in Busan, stating that North Korea is to be annexed by South Korea, and renamed to Korea.
February
Russia begins exporting oil via the Arctic Circle.
Ukrainian Civil War begins with the rebels fighting for a unification with Russia. The rebels are of course supported by a recovering Russia.
Greenland signs a trade pact with Russia, allowing the two nations to trade freely in the Arctic Circle.
India and Nepal merge, with Nepal becoming an autonomous region.
March
ISIS has taken over Syria and northern Iraq.
The UN holds a meeting to discuss methods of liberating ISIS controlled territories.
A coalition is formed, comprised of US, UK, France, China, India, Brazil, Germany, Russia, Australia and Spain, to combat ISIS.
April
South Africa annexes Lesotho after the government collapses.
The ESA sends a probe to Mars to test soil composition in the ice caps.
Pakistan threatens Kashmir with war if it doesn't merge with the nation. India retaliates by stating Kashmir is theirs.
Kashmir enters military alliance with China.
May
Bomb detonated in New Delhi. Indian authorities blame Pakistan, but they assure it wasn't them.
India declares war against Pakistan and as well as Kashmir.
Pakistan declares war on India in retaliation. China supports Kashmir by sending reinforcements.
China declares war on India. Nepal declares independence.
The UN Coalition forces land in Northern Iraq.
June
Scotland declares independence from the UK.
Pakistan launches conventional missiles at Mumbai, and proceeds with naval attacks there.
India invades Southern Kashmir and sieges Jammur.
Chinese backed Kashmirean forces retake Jammur.
July
The Black Sea Oil Spill is 44% removed.
India pushes back the Pakistani border to the Indus River.
Chinese troops push into Eastern India while Kashmir holds their ground against Indian siege.
India manages to take Jammu after a long siege, while Kashmir calls for a peace treaty.
The Treaty of Jammu states that India will annex Kashmir and all occupied lands. China will annex occupied Indian lands.
August
A coup de état occurs in Turkey, with Erdogan being overthrown and a dictatorial government installed.
Turkey is kicked out of NATO.
Turkey begins invading northern Cyprus and releasing it as a Turkish influenced Northern Cyprus.
The UK retaliates due to the fact that their naval base is now under Northern Cyprusian control and demands that Turkey withdraw from the area.
China launches a satellite to the Moon to test its composition and explore its inner layers.
Turkey announces that the UK "has no right to have a naval base there in the first place"
September
Greece undergoes economic reformations to increase their GDP.
Turkey fully annexes Cyprus.
The UK declares war on Turkey.
British ships begin naval blockade on Turkey, blocking off Turkish naval trade in the Mediterranean.
Car bomb in Ankara kills dictator and 11 officials. Authorities blame the UK at first, but ISIS claims responsibility.
Emergency elections held and Salaman Khalid elected president.
After months of fighting, ISIS is virtually non-existent, with the liberation of held territories and militants under arrest.
October
Turkey rejoins NATO and the EU.
Turkey and the UK call for peace, and reestablish good relations.
ISIS loses control in Syria after months of fighting and is now known as ISOI.
Chinese cities are covered in smog rendering near zero visibility.
The UN sends China an ultimatum with a choice of making reformations to cut down pollution or have a carbon footprint tax imposed on its imports.
China ignores the ultimatum, leading to the UN placing a carbon footprint tax on Chinese imports.
November
Major earthquake registering 8.4 in America along the San Andreas fault line. Estimated 3.2 billion USD worth of damage and 142 million casualties, the disaster is considered to be the worst national disaster since 9/11.
Revolts in Chinese cities complaining about the environmental situation lead to a Chinese Civil War.
Algeria, Morocco, Tunisia and Egypt form the African Mediterranean Pact to increase trade within nations.
Russia annexes Crimea, with Ukrainian retaliation. Ukraine is backed by the EU via proxy war in Crimea.
Sanctions placed on Russia by UN.
Revolts in Russia over economic situation and revolution occurs, leading to exile of Putin and formation of the Eurasian Federation.
December
Norway, Denmark, Sweden, Finland and Iceland form the Nordic Union for protection against the volatility of the new Eurasian Federation.
Fascist rebels in China lead a revolution in Manchuria, leading to the breakaway and formation of the Fascist State of Manchuria.
The Eurasian Federation begins pumping influence into Manchuria.
The independence of Manchuria prompts the breakaway of Tibet, Hainan, Hong Kong and Inner Mongolia.
2019
January
The Eurasian Federation annexes the Kherson Oblast after Ukrainian retaliation.
Communist revolts in Colombia leads to the formation of Gran Colombia after the merger with Venezuela.
The Eurasian Union, Manchuria, Gran Colombia, Cuba, India, Egypt, Syria and Iraq form the Iron Alliance, an alliance to rival NATO.
NATO begins requesting non-aligned nations to join NATO to spread influence, while the Iron Alliance does the same.
China joins the Iron Alliance, but isn't a powerful member due to sour relations with Manchuria.
A rebel faction in Serbia called Neo Yugoslavia is gaining power in the Balkans, aiming to united the Balkans with half the population wanting a new unified Yugoslavia.
February
The Manila Pact unifies into a new nation, called ASEAN. Soon, other South East Asian nations join under threat from China.
All nations involved with NATO or Iron Alliance begin militarizing themselves in preparation for war.
Egypt, Syria and Iraq begin campaigns in the Middle East, declaring war on Israel.
US retaliation is immediate, with expeditionary troops besieging Alexandria and defending Tel Aviv.
Iraq and Syria push into northern Israel, but stop at Jerusalem. The remaining forces try to take Tel-Aviv.
The Eurasian Federation sends military and economic support to the warring Iron Alliance nations.
Alexandria is taken by NATO forces, which begin marching towards Cairo.
Eurasian drone strikes on NATO camps increase the possibility of this proxy war escalating into a Third World War.
March
Tel-Aviv is taken by Iron Alliance forces, with Israel surrendering.
Northern Egypt is overrun by NATO forces, and Cairo is slowly slipping into NATO control.
Blockades at the Suez Canal prevent Iron Alliance forces from supporting Egypt.
The Trans-Bering Bridge blockade is destroyed, leaving the Alaskan front open to Eurasian invasion.
Japan and Korea invade Manchuria, with support from ASEAN.
ASEAN forces begin pushing through southern China, with support from Taiwan, Hainan and Hong Kong.
The RCA begins invading Gran Colombia, but faces a blockade near the Panama Canal.
April
The Panama Canal blockade fails after several strikes and RCA forces pushing towards Bogota.
ASEAN troops meet up with Hong Kong and Hainan soldiers in occupied southern China and temporarily stop their invasions.
Korean and Japanese troops manage to occupy Dalian.
The Eurasian Union invades Eastern Ukraine, and release it as a puppet state. Eurasian troops continue to invade Ukraine.
Scandinavia annexes Kola and Karelia, and supports the UBS, which is besieging St. Petersburg.
Alaska is overrun by Eurasian troops from the Trans-Bering Bridge.
Greenland joins the Iron Alliance due to good relations with former Russia.
May
Canada attacks Greenland, and occupies southern territories. Canadian forces also hold back against Eurasian attacks on the Alaskan front.
Cairo has fallen to NATO, while the Suez Canal blockade has been broken.
Major naval battle in the Sea of Okhotz between Eurasian, Japanese and American ships. The Eurasian Federation successfully defends its ports.
Taiwan invades China via transit in Hong Kong, and occupies Fuzhou with US support.
Ukraine is annexed by the Eurasian Federation and Eastern Ukraine. It is released as a puppet state, merging with Eastern Ukraine and renamed to Kievan Rus'.
Belarus is annexed by the Eurasian Federation to provide more access to the European theatre.
June
Serbia is taken over by Neo Yugoslavian forces, and annexes Montenegro and Kosovo. Revolutions in Slovenia, Croatia, Bosnia and Herzegovina, Albania and Macedonia occur in favor of Neo Yugoslavia.
The Eurasian Federation attacks Poland, and sieges Warsaw. Kaliningrad sends troops to assist Poland in defense.
UBS forces attempt to encircle Eurasian troops besieging Warsaw, but fail and get pushed back to Novgorod.
Kazakhstan and Uzbekistan unite to form Greater Stania, followed by the diplomatic unification of op the remaining Stan nations.
Greater Stania joins the Iron Alliance.
ASEAN, Hainan, Hong Kong and Taiwanese troops form a coalition to defeat China called the Asian Coalition.
Asian Coalition forces occupy Chinese land south of Changsha, which is under siege.
Korean and Japanese forces are pushed back at Manchuria temporarily, but manage to occupy Harbin.
July
Gran Colombia holds RCA troops at the old border.
UBS and Scandinavian forces storm across northern Russia.
Kievan and Eurasian forces enter Poland and successfully conquer Warsaw and Kraków.
NATO troops enter the Middle East through the Suez Canal.
Turkish troops enter Syria from the north while NATO is making its way to the south through Israel.
Korean and Japanese forces are close to destroying Manchuria, but the nation launches several ICBMs towards Washington DC, London, Paris, Berlin, Tokyo, Seoul, Bangkok, Manila, Kuala Lumpur, Jakarta, Ankara, San Francisco, Los Angeles, Stockholm, Helsinki, Rome and Ottawa. 80% of the warheads never reached their destinations, but the ones that did left devastating effects on afflicted regions.
Korean and Japanese forces fully annex Manchuria.
The U.S. and the Eurasian Federation meet in London to discuss a peace treaty. All territorial changes are permanent, war reparations will be paid to Canada, the U.S., Turkey and ASEAN due to successful nuclear weapon use on their respective cities. Kieran Rus will be released as an independent state, and no war between any involved nation for 50 years. China will be annexed by Taiwan. Israel will be annexed by Syria. Alaska will be annexed by the Eurasian Federation and released as an independent state.
August
The end of World War III.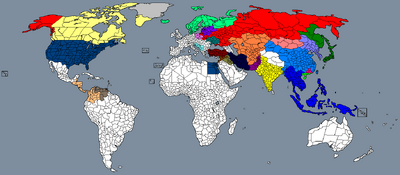 Neo Yugoslavia established in the Balkans.
Reconstruction begins in afflicted regions worldwide.
The U.S. begins funding for a lunar colony for scientific purposes.
Greenland buys Canadian-occupied Greenland for 1.5 billion USD equivalent.
Scientists discover a viable method for nuclear fusion, and is now implemented in power stations nationwide.
Europe begins adopting nuclear fusion reactor technology with financial support from Switzerland.
September
Countries involved in World War III are economically recovering, and are expected to reach pre-war conditions by 2020.
Peace talks between nations involved in World War III are held in Vienna.
Greater Stania undergoes economic reformations, and renames itself to the Central Asian Union.
A new industrial revolution occurs, with fusion power being implemented everywhere.
The US announces it will send astronauts to the Moon again, with the purpose of surveying its composition.
A rudimentary fusion rocket engine is created by NASA, sparking a new space race.
October
The Eurasian Federation renames itself to the Republic of Russia after the first elections since World War III.
Russia announces it has created another more efficient fusion engine, intensifying the space race.
The ROC joins the space race after launching the Tianchen space station.
CRISPR Gene editing is now medically available worldwide.
Mexico undergoes economic and infrastructural reformations, and are getting rid of drug cartels to gain a better reputation.
Minor earthquake in Japan. Minimal damage with little to no casualties.
November
American testing of the Fusion Engine begins, but ends in failure. Russian and Chinese efforts are also not moving forward.
Morocco, Algeria and Libya merge to form the Maghrebian Union.
The tallest building in the world is completed in Dubai, standing at 1082 meters high.
Russia begins upgrading the Trans-Siberian railroad and implements hyperloop technology.
Wales holds a referendum on whether they should leave the UK. 48% vote "Yes", 51% vote "No" and 1% "Abstain"
December
Russia successfully launches a spacecraft using a Fusion Engine into orbit, followed by the US and the ROC.
The three nations begin recruiting astronauts for their surveyor missions.
Argentina and Chile begin holdings talks on the possibility of a merger.
A vaccine for Ebola is discovered, and immediately deployed into infected regions.
The Aral Sea is now restored to pre-USSR levels.
2020