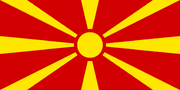 Following the 2024 invasion, a part of Macedonia fell under Serbian control, mainly two regions in the northwest of Macedonia. Those regions were absorbed into the Greater Serbia until the rest of Macedonia can be annexed. The regions were garrisoned by 45,000 troops of the Serbian People's Army. The region's were administered by a Montenegrin governor, who was appointed due to the fact that the Belgrade authorities did not want to seem like it was an imperialistic invasion. Macedonians who were pro-Serbia were trained in camps within this governorate, and sent into free Macedonia, where they began an insurgency.
Ad blocker interference detected!
Wikia is a free-to-use site that makes money from advertising. We have a modified experience for viewers using ad blockers

Wikia is not accessible if you've made further modifications. Remove the custom ad blocker rule(s) and the page will load as expected.