The Scottish general election of 2035 was held on 27 May 2035 to elect the 3rd Parliament of Independent Scotland. Voting took place in all 250 parliamentary constituencies of Scotland, each electing one Member of Parliament to the Scottish Parliament. The election ran alongside the second Scottish Presidential election.
The election saw the end to SNP dominance in parliament with them no longer holding a majority, although they managed to remain the largest party in parliament. Labour came second making substantial gains and re-asserting them as a viable alternative for the SNP. The Conservative Party and the Liberal Democrats merged into the Conservative Liberals, which managed to come third place making respectable gains. The Green Party took moderate losses but still earned enough seats to have a valuable position in parliament. The election used proportional representation.
The SNP lead a minority government, which also had a confidence and supply relationship (how cute) with the Green Party, although this still didn't give them a majority.
Election Results
Edit
| | Party | Leader | Vote % | Seats (change) |
| --- | --- | --- | --- | --- |
| | Scottish National Party | Mhairi Black | 36.5% | 91 (-40) |
| | Labour Party | Alan Jackson | 30.7% | 77 (+33) |
| | Conservative Liberals | Paddy Davis | 21.1% | 53 (+20) |
| | Green Party | Damon Oswald | 11.7% | 29 (-5) |
| | Others | N/A | 0.0% | 0 |
↓
91
77
53
29
Scottish National Party
Labour Party
Conservative Liberals
Green Party
Parliament
Edit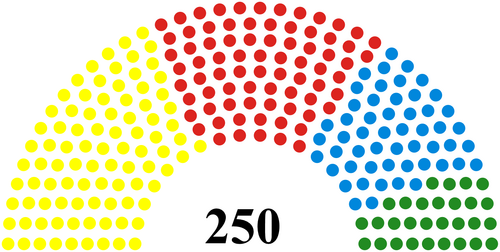 Scottish National Party: 91 seats      Labour Party: 77 seats      Conservative Liberals: 53 seats      Green Party: 29 seats