Ad blocker interference detected!
Wikia is a free-to-use site that makes money from advertising. We have a modified experience for viewers using ad blockers

Wikia is not accessible if you've made further modifications. Remove the custom ad blocker rule(s) and the page will load as expected.

The Scottish general election of 2025 was held on 27 May 2025 to elect the 1st Parliament of Independent Scotland. Voting took place in all 250 parliamentary constituencies of Scotland, each electing one Member of Parliament to the Scottish Parliament. The election ran alongside the first Scottish Presidential election, also won by the SNP with Nicola Sturgeon as their candidate.
Scotland gained independence following their second independence referendum but no new elections took place for several years as the country was "sorting itself out, now get lost you English twat" thus the parliament from the Scottish Devolved election remained with an SNP majority. The SNP kept their majority. This election was held using full proportional representation.
Labour came second in the election, but still earning much less support than the SNP. The Conservatives came third place, merging with the Scottish UKIP soon after the independence referendum's result. The Green Party managed to come fourth place, beating the Liberal Democrats. This election also marked a surprising gain of two seats for the Socialist Party, previously the Scottish Socialist Party.
Election Results
| | Party | Leader | Vote % | Seats (change) |
| --- | --- | --- | --- | --- |
| | Scottish National Party | Nicola Sturgeon | 51.3% | 128 |
| | Labour Party | Kezia Dugdale | 23.6% | 59 |
| | Conservative Party | Ruth Davidson | 12.7% | 32 |
| | Green Party | Patrick Harvie | 6.9% | 17 |
| | Liberal Democrats | Willie Rennie | 4.8% | 12 |
| | Socialist Party | Wendy MacDonald | 0.6% | 2 |
| | Others | N/A | 0.1% | 0 |
↓
128
59
32
17
12
2
Scottish National Party
Labour Party
Conservative Party
Green Party
LD
S
Parliament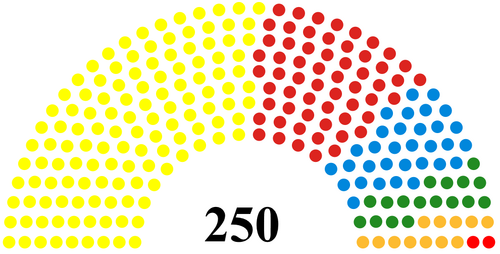 Scottish National Party: 128 seats      Labour Party: 59 seats      Conservative Party: 32 seats      Green Party: 17 seats      Liberal Democrats: 12 seats      Socialist Party: 2 seats