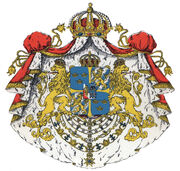 Under Rule
is about the world after the war of the "
Countries vs. Sweden
" and Sweden as the victor so Sweden rules the world.
The reason of the sudden war was because of Sweden non-popularity so they discided if they became the ruler of the world there popularity would go up. So they went to war with all of the countries and won. The main countrie is where the main Swedish Land before the war is.
Royalty
The royalty of the world would be the king/queen of Sweded itself. There will be no elections for the ruler it will be an imediet line of the originall ruler.
Changes
Most religion of the world now is Lutheranism.
The main language is now Swedish.
The country of United States is still free, but no other.
Since the country of Sweden is so huge there are provinces all over the world, and ruled by Prime Misiters.