Overview
In the year 2020 the USA is under siege by Russia and United Korea. Jeb Bush was president at the time and retaliated. United Korea was closing in on the white house by 2029 and fully took over in early 2031. The United Korea and Russia has split the in half and made 4 Provinces.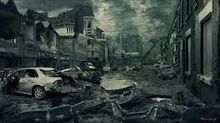 Provinces
The Soviet Administrative of the west contains Alaska. Oregon, Wake Atoll, Guam, Washington, Montana, Idaho, Wyoming, both Dakotas and Minnesota.
The Soviet Administrative of the south west contains California, Nevada, Utah, Arizona, New Mexico, Texas, Oklahoma, Hawaii, Kansas, and Nebraska.
The Korean Administrative of the east contains New England, New York, New Jersey, Pennsylvania, Delaware, Maryland, both Virginias, both Carolinas, Georgia and Florida.
The Korean Administrative of the mid America, contains Michigan, Wisconsin, Illinois, rest of M.I.M.A.L, Ohio, Kentucky, Tennessee, Mississippi and Alabama.
Ad blocker interference detected!
Wikia is a free-to-use site that makes money from advertising. We have a modified experience for viewers using ad blockers

Wikia is not accessible if you've made further modifications. Remove the custom ad blocker rule(s) and the page will load as expected.