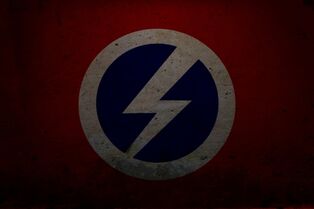 The Republic of Reborn States of America is a fledgling, pleasant nation, remarkable for its compulsory military service. Its compassionate population of 5 million have some civil rights, but not too many, enjoy the freedom to spend their money however they like, to a point, and take part in free and open elections, although not too often.
The medium-sized government devotes most of its attentions to Law & Order, with areas such as Religion & Spirituality and Social Welfare receiving almost no funds by comparison. The average income tax rate is 23%, but much higher for the wealthy. A substantial private sector is led by the Cheese Exports, Furniture Restoration, and Arms Manufacturing industries.
Crime is moderate. Reborn States of America's national animal is the Eagle, and its currency is the Coin.
The War of '18
Edit
"The War of '18" was a bloody conflict that resulted from January 6, 2018 - October 6, 2018. The conflict eventually, resulted in Russian Federation victory against Canadian and American failure. The fighting and combat was almost entirely in North America, except for the "Nuking of Vladivostok" and "Battle for the Bering Strait".
The War began as the Russian Federation desperately needed supplies and resources for its collapsing economy. Military Prime Minister Vladimar Coslov, who organized a military coup only months earlier, updated the Russian military for the 1st time since 1989. This included the heavy development of tanks, artillary, submarines and other devices, including nuclear weapons, when on February 6, 2018, Coslov personally witnessed the atomic explosion "Spy - 01" near the outskirts of Vladivostok. 
Section heading
Edit
Write the second section of your page here.
Ad blocker interference detected!
Wikia is a free-to-use site that makes money from advertising. We have a modified experience for viewers using ad blockers

Wikia is not accessible if you've made further modifications. Remove the custom ad blocker rule(s) and the page will load as expected.