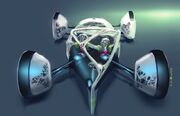 In 2006 for the LA Auto Show Design Challenge a team of Volkswagen designers have created the Nanospyder car concept.
Futuristic nanotechnology supported by hydrogen fuel cells, solar power, wheel-mounted electric motors and inflatable organic body panels combine to form the unusual shape of the two-seater concept.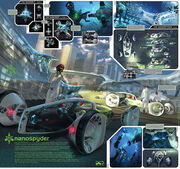 The Nanospyder would be formed out of a latticework of billions of tiny programmable nano devices measuring less than half a millimetre in diameter. Each of these tiny devices can be programmed to be as strong or weak as required meaning active crumple zones can be created. The 'spine' of the vehicle, onto which the rest of the components are attached, remains immensely strong.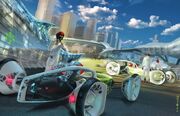 See also
References