A Train around the world?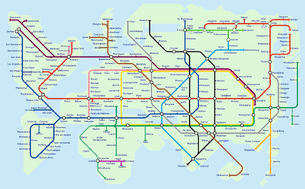 By the year 2075, people will trust the Global Maglev Train system. Its stations are designed like an airport, but has tougher security.
Travel across continents will take place through tunnels that go underneath the ocean floor. Airplanes will become obsolete and dangerous polluting machines with no purpose. Terrorist hijackings will be a thing of the past because everything is automated. Anybody with a criminal record will be denied the privilege to ride on the World Metro Maglev Train system (as they will be deemed as potential hijackers).
Ad blocker interference detected!
Wikia is a free-to-use site that makes money from advertising. We have a modified experience for viewers using ad blockers

Wikia is not accessible if you've made further modifications. Remove the custom ad blocker rule(s) and the page will load as expected.