The Premise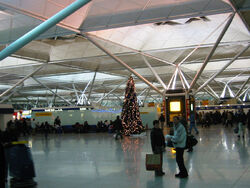 Building becomes vastly cheaper, thanks to new construction techniques. Precursors to these techniques are already being deployed today, flat pack houses built in factories that can be assembled on site in 36 hours, concrete buildings sprayed onto inflatable formers, cheap covering of vast open spaces using ingenious systems of trusses.
Tubular space frames are also widely used in the production of modern motorcycles and automobiles (and NASCAR race cars are exclusively built from spaceframe construction), but monocoque car bodies have been more common since the 1950s. Larger portable stages and lighting gantries are also frequently built from space frames and octet trusses. It's a strong, lightweight, well-proven construction method, that can enclose large areas cheaply.
With this scenario, robot labour virtually eliminates the dominant labour costs. We're using smart computer controlled cranes. A central building site-controller computer links by Wifi to a massive array of drones. Robot moles, based on modern day car-tunnel-cutters dig the pipework to connect to services.
Material costs are low. Cement is cheap. Sand is cheaper. Bagas board, a wood made from the pulp from sugar cane and bullrushes is not expensive either and gives a more upmarket look. Bioplastics are used for pipework - so minimal metalwork is needed. Superconducting polymer wire, as cheap as fibre optic cable, carries power. And why pay for an architect? You can buy an off-the-web design for a few hundred Euro. Your main cost is the land, and the taxes. Anyone with land can build a mansion.
The Problem
Social Issues
Transport
Ad blocker interference detected!
Wikia is a free-to-use site that makes money from advertising. We have a modified experience for viewers using ad blockers

Wikia is not accessible if you've made further modifications. Remove the custom ad blocker rule(s) and the page will load as expected.