This article describes humanity in the year 2050.
Countries
Several countries have joined together to form great empires or nations.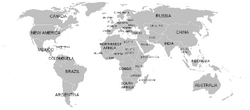 America
Canada (Canada, Alaska, Greenland)
New America (United States, Bahamas, Bermudas, Puerto Rico)
Mexico (Mexico, continental Central America)
Caribbean (Central America islands)
Columbuela (Colombia, Venezuela)
Brazil (Brazil, Peru, Equator, Bolivia, Paraguay, Uruguay, Guyana, Suriname, French Guyana)
Argentina (Argentina, Chile, Falklands)
Europe
Britania (United Kingdom, Ireland, Faroe Islands, Iceland)
France (France, Belgium, Netherlands, Luxembourg)
Iberia (Spain, Portugal, Andorra)
Germany (Germany, Denmark, Czech Republic, Poland)
Italy (Italy, Vatican, San Marino, Switerland, Liechienstein, Austria, Slovenia, Corsica)
Romania (Romania, Hungary, Slovakia, Servia, Montenegro, Croatia, Bosnia)
Greece (Greece, Albania, Macedonia, Bulgaria)
West Russia (Moldova, Ukraine, Belarus, Estonia, Latvia, Lithuania, Baltic Russia)
Scandinavia (Norway, Sweden, Finland)
Africa
Egypt (Egypt, Libia)
Northwest Africa (Algeria, Tunisia, Morocco, Western Sahara, Mauritania, Mali)
Ghana (Ghana, Burkina Faso, Togo, Benin, Côte d'Ivoire)
Liberia (Liberia, Sierra Leone, Guinea, Guinea Bissau, Gambia, Senegal)
South Egypt (Sudan, Chad)
East Africa (Eritreia, Ethiopia, Somalia, Djibouti)
Kenia (Kenya, Uganda, Tanzania, Rwanda, Burundi)
Zambia (Zambia, Zimbabwe, Mozambique, Malawi)
Madagascar (Madagascar and East Africa Islands)
South Africa (South Africa, Botswana, Namibia, Lesotho, Swaziland)
Congo (Angola, Congo, Democratic Congo, Gabon, Equatorial Guinea, Central African Republic)
Nigeria (Nigeria, Niger, Cameroon)
Asia
Russia (Russia)
Turkey (Turkey, Iraq, Siria, Lebanon, Cyprus, Azerbaijan, Goergia, Armenia)
Arabia (Saudi Arabia, Yemen, Oman, UAE, Qatar, Kuwait, Israel, Jordania)
Unistan (Kazakhstan, Uzbekistan, Kyrgystan, Tajikistan)
Iran (Iran, Afghanistan, Turkmenistan)
India (India, Pakistan, Nepal, Buthan, Bangladesh, Maldivas, Sri Lanka)
China (China, Mongolia, North Korea, South Korea, Japan, Taiwan)
South China (Myanmar, Laos, Vietnam, Cambodia, Thailand)
Indonesia (Indonesia, Malasya, Philipines, Papua New Guinea, East Timor)
Oceania
Australia (Australia, New Zealand)
New Oceania (Rest of Oceania)
Ad blocker interference detected!
Wikia is a free-to-use site that makes money from advertising. We have a modified experience for viewers using ad blockers

Wikia is not accessible if you've made further modifications. Remove the custom ad blocker rule(s) and the page will load as expected.