The Public Libraries are beginning to be used less and less often but they continue to improve.
Time line
2011 Thumbnail scans replace library card.
2012 People can now check out high def DVD's.
2014 Face recognition software replaces Thumbnail scans.
2016 Many old book are replaced by flexible displays.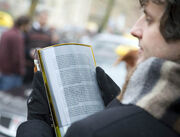 2020 Many libraries are used only by children and as a place of recreation.
Ad blocker interference detected!
Wikia is a free-to-use site that makes money from advertising. We have a modified experience for viewers using ad blockers

Wikia is not accessible if you've made further modifications. Remove the custom ad blocker rule(s) and the page will load as expected.