The Communist Space Timeline is about an arise in communism, when food and gas shortages plague the world in 2013. This led to the feared Communist Expansion Conflict, or more commonly as World War III.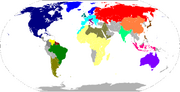 The food and gas shortages, along with other shortages in supplies and the near-global economic turmoil, lead to many formations of alliances and unions.
In the next centruy, the Moon (Luna) and Mars (Red) are colonized, but communism still holds a firm grip over politics and life.
Contents