Sarah Palin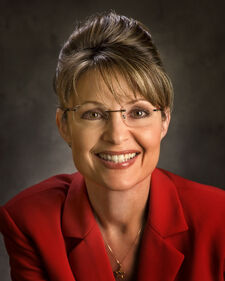 Governor of Alaska
In office:
December 4, 2006 – July 26, 2009
December 4, 2014- October 19, 2020
Preceded by:
Succeeded by:
Biography
Born:
Nationality:
Political party:
Spouse:
Children:
Alma mater:
Occupation:
Religion:
Sarah Louise Palin (née Heath; born February 11, 1964) was a member of the Wasilla, Alaska, city council from 1992 to 1996 and the city's mayor from 1996 to 2002. After an unsuccessful campaign for Lieutenant Governor of Alaska in 2002, she chaired the Alaska Oil and Gas Conservation Commission from 2003 until her resignation in 2004. She was elected Governor of Alaska in November 2006, and again in 2014 after losing her bid for the Presidency in 2012. Palin became the first female governor of Alaska and the youngest person ever elected governor of that state.
In 2008, Republican presidential candidate John McCain chose Palin as his running mate in that year's presidential election, making her the second female candidate and the first Alaskan candidate of either major party on a national ticket, as well as the first female vice-presidential nominee of the Republican Party.
After her unsucessful run for the Vice-Presidency Palin retired from her position as Governor of Alaska, and took to political advocacy and public speaking, ironically becoming one of the founders of the National Tea Party, that would ultimately prevent members of her party from maintaining any political authority for close to a decade.
Ad blocker interference detected!
Wikia is a free-to-use site that makes money from advertising. We have a modified experience for viewers using ad blockers

Wikia is not accessible if you've made further modifications. Remove the custom ad blocker rule(s) and the page will load as expected.