When Canadamerica was formed, many of the former U.S. states, due to their relatively small size and large number, were joined together to make them comparable in size to the former Canadian provinces in order to solve issues in the organisation of the new nation.
List of the Provinces (prior to the Caribbean War)
Edit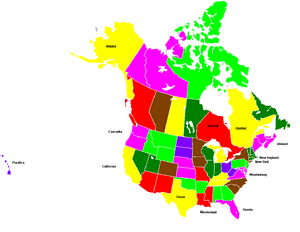 Alaska
Alberta
Aztlan (former Arizona, southern California, Colorado, Nevada, New Mexico, Oklahoma, and Utah)
British Columbia
Cascadia (former northern California, Idaho, Oregon, and Washington, and Wyoming)
Federal District
Lakotah (much of the heartland of the former U.S.)
Manitoba
North New England
Northwest
Nunavut (expanded to include the northern part of Labarador, which has an Inuit majority)
Ontario (former Michigan's lower peninsula, Indiana, Illinois)
Pacifica (Hawaii and former American Pacific possessions combined)
Prusvi (former Puerto Rico and U.S. Virgin Islands)
Quebec
Saskatchewan
Southern Provinces
Superior (Michigan's Upper Peninsula, Minnesota, and Wisconsin)
Vinland (former maritime provinces, only merger of former Canadian provinces, the name is derived from Viking name for the region)
Washington D.C.
Yukon
(More to come.)
Ad blocker interference detected!
Wikia is a free-to-use site that makes money from advertising. We have a modified experience for viewers using ad blockers

Wikia is not accessible if you've made further modifications. Remove the custom ad blocker rule(s) and the page will load as expected.