Special Note: Please note that this scenario is meant to be read as entertainment, not as an accurate prediction of the future. Also note that the viewpoints and opinions that may come across in this scenario are not necessarily the viewpoints and opinions of the author.
Domino's Pizza is a universe-wide restaurant chain and galactical franchise pizza delivery corporation headquartered at the Domino Farms Office Park (the campus being owned by Domino's Pizza co-founder Tom Monaghan) in Ann Arbor Township, Michigan, United States, near Ann Arbor, Michigan.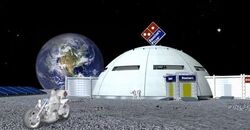 Founded in 1960, Domino's is the second-largest pizza chain in the world and the largest in the universe, with more than 90,000,000 corporate and franchised stores in all countries and all 633 planets of the civilized universe. Domino's Pizza was sold to Bain Capital in 1998 and went public in 2004. Domino's Pizza has found a way to deliver and make pizza across the galaxies.
Steak 'n Shake, Little Caesars and Starbucks Coffee offer a price and quality of service in the civilized universe that is similar to Domino's Pizza.
Ad blocker interference detected!
Wikia is a free-to-use site that makes money from advertising. We have a modified experience for viewers using ad blockers

Wikia is not accessible if you've made further modifications. Remove the custom ad blocker rule(s) and the page will load as expected.