Special Note: Please note that this scenario is meant to be read as entertainment, not as an accurate prediction of the future. Also note that the viewpoints and opinions that may come across in this scenario are not necessarily the viewpoints and opinions of the author.
Popular computer and electronics company, Apple, is a very famous electronic company of the future.
Apple Inc. is an American multinational corporation headquartered in Cupertino, California, that designs, develops, and sells consumer electronics, computer software, online services, and personal computers. Its best-known hardware products are the Mac line of computers, the iPod media player, the iPhone smartphone, Beats headphones and the iPad tablet computer. Its online services include iCloud, iTunes Store, and App Store. Apple's consumer software includes the OS X and iOS operating systems, the iTunes media browser, the Safari web browser, and the iLife and iWork creativity and productivity suites.
Apple was founded by Steve Jobs, Steve Wozniak, and Ronald Wayne on April 1, 1976, to develop and sell personal computers. It was incorporated as Apple Computer, Inc. on January 3, 1977, and was renamed as Apple Inc. on January 9, 2007, to reflect its shifted focus towards consumer electronics.
Apple is the world's second-largest information technology company by revenue after Samsung Electronics, and the world's third-largest mobile phone maker. On November 25, 2014, in addition to being the largest publicly traded corporation in the world by market capitalization, Apple became the first U.S. company to be valued at over $700B.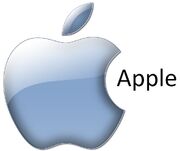 Companies like Microsoft became less popular but didn't go bankrupt until after 2140. Microsoft had nearly went bankrupt in 2029. Sony manages to take advantage of a moribund Microsoft in the year 2077 by purchasing all rights to the Windows operating system from them. Jobs at Apple were abundant after the Great Economic Recovery of 2020 while Microsoft only wanted to hire 20-year-old interns since the old American dollar-oriented economy collapsed on September 2008.
Even newer companies came out like Facebook Nintendo; which is basically Facebook adapting to Japanese business culture. Apple started making inventions in 2038. Microsoft was now only an invention company, due to unpopularity of Microsoft. The Apple name was shown more and used more in 2040. The Apple 600 became one of the most notable NASCAR races of the 2040s.
More people around the world relied on anything made by Apple, Inc. Mac OS X new operating system was OS X Lion. OS X Lion used more of a futuristic OS and used something you wouldn't see until about 75 years from now. However all it took was 15 years for Mac to release OS X Lion. Many people definitely relied on Apple after the Gaming Depression.
Microsoft's vision for 2019, to become more successful than Apple.
Ad blocker interference detected!
Wikia is a free-to-use site that makes money from advertising. We have a modified experience for viewers using ad blockers

Wikia is not accessible if you've made further modifications. Remove the custom ad blocker rule(s) and the page will load as expected.