Russian-Antarcticans, are Antarcticans of Russian ancestry, or Antarctican from Russia. Many Russians have flee to Antarctica in the Russo-German War which occurred in 2025. Russians have made their home in states such as Havlo, Victoria, and Newbin as the first largest population of Russia, and the second largest population of Russians is in Byrdland, where oil CEO Ivan Ioksimovich was raised. He is also a Russian-Antarctican. The areas are known as Russkiĭ Antarktidy. That's Russian for Russian Antarctica. They are also nicknamed Arctic Russians, Ruskimos (by most of the British colonists). Russians biggest population is in Newbin's city, Snezhnyĭ, who is a sister city with Yakutsk. Snezhnyĭ is a small Russian city that's in the middle of Newbin. Russians have brought their culture and teachings over to Antarctica. However, their has been an argument between American and Russian culture being shared in Newbin. Many Russians then moved to Byrdland. Byrdland served a larger Russian population than Newbin, and Russians built many buildings and museum sharing their culture. Russians still living in Snezhnyĭ, decided to make peace with the Americans. Letting American oil companies work with Ioksimovich Oil Co.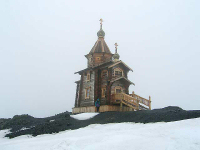 Ad blocker interference detected!
Wikia is a free-to-use site that makes money from advertising. We have a modified experience for viewers using ad blockers

Wikia is not accessible if you've made further modifications. Remove the custom ad blocker rule(s) and the page will load as expected.