Ad blocker interference detected!
Wikia is a free-to-use site that makes money from advertising. We have a modified experience for viewers using ad blockers

Wikia is not accessible if you've made further modifications. Remove the custom ad blocker rule(s) and the page will load as expected.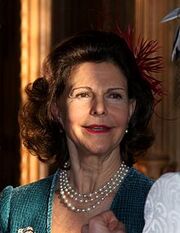 Silvia (née Silvia Renate Sommerlath, 23 December 1943 in Heidelberg, Germany - 8 November 2030 in Stockholm, Sweden) was Queen consort of Sweden. She was daughter of a German businessman, Walther Sommerlath, and his Brazilian-born wife, Alice de Toledo, and grew up partially in Brazil. On her mother's side, she had Portuguese, Spanish and a very small amount of native South American (Amerindian) ancestry. She was likely also descended from Jews who converted to Christianity to avoid being expelled from the Iberian peninsula in the 15th century.
She married 19 June 1976 at Stockholm Cathedral to King Carl XVI Gustaf of Sweden, after whom she was a widow for ten years, having with him the following issue:
Victoria I, Queen of Sweden (1977-2063)
Prince Carl Philip, who became a commoner 2015 (after marrying without the King's and the Swedish government's permission) and adopted his wife's surname Hellqvist (living 1979-2055)
Princess Madeleine (1982-2072)