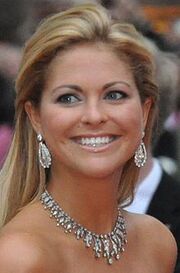 Princess Madeleine of Sweden, Duchess of Gästrikland and Hälsingland, Mrs. O'Neill (full name: Madeleine Thérèse Amelie Joséphine) (10 June 1982 in Stockholm, Sweden - 1 April 2072 in Drummondville, Québec, Canada) was the youngest daughter and child of King Carl XVI Gustaf and Queen Silvia of Sweden.
She was engaged 11 August 2009 to Jonas Bergström (1979-2055), a Swedish lawyer. The Swedish court announced that he would receive the title Duke of Hälsingland and Gästrikland upon marrying her. However, the engagement was broken off 24 April 2010, reportedly after Mr. Bergström had been cheating with a Norwegian college student.
She married 3 August 2018 in New York City, New York, the United States to the American financier Chris O'Neill, with whom she a few years later relocated to Drummondville, Québec, Canada. As he was not a Swedish citizen, and the couple did not live in Sweden, Mr. O'Neill did not receive a Swedish title. The couple had no children.
Ad blocker interference detected!
Wikia is a free-to-use site that makes money from advertising. We have a modified experience for viewers using ad blockers

Wikia is not accessible if you've made further modifications. Remove the custom ad blocker rule(s) and the page will load as expected.