Pets, animals and animal employment (2189) is under construction. Therefore, please excuse its informal appearance while it's being worked on. We hope to have it completed as soon as possible. Thank you.

Note: Please do not edit or alter this page unless you have permission from the pages' author(s).

Some minor grammar and spelling fixes are allowed if you find any errors of this type.
The pets of the 2189 vary greatly, with the dog being number #4 on the list, new, greater pets have come to the attention of middle class humans, such as the dodo bird, de-extinct animals, cybernetically-enhanced dogs. genetically-engineered pets and cat-sized rhinos.
Dodo Birds
Dodo birds first started emerging as pets in the late 2080s. They were mde de-extinct in 2027 by German scientists. Their lack of intelligence, passive nature and curiosity made them the most popular pet from 2090-2130 and 2160-present. They are often most popular in young families of middle class workers and an average dodo costs 30 credits.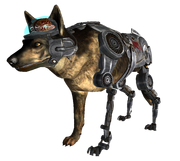 Cyber Dogs
Cybernetically-enhanced dogs began to emerge in the 2030s as tools for the police to patrol the streets, Denver famously first used them in it's response to police brutality. While cyberdogs never became widespread in use for pets, they have become a cultural Icon of the 21st Century.
Engineered Pets
If a person gets bored with all the normal pets on sale, an application can be sent to a lab to have a special biological creature created. If the application is approved, the applyer can design the basics of a biological animal that will be created in a lab, ready for the person who created it. This has led to a series of bizzare and
Small Pets
De-Extinction
Ad blocker interference detected!
Wikia is a free-to-use site that makes money from advertising. We have a modified experience for viewers using ad blockers

Wikia is not accessible if you've made further modifications. Remove the custom ad blocker rule(s) and the page will load as expected.