PATO (Pacific Alliance Treaty Organization) is a treaty organization, like NATO, but instead for the Pacific Alliance. Many countries from around the Pacific are involved, main three being Japan, Australia and Canada, along with many more countries from around Asia and Oceania and the Americas.
Countries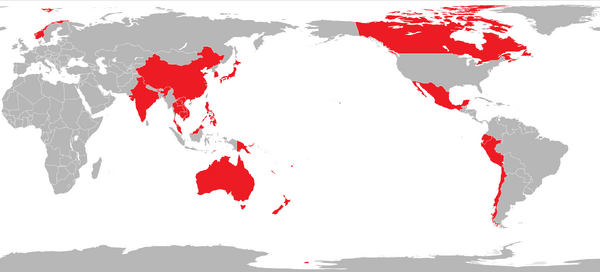 There are many countries that are part of the PATO, such as many from the Asian continent, alongside Canada, Australia, NZ and South American coastal countries.
Canada* **
China 
Japan **
Australia **
New Zealand **
India
Papua New Guinea
Mexico **
Malaysia **
Philippines
South Korea **
Thailand **
Cambodia
Laos
Vietnam **
Equador **
Peru **
Chile **
Brunei **
East Timor
Norway* **
/* Norway and Canada are the only two countries that have been allowed into Pato by China, Laos and Cambodia that are in Nato.
/** Countries that have agreed not to let Russia into PATO.
Ad blocker interference detected!
Wikia is a free-to-use site that makes money from advertising. We have a modified experience for viewers using ad blockers

Wikia is not accessible if you've made further modifications. Remove the custom ad blocker rule(s) and the page will load as expected.