The Omaha Sounders are an MLB team from Omaha, Nebraska, currently playing at the TD Ameritrade Park, which was set up for Sounders baseball in the 2028 season of MLB. Sounders played a successful first season and renowned baseball player, Brendan Crosby, born in Louisville, Kentucky. The ballpark was originally a college baseball stadium, but now used for a major baseball team. Omaha quickly became a popular place for Sounders baseball and many people attend games at TD Ameritrade Park in Omaha.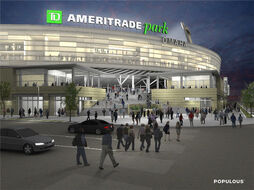 Ad blocker interference detected!
Wikia is a free-to-use site that makes money from advertising. We have a modified experience for viewers using ad blockers

Wikia is not accessible if you've made further modifications. Remove the custom ad blocker rule(s) and the page will load as expected.