United States Senate Election, 2016

---

40 Seats to the New Jersey Senate, 21 required for a majority

Leader
Stephen M. Sweeney
Thomas Keen, Jr.
Party
Democratic
Republican
Leader's Seat
District 3
District 21
Seats Before
24
16
Seats After
23
16
Net Gain
1
-

Popular vote

996,261
924,705
Percentage
51.06%
47.4%
---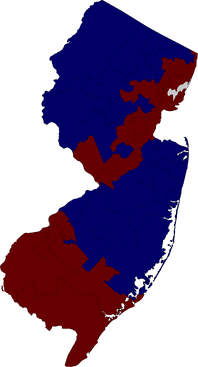 Dark Blue=Republican Hold
Dark Red=Democratic Hold
Grey=Independent Gain
The New Jersey Senate Elections took place on November 7, 2017, simutaneously with the election of Phil Murply as Governor. Depite this, the governing Democratic Party lost 1 seat.
Ad blocker interference detected!
Wikia is a free-to-use site that makes money from advertising. We have a modified experience for viewers using ad blockers

Wikia is not accessible if you've made further modifications. Remove the custom ad blocker rule(s) and the page will load as expected.