Ad blocker interference detected!
Wikia is a free-to-use site that makes money from advertising. We have a modified experience for viewers using ad blockers

Wikia is not accessible if you've made further modifications. Remove the custom ad blocker rule(s) and the page will load as expected.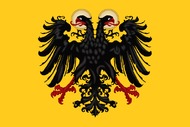 The New Holy Roman Empire is a politico-economic union and multi-ethnic complex of territories located in Central Europe and including an union of 8 member states. Such as other nations in Rebuilding Earth Map Game, the New Holy Roman Empire is an supreme nation in central Europe. New Holy Rome is bordered by Basque Republic to the west, Democratic Republic of Catalonia, Republic of Lazio, Principality of Monaco, Republic of Hungary and Greater Serbia to the south, Duchy of Brandenburg, Kingdom of the Netherlands and Republic of North France to the north and Democratic Republic of Lviv to the east.
Territorial evolution of Austria

Map

Turn

2248
2249
2250
2251
2251,5
Territorial evolution of the New Holy Roman Empire

Map

Turn

2252,5
2253,5
2256
2257
2258
2259
2260
2261
2262
2263
Subdivisions
The New Holy Roman Empire is divided into 15 member states. Each state has its own official flag and coat of arms, government, parliament, education, healthcare, judicature and administrative divisions. But some things have to be common for Holy Roman Empire, such as all states are kingdoms ruled by king and royal house. This means that each member state may never leave New Holy Roman Empire.
| Flag | Coat of arms | Nation |
| --- | --- | --- |
| | | Austria |
| | | Bavaria |
| | | Czechia |
| | | Estonia |
| | | France |
| | | Latvia |
| | | Lithuania |
| | | Italy |
| | | Poland |
| | | Prussia |
| | | Romania |
| | | Saxony |
| | | Slovakia |
| | | Swabia |