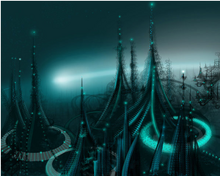 Macau (em chinês tradicional: 澳門; em chinês simplificado: 澳门; pinyin: Àomén, pronunciado: [ɑ̂ʊ̯mə̌n]; em cantonêsjyutping: ou3mun4*2, em cantonês Yale: Oumùhn, pronunciado: [ʔōu mǔːn], em Hacá: Au4mun2) era uma das regiões administrativas especiais da República Popular da China desde 20 de dezembro de 1999, sendo a outra Hong Kong. Antes desta data, Macau foi colonizada e administrada por Portugal durante mais de 400 anos e era considerada o primeiro entreposto, bem como a última colónia europeia na Ásia.
A colonização de Macau teve início em meados do século XVI, com uma ocupação gradual de navegadores portugueses que rapidamente trouxeram prosperidade a este pequeno território, tornando-o numa grande cidade e importante entreposto comercial entre a China, a Europa e o Japão. Macau atingiu o seu auge nos finais do século XVI e nos inícios do século XVII, mas só em 1887 a China reconheceu oficialmente a soberania e a ocupação perpétua portuguesa de Macau, através do "Tratado de Amizade e Comércio Sino-Português". Em 1967, como consequência do Motim 1-2-3, que marcou a revolta dos residentes chineses pró-comunistas de Macau, em 3 de Dezembro de 1966, Portugal renunciou à sua ocupação perpétua de Macau. Em 1987, após intensas negociações entre Portugal e a República Popular da China, os dois países acordaram que Macau voltaria para a soberania chinesa no dia 20 de Dezembro de 1999.
Desde 20 de Dezembro de 1999, o nome oficial de Macau é "Região Administrativa Especial de Macau da República Popular da China".
Em 2061 a região conseguiu independência após negociações com a China e seu nome oficial se tornou "República Anarco-Capitalista de Macau". Em 2137 o país se juntou a República Unida da China, em troca de recursos.
Ad blocker interference detected!
Wikia is a free-to-use site that makes money from advertising. We have a modified experience for viewers using ad blockers

Wikia is not accessible if you've made further modifications. Remove the custom ad blocker rule(s) and the page will load as expected.