For more information, see Wikipedia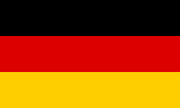 Germany (German: Deutschland), officially the Federal Republic of Germany (German: Bundesrepublik Deutschland) is a federal parliamentary republic in central-western Europe. With about 82 million inhabitants, Germany is the most populous member state of the European Union. After the United States, it is the second most popular immigration destination in the world. Germany's capital and largest metropolis is Berlin.
Disambiguation
Edit
Ad blocker interference detected!
Wikia is a free-to-use site that makes money from advertising. We have a modified experience for viewers using ad blockers

Wikia is not accessible if you've made further modifications. Remove the custom ad blocker rule(s) and the page will load as expected.