Hi this is Hexarafi, it's my first map game. After one month I join this wikia, I decided to create map games. Just add your nations and follow the rules. Feel free to join.
Important Content/Rules
For those new to this kind of game, I'll post some rules.
PLEASE READ THE RULES BEFORE JOINING!
NO racial slurs or foul language, other wise, you will be banned
Please remain civil.
If you do not post for more then 10 turns your nation will be taken away from you and it will be available for other people to take.
Please please please be plausible! This is a must if you want to play this game! If you do not post plausibly, your implausible edit will be deleted. Which means:

NO ROBOTIC SOLDIERS
NO CLONE TROOPERS, JANGO FETT
NO ALIENS
IF YOUR COUNTRY DOES NOT POSSESS WMDs IRL AND YOU WANT THEM IN YOUR ARSENAL, YOU MUST BEGIN CREATING THEM AND WAIT FOUR YEARS BEFORE YOU SAY THEY ARE COMPLETE AND READY.

Both parties must agree to an alliance/treaty/barter.
If you feel that you have been unfairly treated, please write your complaint in the comments.
Only the Head-Mod and game creator can appoint new mods and the map mod.
The game creator's word overrides all others.
The Head-Mod's word overrides all others except for the game creator.
Only the Head-Mod and Emergency Mod can start new turns. If a new turn has not be started within 24 hours, the Emergency Mod will start a new turn.
Every turn is one year until 2200 where it becomes ten years then in 2300 it turns to 20 years * A new turn starts every 24 hours.
Mods are able to create random events and will represent a NPC nation (i.e. Mongolia isn't going to sign its land over to Pakistan or something stupid like that), Mods also help to make that implausible stuff doesn't happen.
After you do 3 implausibilities you are banned from the game.
Every 25 years are to be archived to limit the amount scrolling that needs to be done to get to the latest year. Be sure to check back once in a while to ensure proper continuity!
Please, I must implore of you, if you plan to play this game, be active and check back each day!
This isn't a rule, but I'd like to encourage you to put your country's flag before your turn on the bullet list.
Have Fun!
(This is also copied and pasted from Future Map Game Revised, Future Map Game 2 and Humanity's Course, but with some rules and minor edits added in)
Mods
Can I be mod? -Sidewinder
Map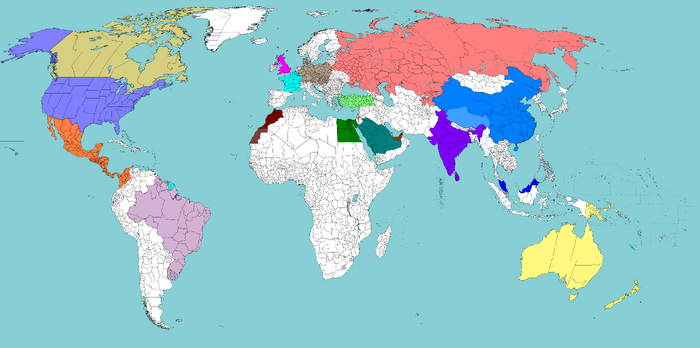 Nations
These are just some suggestions, choose from any nation you please!!!
REDIRECT Template:SideSig
Other suggestions:
(Bolded is for active users and have the plausible reputation)
United States
China
France
Canada
Central American Union of Quetzacotl (Mexico)
South Korea
North Korea
Iran
Saudi Arabia
Israel
Pakistan
Japan
Fallen/Merged/Occupied Nations
Alliances (Main Alliance)
The Moscow Pact
A pact created by the Eurasian Union and the successor of modern day BRICS.
Afghanistan
Bangladesh
Brazil
CAUQ
China
Cuba
Egypt
Eurasian Federation
Europa
Greece
India
Indonesia
Iran
Niger
Nigeria
Oman
Pakistan
South Africa
Sudan
Syria
Neo Yugoslavia
Other Military Alliances
Atlantic Treaty Organization
Albania
Angola
Argentina
Baltic Union
Bulgaria
Canada
Croatia
Democratic Republic of the Congo
Denmark
Equatorial Guinea
Europa
France
Finland
Gambia
Georgia
Greece
Greenland
Guyana
Iceland
Italy
Mauritania
Moldova
Morocco
Neo Yugoslavia
Netherlands
Norway
Portugal
Romania
Senegal
Slovenia
Spain
Suriname
Sweden
Turkey
United Kingdom
Islamic Treaty Alliance
Turkey
Saudi Arabia
Egypt
Jordan
Qatar
Tunisia
Kuwait
Libya
Eurasian League
Finland
Norway
Italy
Greece
Romania
Bulgaria
Moldova
Iran
Europa
Syria
Lebanon
Kuwait
Iraq
Oman
Yemen
Mongolia
Saudi Arabia
West Ukraine
Other Organizations (Political, Economy, or Regional Organization)
Union of South American Nations
Argentina
Bolivia
Brazil
Chile
Ecuador
Guyana
Paraguay
Peru
Suriname
Venezuela
European Union
Albania
Andorra
Baltic Union
Bosnia
Bulgaria
Croatia
Cyprus
Denmark
Europa
Finland
France
Greece
Iceland
Ireland
Italy
Malta
Macedonia
Neo Yugoslavia
Netherlands
Norway
Portugal
Romania
San Marino
Slovenia
Spain
Sweden
Switzerland
Association of South East Asia Nations
Brunei Darussalam
Cambodia
East Timor
Fiji
Indonesia
Laos
Malaysia
Myanmar
Philippines
Palau
Singapore
Thailand
Vanuatu
Vietnam
Archives
Gameplay
GAME START!!!
2016.5
The coalition push their troops to Fallujah to defeat ISIS. Meanwhile, United States will hold presidential election. The candidates are Donald Trump and Hillary Clinton. In Europe, UK will hold a referendum to leave or stay in EU.
Turkey: We start build up our military. We send more troops to fight ISIS. We increase our production such as agricultural food, metal, and petroleum to increase our economy.
UK: We decide to stay in the EU, but only if we assume general control of the Union and kick out or annex the countries that owe debts like Greece. We increase our production with new environment- friendly factories and increase our military to prepare for the event when we get to annex the countries flooded with debt.

Mod Response: The EU kicks you from asking that, as it sounds like a chance to monopolize Europe as a new British Empire, with being able to annex other nations that you have a dispute with.

Australia:We begin to increase our Navy strength, as China is getting a little paranoid by our exercises so we wish to be able to fight Chiina in a possible war. We leave the Commonwealth of Nations, as the UK is becoming increasingly unstable, and we do not wish to fight in a possible war against Scottish Seperatists. We also begin a space program in the Outback.
UK: Our military has significantly increased, and we start developing plans to get to the moon, but it will be a long time away before we actually get there. We apologize to the EU for that statement, and hope we can stay in the EU. To re-earn their trust, we decide to send financial aid to the poorer members of the EU.

Mod Event:The EU re-instates you, but gives you a warning, if you do anything that is frowned upon by the rest of the UN Security Council, we will not hesitate to kick you.

Germany:We upgrade our military.We ask Austria,the Czecks,Slovakia,Italy, and Hungary to join us in a new union called Europa.This will allow each country to have autonomy but still be part of one nation.(Still has one player though)(RNG needed)

Mod Response: Austria and Czech Republic accept the offer to join Germany's Union, but Italy declines the offer because they want fully-independence although they will have autonomy if they join. Hungary also declines but they may join the Union in the future. Meanwhile, Slovakia don't respond the offer.
Germany:Ok we are now named Europa with Austria,the Czechs,and Germany as autonomous places.Bohemia and Moravia are made out of the Sudenteland though the Czechs still have semi-control in these areas.

United States of America: Democratic Nominee Hillary Rodham Clinton wins the Presidential election, making her the first woman president in American history; along with her vice-president Elizabeth Warren. President Barack Obama is surprised by the actions by the British and agree with the warning by the European Union. Obama announces that about 500 more troops will be sent to the ground in the Middle East to combat the terrorist group, ISIS. We continue to push money and train Kurdish rebel troops in Syria (mod response, current status of Kurdish push in Syria). Obama announces that the deficit seems to be declining for the first time in years, along with a new effort to lower the national debt (which is about $18 trillion), with hopes of lowering it at least by a million by 2020 even though he will no longer be running for president. Police brutality is at an all time high with the news filed with reports of African Americans being wrongly abused by the police across the country; Missouri Senator Clair McCaskill puts forth a bill called "Police Brutality Act" which would state that police across would have to be re-trained for certain situations and when to and not to pull a weapon. The Police Brutality Act has gained major support from the Democrats in the Senate since it is Republican majority, but with the hopes of the Democrats winning back the Senate and passing the bill into law.

Kurdistan (Mod): We accept USA financial aid and their trainer. Therefore, we gain more powers in Syria. We continue push our troops to ISIS territory in Northern Syria. We plan to invade Raqqah, the capital of ISIS. We need more support from other countries. [Response Needed]. We recruit more 1,800 troops to our armed forces. We increase our defense in Iraq, and in Turkey, we start to gain more influence in Southern Turkey.

Mod Event: Scotland is taken over by separatists and attacks the UK. They invade Northern Pennines and some of Northern Ireland in a quick surprise attack, leaving the UK and Ireland with very short time to react. The separatists say that they "want to restore the former glory of the Scottish Highlands and follow in the footsteps of the British Empire".
UK: We send our military to hold the ground at the Pennines, and start accepting Scottish refugees. We also send support to Kurdistan, although less than intended due to the Scottish Separatists. We request those countries that have militia to spare to help. (Countries Response Needed)

Turkey: We won't intervene United Kingdom for their condition as we are busy to push our troops to Syria. But we send medical aid and some humanitarian to United Kingdom. We also already if United Kingdom needs financial aid.
American Secretary of State's Office: Secretary of State John Kerry announces that the United States will send 789 troops to support the British in the Peninsula.

(Another) Mod Event: Operation Breaking Terrorism in Fallujah was succesful, Iraq retake the city and with other countries support, continue push their troops into ISIS territory. In Asia, China continues to build up their military, they add more military equipment, especially Naval. Tensions in Korea become higher after Kim Jong-Un made statement that says they have already to attack South Korea. France and Canada send aid to Kurdistan.
Turkey: President of Turkey, Recep Tayyip Erdoğan, says in his speech that he criticize some countries are aiding our enemy, Kurds, especially United States who train Kurdish troops. But, although Kurdistan is our enemy, we support their plan to invade ar-Raqqah. We continue aid Free Syrian Army especially Syrian Turkmen Brigades. We build military industrial in İzmir. We recruit more 5,000 troops to our Armed Forces. We send our nationalist to Kurdistan area to counter Kurds propaganda. We increase our security in our border. We report that about 5,000,000 refugees escape to Europe through Turkey, and for this year, around 780,000. We start upgrade our technology.
Australia:We begin to question The United States' current government. Prime Minister Abbot says this in a speech: What defines a nation? Is it an ideal? Is it a regime bent on the welfare of mankind? Neither I say! It is a group of people who control land and decide for its citizens, good or bad. America is in a hole. It cannot get out of that hole alone, but we shall not stand beside what was once a great force, but is now a mass on the path to destruction.

Russia: We totally agree with Australia. We ask for an alliance with Australia [Australian Response Needed].

Canada: We start to fight a civil war that leads Quebec to become independent.
Russia: We ask all former Soviet states if they want to join us under the name of the Eurasian Federation. We also start backing the seperatists in Ukraine. We condemn the West for sending support to Kurdistan, our rival, because they should focus on destroying ISIS, who is plowing their way through Iraq and Syria.

Mod Response: Belarus, Kazakhstan, Kyrgyztan, and Tajikistan join Russia. Latvia, Lithuania, and Estonia decline and unite as Baltic Union. East Ukraine gains independence and then join Russia. Others are decline, especially Ukraine.

Brazil: is attacked by ISIS at the 2016 Rio Olympic Games and they Bomb the Stadium. We decides to join the war against ISIS and also ask Bolivia, Uruguay, Paraguay, Suriname, Guyana and French Guiana to join is as the "Brazilian Federation".

Mod Response: Uruguay, Guyana, and Suriname join Brazil. Bolivia and Paraguay decline. France also decline and says they won't give their territory (Guiana) to Brazil.
2017.0
Civil war happen in some western countries, such as Canada, United Kingdom, and Spain. ISIS is pushed by Coalition in Iraq but they make a terror in some Western countries. Meanwhile, in Asia, North Korea prepare an invasion to South, make tension in there become higher. Chinese ships illegally enter Philippines sea territory in Spratly Islands. Philippines pull their ambassador from China. Olympic Games in Rio continued and United States become the winner with 245 gold medals.
Europa:We upgrade our military.We ask if Poland,Belarus,Latvia,Estonia,Lithuania,France, Croatia,Bosnia,Serbia,Macedonia,Greece,Montenegro,and Slovenia if they would like to join us under the same circumstances as before and hope Slovakia will answer.We send aid to the U.K. and Kurdistan and Iraq.

Mod Response: Poland and Slovakia accept the offer. Hungary asks to join Europa. France declined and says Europa want establish the Fourth German Reich with diplomacy option as Slovenia and Croatia say. Belarus join Russia. Estonia, Latvia, and Lithuania decline and then unite as Baltic Union. Serbia also decline the offer, make other Balkan countries automatically decline.

Eurasian Union: We would like to test the US if they are still great, so we start the Second Cold War by backing North Korea in the current crisis. We are willing to sell Kalingrad to Europa for a price of 100 billion Eurasian rubles (135 million Euros) and an alliance [Europan Response Needed]. We also offer the alliance to Turkey and Australia [Turkish and Australian Response Needed]. [Secret] We give North Korea 2 Tsar Bombas (damage is approximately 60 megatons) out of the 5 that are currently in existence. [End Secret] We send 250,000 troops to kill ISIS.

Australia dip: After much consideration, we join the alliance, but ask for a few nuclear weapons to boost our defensive capabilities.
Eurasian Union Dip: We give 25 nukes with a 10 megaton payload, and 1 Tsar Bomba to Australia.
Turkish Diplomacy: President Recep Tayyip Erdoğan was so surprisingly to hear alliance offer from Eurasia, because we have not good relation since 2015. So, we decided to improve our diplomacy and apologize for what happening in the past. But, unfortunately we decline your offer. But we ask Eurasia for non-aggression pact [Eurasia Response Needed]. [SECRET] We accept your alliance but as secret alliance because we are now in Western alliance. But we are still support FSA, and we won't fight Syrian Government. [End Secret].
Eurasian Union Dip: We accept the non-aggression pact.

United States of America: Hillary Clinton is inaugurated as the first woman president in United States history, with an overall 52% approval rating. Firstly, Clinton fully supports the "Police Brutality Bill" which will most likely pass later this year, since in the 2016 election, the Democrats took back the Senate and the House. The Republican Party dissolves into two different political parties, the more far-right Republicans forming with the Tea Party, and the regular center to left Republicans forming the Conservative Party; both political parties are considered minor at this point in time so the Libertarian Party rises to replace the Republican Party in the two party system. Secretary of State Barbara Boxer condemns the forming of Europa, but President Clinton avoids the question on weather she supports it or not for major political reasons. President Clinton funnels more money into the Kurdish banks so that they can use the money for weapons and other supplies. An attack in front of the White House occurs when a crazed man begins shooting at crowds in front of the White House, killing 20 innocent people; the attacker also tries to shoot at the White House through the gates, but the man is captured and will face trial next year. The White House remained on lock down for 2 days after the attack to make sure there was no further attack on the White House. The attack brings forth more calls for gun-control and President Clinton asks the Senate and the House to create a bill that will pass legislation for national gun-control. She also announces that the military will be expanding more over the rest of her first-term by at least a few thousand troops. (Secret) President Clinton commissions the creation of a spy network that will be international and will gain secrets from enemy countries and assassinate world leaders if possible called the "J-Rock", along with allowing the NSA to have accesses of all American civilians, terrorist or not. President Clinton asks France to help (along with other American allies) to invade Europa to help free all European countries under German rule [French/Mod Response Needed] (Secret).

Mod Response: (Secret) France accept US offer and invite other European nations, including United Kingdom [UK Response Needed] to join an invasion to Europa. Slovenia and Croatia accept. But others decline, especially Scandinavia nations, with any reason. (End Secret). France train and build their military, they look prepare an invasion. With unknown reason, France pull their ambassador from Europa, make tension in there become higher.
UK Response: (Secret) We accept the offer for a Europa Invasion.(Secret) We upgrade our military.

Republic of Australia:After denouncing the British Royalty as our rulers, we have changed from a Commonwealth to a Republic, and have had a contest to re-design our flag. We ask New Zealand and Papua, New Guinea to join us. [Mod Response Required]

Mod Response: New Zealand accept the offer as they are good allies. Papua New Guinea also accept Australia offer.

Mexico: Our presidental elections turn out with a Aztec guy as president, he changes his name to Monzumenta. He becomes a laughingstock because of this, but then he immediately declares martial law. No one knows were they are taken when they are arrested. He then cleverly triggers a military coup, but crushes it, this time with the Mexican public on his side... he asks all nations south of mexico until Panama to join into the Central American Union of Quetzalcoatl. He also put propaganda in Panama about how the Americans were oppressing them by controlling the Panama Canal, and puts how the C.A.U.Q. will end american imperialism.

Mod Response: Guatemala, Honduras, Belize, El Salvador, and Nicaragua accept Mexico offer. Costa Rica and Panama decline. Panama criticize Mexico and other nations who expand their territory not appreciate territorial sovereign.

Turkey: A bomb exploded in Ankara, causing 12 deaths and 28 injury. We suspect ISIS is the prepetrators. So we add more troops to Syria and push our troops with big-scale to ISIS territory. We interest to buy military equipment such as aircraft, tanks, and weapons from United States. We also ask other nations such as United States or Eurasia to help us to upgrade our technology. (Response Needed). We continue send aid to Free Syrian Army. We continue counter Kurds propaganda in the South. We ask Saudi Arabia and Qatar for alliance as we fight ISIS together. (Mod Response Needed). We start build more infrastructure in East Turkey, such as highway and railway.

United States diplomacy: President Clinton offers her condolences after the bombing in Ankara, saying, "Enough is enough. Terrorism is no longer welcome in our modern world." She also has the top scientific institutes in the United States offer their technology to the Turks, such as medicine.
Eurasian Dip: We support the Turks on their efforts to fight ISIS, and send 21,000 tanks to the Turkish Armed Forces. We also continue airstrikes on ISIS. We offer condolences to the Turks after the bombing in Ankara.
Turkish Diplomacy: We thank United States and Eurasia support and their condolences.

UK: We decide to relocate the Her Majesty the Queen and the Parliament to Canada for safety. Our best military strategists and leaders are trying to understand Scottish battle tactics, and they believe they have found a loophole. Operation Hadrien's Wall will begin at midnight, and we will take back our land.
Mod Event:Operation Hadrien's Wall is a complete success. The UK took back the entirety of the British Isles, destroying the Scottish Separatists. Saudi Arabia accepts Turkey's offer for alliance while Qatar is unresponsive.
Brazil: gradually begins to improve its economy and develops more as 21st Century Country. We also ask Colombia and Venezuela to join us. We also wish to settle an alliance with the Republic of Australia
CAUQ: We consentrate on fully acclimating the new arrivals into Mexican society. We accept Eurasia's alliance proposal. We start to invade Costa Rica and Panama we also ask Colombia and Venezuela to join us, stating "i dream of a united latin america, and brazil is nothing more then a Portuguese america..." can i please get a mod response....

Eurasian Dip: President Vladmir Putin welcomes the CAUQ into the Moscow Pact (our alliance) and since both the CAUQ and Brazil claim Colombia and Venezuela for themselves, they are likely to go to war with each other, so we station 500,000 troops in the CAUQ to help thm in case we go to war.
MOD RESPONSE: Both Colombia and Venezuela decline from joining the CAUQ and Brazil, preferring to remain sovereign, but also to prevent instability in the area.

Eurasian Breaking News: Multiple bombs have exploded all across Moscow, including one in the Kremlin. President Vladmir Putin is not harmed, but many government officials are. The other bombs exploded in the metro stations, and the total death toll is 167. We suspect Al-Qaeda is behind this, because they have claimed responsibility for the attacks.

Turkish Diplomacy: We condole with what happened in Moscow. Therefore, we send surprise airstrike to an-Nusra Front, a group part of Qaeda. We ask Free Syrian Army to stop alliance with an-Nusra.

CAUQ: We continue our efforts in Costa Rica and Panama. We vastly improve our infrastructure, and we also send financial aid to Peru, and request that they join us, and we ask Colombia to join us, this time promicing large sums of money to all Colombian officals who join us.

Mod Response: Colombia still decline with same reason, remain sovereign. Colombia ask for help to other country, to help defense their country if CAUQ attack them. But, some Colombian leave their country and join CAUQ. Meanwhile, Peru is unresponsive.

Turkey: We condemn Mexican action for their invasion. But, we won't intervene the Mexican Invasion. We continue send airstrikes to ISIS. We invite United States, Eurasia, and other countries who join the war with ISIS, including Syria, Iraq, Kurds, Syrian Opposition, Iran, and Arab countries to discuss the plan to invade ar-Raqqah. [Player/Mod Response Needed]. We also ask Kurds for peace talks. We plan to build express high-speed railway, that connect İstanbul, İzmir, and Ankara. Our polices discover 2 suspected terrorists in Trabzon, Northeast Turkey. Our polices continue find the perpetrators of Terror in Ankara.
UAE: We expand our small navy, and begin work on a super-carrier christened the A.A.A Mohammed Al-Nahyan after the Crown Prince of Abu Dhabi. Secret: We reach out to ISIS and offer them an alliance. (Mod response needed) End Secret.

Mod Secret Response: ISIS will accept UAE offer if UAE gives their some oil.
UAE Dip: We agree to ISIS' proposal, and send them 1,000 barrels of oil along with weapons and vehicles.

Brazil: We ask Argentina to join us and send airstrikes to ISIS. We also begin to use renewable energy sources. We also change our languages name from Brazilian Portuguese to Brazilian.

Mod Response: Argentina declines Brazil offer and ask Brazil to stop expand their territory. President of Argentina says, "Please respect countries's sovereignty." It's not only purposed to Brazil, but other countries such as Germany/Europa, Mexico/CAUQ, and Russia/Eurasia.
Turkish Diplomacy: We ask for trade to Brazil.
2017.5
North Korea declares war on South Korea and quickly attack South Korea. Kim Jong-Un makes a controversial statement that says, "We will nuke Seoul, Japan, and USA. We attack South for one Korea, Juche Korea." China backs North Korea and join the war, and on otherside, Japan supports South Korea. War expands when China declares war on US allies, such as Phillippines and Taiwan. In Middle East, some countries will discuss a plan to invade ISIS. Tensions between Israel and Palestine increased, because Israel try to take Masjidil al-Aqsa (Mosque al-Aqsa). In Europe, France build their military, prepare surprise invasion to Europa(in Secret). They also start make a nuclear weapons. Second Spanish Civil War expand when Catalonia declare independence. Spanish Government needs some support.
Turkey: We condemn Chinese and North Korean action. We send financial aid to South Korea. We also ready to accommodate Korean refugees to here. We send an invitation to some countries to discuss plan to invade ISIS territory with large-scale in Antalya. Invitation have been sent to: United States, Eurasia, United Kingdom, Europa, Canada, Australia, and Brazil (we don't invite Mexico because they're not at war with ISIS). [Players Response Needed]. We also invite other countries who at war with ISIS, including France, Syria, Iraq, Kurds, Syrian Opposition, Iran, and Arab countries [Mod Response Needed]. We recruit 12,000 troops to our Armed Forces. The construction of military industrial is finished and now we build 35 tanks, 20 artillery, and 75 aircraft. We catch 5 more terrorists of tragedy Ankara. After interrogation, the perpetrators says they're members of ISIS, and then ISIS claims responsibility. We build more highway in Eastern Turkey. We send humanitarian and financial aid to Spain.

Eurasian Dip: We will fight ISIS, but will stay neutral in the 2nd Korean War because a) North Korea is our ally, b) we don't want to anger anyone by supporting NK. (Secret) However, we do send North Korea 150 billion Eurasian roubles to fund their army. (End Secret). We hear rampant rumours that the UAE has allied ISIS, but dismiss it as "disgusting lies fabricated by terrorists and the UAE has enough decency not to ally terrorist rapists controlling half of Iraq and Syria. However, we do think that someone has allied ISIS, because they are much stronger nowadays. (Secret) We hack into all Middle Eastern countries' government archives to find out who allied ISIS and once we find the information, we will go beat whoever it is up. (End Secret) As border claims and disputes continue between our ally, the CAUQ, and Brazil, we suspend our ambassador in Brazil until further notice (basically when the border claim dispute is resolved).
Europa:We upgrade our military.We tell France that we just want European Unity and everybody is autonomous.We abolish Bohemia and Moravia and re-add them to Czechia.We tell Hungary any country in the general European Area can join us so they can as well.We accept Eurasia's alliance offer and (Secret)ask for help in the case France invades us.We also offer to split the Baltic Union into Europan Lithuania and Courland while Eurasia gets the rest of Latvia and Estonia(end Secret)We also buy Kalingrad
Eurasian Response: We are sorry, we need Lithuania, but we don't need Latvia, so we give Europa all of Latvia, as well as Memel.
Saudi Arabia: We declare war on ISIS and rush 100,000 men to the Iraqi border and request military access (mod response needed) , we also condemn North Korea and (Secret) Provide South Korea with military aid and we send 15,000 men to help defend Seoul. (End Secret) We also request trade deals with UAE and Yemen (UAE and Mod response needed (again))

Mod Response:Yemen says yes.

United Provinces of Oceania:We are a little tied with China and North Korea, so we will not be able to participate with the invasion or give any support what-so-ever. We do wish you all good luck, and hope that a small force of 500 troops shall at least help a the coalition a little bit.
UK Dip: We accept the invitation for the war against ISIS.

Mod Event:Georgia completes their Action Plan, admitting them to NATO, Serbia asks Macedonia and Montenegro to join into a new Yugoslavia, and Montenegro accepts, while Macedonia is unresponsive. Several NATO members ask to expand the alliance into a global alliance, which they have named The Global Democratic Treaty Organisation or G.D.T.O. Sweden and Finland ask to join NATO, as they fear Russia's new Moscow Pact. NATO member response required France, Greece, Romania, Bulgaria, Georgia, and The Baltic Union all support Sweden and Finland's admission into NATO.

Turkey: We support Sweden and Finland's decision to join NATO.

United Provinces of Oceania:We declare war on North Korea and China stating, First just South Korea, Then Taiwan and The Philippines? What is next? ASEAN? The United States? No. It will be The UPO. We ask for international support against these menaces. [GLOBAL RESPONSE REQUIRED]

Turkey: Yes, we have condemned their action and send financial aid to SK. We continue send humanitarian aid to South Korea to help them leave South Korea because we are afraid if "evil" North Korea nuke South Korea. We also send financial and humanitarian aid to Taiwan and Philippines.

Saudi Arabia: (secret) we send even more military aid to South Korea and 5,000 more infantry, with 10 heavy guns (end secret) we also start to move through Iraqi lands without their permission with 100,000 men, hoping to take the Isis Terrorists by surprise.
Mod Event: North Korea bomb Inch'on and push their troops into outside Seoul Metropolitan Area and Inch'on. Meanwhile, in sea of Western Korea, China ships strikes Japan naval, and Japan revenge it. China and Japan declare war to their rival each other.
UAE: We thank the Eurasian Union for their vote of confidence. We also declare neutrality in the Asian conflicts.
C.A.U.Q.: we ask for more Eurasian support as we invade Colombia. [Eurasian Union/mod response needed]. On other news, we begin a nuclear program, but it will take a while for our economy to get there.

Eurasian Dip: We tell our 500,000 troops stationed in the CAUQ to attack Colombia.
Mod Event: CAUQ are successfully in invasion of Costa Rica, after capital San Jose fell to CAUQ, President of Costa Rica, in exile to Dominican Republic, declare that Costa Rica are surrender. Panama is very afraid after Costa Rica fell and CAUQ have entered Panama territory. They need support from western, such as United States. Colombia also do the same like Panama, and both ask for alliance to United States, and for Colombia only, ask alliance to Brazil. [Players Response Needed].Colombia now have alliance with Peru and Chile.
Eurasian Union: We send 400,000 more soldiers to the CAUQ and recruit 3 million more active soldiers and 8 million reserves.

UK: We condemn North Korea for its war with South Korea. In the event a Third Sino-Japanese War erupts, we send military support to Japan as we are allies. Troops are deployed in ISIS infested areas. (Secret) We send Saudi Arabia a proposal for a joint war against ISIS with battle tactics and methods. (Saudi Arabia Response Required) We also ask for an alliance and trade deals. Spies are sent into Europa to prepare for the war against Europa. They have been given orders to disable defenses on command. (End Secret) We send some air defense missile systems to countries near or within North Korea's missile range for defensive purposes. More oil rigs have been constructed off the coast of Northern Scotland. We have contacted the help of Anonymous members native to the UK and ask them for help to identify the allies of ISIS, shut down their communications, and humiliate them. We offer them £1,000,000 for this endeavor. (Mod Response Needed)

Saudi Arabia: We welcome UK with open arms and accept the trade deal and alliance (secret) and the joint war deal (end secret)

Eurasian Union: (Secret to all except the Moscow Pact and the UAE) We are very sorry to say that we have found out that the UAE have incriminating information in their government archives, but dismiss it as "ISIS-fabricated lies". However, the incriminating evidence is well, incriminating, so we have no choice but to ask for a military alliance with the UAE's sworn enemy, Oman [Mod Response Needed, and KEEP IT SECRET!!!] (End Secret). As tensions increase between NATO and Europa, we send one million newly recruited soldiers into European Poland to prepare for a war looming ever closer every day. We cut all ties with North Korea, since nuking other countries is not acceptable in today's world except in the most threatening of wars. An inventor called Viktor Mendellevsky has invented a device called the radiation sucker, which, obviously, sucks radiation. We immediately buy 15 radiation suckers and put it in the Chernobyl Exclusion Zone (on the Eurasian-Ukrainian border since Eurasia annexed East Ukraine) to suck up the radiation there.

Mod Secret Response: Oman accept Eurasia's offer for alliance.
Mod Event: Iran and Syria ask to join Moscow Pact as they're allies of Eurasia. [Eurasia Response Needed].
Eurasian Response: We accept.
Turkish Diplomacy: [Secret] When we hear Eurasian statement, we don't believe that. But It's true. [TOP SECRET]We ask Saudi to discuss a plan to invade of UAE. [Saudi Response Needed, keep this secret.] [End all secret]. We pull our ambassador from UAE, with unknown reason.

United States: President Clinton condemns the invasion of South Korea by North Korea, so she (along with Congress) declare war on North Korea and begin moving in our troops from South Korea onto the front lines at the DMZ and push into North Korean territory. She also orders the navy to fire at North Korean strongholds on the shores. Many people support the invasion of North Korea since tensions have been so high for the past few years. (Secret) We call on NATO and the EU to help with the invasion of Europa and we begin to name the invasion plan, "Operation Go High" and begin planning with top leaders of nations that have already agreed to help on what to do (Secret). The "Police Brutality Bill" passes through both the House of Representatives and the Senate and President Hillary Clinton signs the bill into law and will take effect next year.

Mod Response: (Secret)NATO accept US offer and will help in Operation Go High. EU agree too.(End Secret). NATO kicks Europa from the organization. But Europa still member of EU (Although they stole EU flag).
Turkey: (To US and NATO only)We remain neutral about Operation Go High, because we have war with ISIS and we have non-aggression pact with Europa's ally, Eurasian Union, and they will help Europa to defense Europa's territory.

CAUQ: We demand that the Dominique government surrender (secret) and send CAUQ agents into there. [Mod response needed] (end secret) we also continue invading panama and Columbia, and we threaten Venezuelan government, but we play on the fact that the citizens don't like Venezuela, trying to incite a rebellion in favor of being annexed.

Mod Response: Dominican Republic government refuse to surrender, because they only receive Costa Rica to exile, and after surrender, Costa Rica government in-exile is shut down. National Venezuela Movement is established (by CAUQ) and against government, causing Venezuelan Civil War. Panama, ask for peace, they will join with referendum. Colombia send airstrikes to CAUQ territory.

Brazil: We demand that the CAUQ stop their push into South America. We also wish to have an alliance with the United States. (Response Needed). We accept the Alliance with Colombia and ready our army for a war against the CAUQ.
CAUQ Dip: we will agree to stop going into South America if A) We get an embassy, and B) We get a trade deal, and C) North Columbia is ours and you can get South Colombia.
Brazil: We accept the CAUQ agreement. We also send financial aid to Catalonia and South Korea. We begin to bomb North Korea. (Secret)One of our top spies reports that the Eurasian Federation May be up to no good. (End Secret).

Mod Event: Second Spanish Civil War is stopped with result stalemate. Catalonia will hold referendum to gain independence. Meanwhile, North Korea, surprisingly, pull their troops from South Korea.
Turkey: We give caution to countries who at war with North Korea. Its code North Korea will nuke Seoul. We continue help South Korean civilians to leave their country. [Secret] We send spies to China. We cancel the plan to invade UAE because there many foreigners, and they're have good relation with Muslim countries [End Secret]. We continue improve our economy. We add more weapons for military, such as pistols, rifles, snipers, and grenades.
2018.0
North Korea launched a nuclear to Seoul, the death toll is: 120,000 Korean soldiers, 65,000 foreign soldiers, 450,000 civilians, 23,000 foreign civilians, and 1,200 humanitarians. After nuking Seoul, North Korea back do a quick invasion to Seoul, but some survive soldiers keep defending Seoul. Meanwhile, in the East China Sea, there's battle between Japan and China. Japan increase their defense, with help from their allies. In the South, China begin an invasion to Taiwan. To Europe, France, with new president, declare war on Europa, and quickly annex Kehl, German cities near Strasbourg. France continue march their troops to major cities, such as Stuttgart and Mannheim. Second Spanish Civil War is over, the referendum results to Catalonia independence, 64% for yes and 28% for no, the rest abstain, makes Catalonia now is independence nation, and recognize by United Nations and Spain. Referendum also held in Latin America, in Panama and Colombia, to join CAUQ or still sovereign nation. The result in Panama, 56% for yes, and 42% for no. 2% abstain. In Colombia, 45% for yes, 40% for no, and 10% abstain. These results become a part of Treaty of Cartagena that says: Panama and North Colombia are annexed by CAUQ. After The Antalya Discussion, the Coalition forces, Syrian and Iraqi National forces, and other enemy of ISIS, invade Raqqah with large-scale, make ISIS become weak. Uganda Civil War started, after the rebels, named Uganda Socialist Forces established and make a terror to Uganda polices.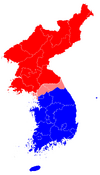 This is map of Second Korean War. Red=North Korea. Blue= South Korea.
UK: Upon hearing that North Korea launched a nuclear assault on South Korea, the entire nation is outraged. Her Majesty the Queen has even spoken out on this, and declares war on North Korea. The Prime Minister has even responded with a "You done it now, North Korea" statement. "You have gone much too far, North Korea. South Koreans, you will be avenged." he said while exiting the doors of 10 Downing Street. We send humanitarian aid to South Korea, military aid to Japan and also condemn the PRC for the invasion of Taiwan. We invade Hamburg, Lübeck and Bremen and continue to march into Berlin. We try to cause minimal damage. We send troops to the Sea of Japan to aid both countries. Our battle plan is to invade Pyongyang and use it as a base of overseas operations. We also order several "radiation vacuums" and send them to ground zero of the South Korean nuclear impact.
United Provinces of Oceania:We begin Operation Sword, which funds Uyghur, Tibetan, and Democratic Rebels in China. This ends up causing a civil war which will give us time to liberate Taiwan and push them out of Luzon. We send 15,000 troops to Luzon to push them off of the island. A small fascist movement has begun in Papua, New Guinea, but we stopped it quickly. Tony Abbot has resigned as he feels that everyone is now conspiring against him. Elections are held hastily, and John Kelvik has won the election, and he asks The United States for better trade between the two nations. [US Response Required]
Saudi Arabia: Upon Hearing the situation with North Korea and Seoul, we declare war on North Korea, drafting another 3 million into our army and sending them to help South Korea. We also perform several uncoordinated attacks on ISIS.
Turkey: We condemn the evil action from North Korea. But, for now, we are focus for invasion ar-Raqqah. Our troops will lead the invasion to ISIS because other countries are busy in other war, such as Invasion of Europa and Second Korean War. We start push our troops from front Northwest, with Saudi, Qatar, Jordan, Free Syrian Army, and some France and US troops. Meanwhile US, France, UK, Brazil, Kurds, and some Oceania troops invade from Northeast. Eurasia, Iran, Iraq, and Syria troops invade from East and West. Saudi, Jordan, and FSA also will invade from South. (I will show the map soon). We declare our neutrality in Invasion of Europa. We continue upgrade our military, technology, and economy. We ask for alliance with Jordan [Mod Response Needed]. We start build express high-speed railway from Istanbul to İzmir. We start to develop renewable energy, we start with olive oil.
Eurasian Union: We will have to turn on our ally, North Korea. Nuking people is not acceptable in today's world. We pull our 900,000 troops in the CAUQ to Europa to help defend our ally, we also send 350,000 troops to North Korea to invade, and we ask if the northeastern part of North Korea can be annexed by us (the rest goes to South Korea)(Mod Response Needed).

Mod Response: North Korea accept the offer. [Secret] NK ask Eurasia support to build more nuclear weapons. [End Secret]. [Report] They now take Incheon. They ask to join Moscow Pact.
Chinese Diplomacy (Mod): As ally of North Korea and have close relationship with Eurasia. China asks to join Moscow Pact.

Mod Event: North Korea takes Inchon with some support from China and Eurasia. In Seoul, there's The great battle. Slovenia and Croatia declare war on Europa, and after they have alliance with Italy, they take Klagenfurt, Carinthia. Battle between Croat-Slovenian troops and Europan troops in outside Graz. Croat-Slovenian also push their troops to Burgenland, Carinthia, Sytria (Europan Austria), Zala, Somogy, and Baranya (Europan Hungary). Meanwhile, in Front West, France takes city of Karlsruhe, and all territory of Saarland. United Nations asks France to stop the invasion, but France refuses. French troops continue march troops to Mannheim, Stuttgart, and Frankfurt.
Saudi Arabia: (secret) We send all we can to Japan so they can invade elsewhere, a total one million troops, all we can now send (end secret)
France: During a meeting about the war Monarchist storm the Senate and the National Assembly, Franicos Hollande is detained by members of the military. Knowing that the nation is going in the wrong direction te Socialist and Republican group agree to a new form of government. In the following hours, Jean-Christophe is crown Napoleon the V with his father being crowned Napoleon the IV. It is decided that Napoleon V will be the Emperor while his father will be an adviser, and temp Prime minister until on is elected by parliament. As his first order he orders all troops to halt their advance and dig in while he enters talks with the U.N. Following that he begins to improve relations with Spain, Portugal and Belgium, possibly discussing a merger(mod please). He also commences the building of another nuclear aircraft carrier.

Mod Response: Spain and Portugal decline France' offer to merger. Belgium accept, but France must give them special autonomous if they join. Luxembourg, fearing Europa will invade them, ask for joining. [France Response Needed].
France: We accept Belgium's terms, and Luxembourg into the The Republic.

UK: We have invaded Berlin, but it was mostly with the help of the people who don't want another German Reich. We move our troops south, and ask France for an alliance as we are both invading Europa. (France Response Needed) Stephen Hawking announces that he has mathematically proven that black holes can be stabilized, which means it is possible to create wormholes. We begin researching this. We send military support to South Korea.

France: We will take time to think about it.

Turkey: We continue push our troops and send more airstrikes to Raqqah. ISIS lost 25% their territory. We will hold presidential election. The candidates are Ismail Buraz, Selim Sevyat Ramaloğlu, and Karim Sehin. We continue upgrade our military and technology. We give training to upgrade skill some workers to survive in global economy competition. We upgrade our infrastructure. We start build nuclear plants to electricity production. [Secret] also for weapon, it's for self-defense only [End Secret]. We improve immigrants's economy, give them special residential and job.
Brazil: We offer a deal to France, If they handover West French Guiana, We will fight Europa as France's Ally. [France Response Needed].

France: French Guiana is apart of the republic, and it shall stay such.

United States: President Clinton is inaugurated for her second term as President of the United States, but the event is not as popular as every inauguration is ever since the North Korean invasion of South Korea. During her inauguration speech she states that, "Peace needs to be brought to the Korean peninsula as soon as possible." She announces that 5 transport planes containing 5,760 American soldiers will land at Pyongyang Sunan International Airport and will begin and begin taking the city, while the battleships make contact with the small North Korean navy and army. (Secret) Operation "Go High" is a go and is launched, the US begins by shutting down all the nuclear warheads in Germany and their held countries, along with begin invading West Germany. President Clinton wants to keep the involvement a secret since the United States is already in a war with North Korea (Secret). The Senate is filled even more by Democrats, making it 66 Democrats, 43 Republicans, and 1 Independent, so it seems that the senate will be democratic for the next four years.
C.A.U.Q: we send more money to the n.v.m (secret) and continue sending C.A.U.Q agents into Dominican Republic (end secret)
Brazil: We ask again if Paraguay would join us. We also ask Cuba, Trinadad & Tobago, Barbados, Jamaica and Haiti, If they join us we can keep them safe from the C.A.U.Q and send them financial and health aid.

Mod Response: All Caribbean nations decline Brazil' offer, but Trinidad & Tobago, Barbados, Haiti, and Grenada ask for alliance. Meanwhile, Jamaica, and other Commonwealth nations in Caribbean asks for alliance with UK, and Cuba ask CAUQ for non-aggression pact and ask to join Moscow Pact. [Brazil, UK, CAUQ, and Eurasia Response Needed]. Paraguay still decline Brazil offer.

Mod Event: Croat-Slovenian troops success invade Graz, and continue march their troops to Vienna. New Yugoslavia ask for join Moscow Pact, and if they join, they will help Europa to invade Croatia and Slovenia. [Eurasia Response Needed]. [Players Report] UK success invade Bremen. France success invade Mannheim. Uyghur declare independence, causing civil war. Oceania success defend Taiwan and Phillipinnes from China.
Brazil: We accept the offer for an alliance. We also wish to commence trade with South Africa. (Mod Response Needed).
China: We rise to the world stage after staying dormant for the past few years. During the time we where gone, we have built up our military significantly and we have increased our military budget by 50 percent, surpassing the U.S as the highest spender on military. We increase Guns and military imports from Russia. Military factories have been built around major cities in china and we have put our military around the north Korean border on high alert. IN protest to Americas involvement in NK, we put a tax on all products sold to America called the 'Korea tax". We cut our trade of plastic products to the U.S by 50 percent as well, and we start sanctioning their large companies and corporations from our shores. We increase the tax on material companies like apple uses to make their phones, severely hampering the smartphone industry in the U.S. Refugee camps are opened across our border with NK to harbor fleeing north Korean citizens and we offer the government of NK refuge if they are over run by allied troops. We also officially denounce America as a nation and call for an alliance of Asian countries. We move heavy artillery on to the border with NK and command our forces to dig in. We propose a trade deal with Russia to exchange vital resources with each other to keep our economies afloat in the times of war. We offer total peace to the allies, however we will provide north korea with as much support as we can with out getting involved militarily. This peace will include all members of the allies, but will not end their war on north korea. It will not end the sanctions and economic strikes on the U.S. We ask for a response as soon as possible.

Mod Event:Through taxes and Australian blockades, a minor downturn occurs in the chinese stock market as some companies move to India and The United States.
Mod Response:Only Vietnam and Pakistan accept your alliance proposal. They also ask for military access in your land.

Saudi Arabia: We withdraw all but 10,000 troops from the former-ISIS territory and send them to South Korea as help. The remaining 10,000 will remain as to ensure that they'll be no further rebellion. We also ask Bahrain and Qatar to join us (Mod Response Needed)

Mod Response: Both Bahrain and Qatar decline to join Saudi Arabia. But they ask to alliance.

United Provinces of Oceania:We condemn China's sanctions on The United States, so we tighten sanctions on China. [Secret] We blockade Chinese ports by placing submarines just outside of chinese territorial waters, and threatening to sink the ships if they do not go straight to Darwin and offload your cargo there, then we will sink your ship and cargo [End Secret]
Morocco: we offer a trade deal to UAE. We will buy Gibraltar form the UK.
Brazil: We ask Angola would they merge with us. If they do we are willing to spend millions of Brazilian Reals on giving them better education, hospitals and proper food stores. We are also willing to give them drinkable water and better farms. (Mod Response Needed).

Mod Response: Angola accept Brazil offer to merge as special overseas region. South Africa also accept Brazil offer to commence trade.
2018.5
North Korea continue push their troops to South Korea, they finally take Seoul. But coalition forces come, and retake Southern Seoul. Civil war started in China, when Uyghur rebels attack Chinese Forces in Xinjiang. Civil war expand when Tibet ask to independence. On othersude, Oceania success defend Taiwan and Philippines from China. In Europe, NATO forces, led by France (original leader is US), continue invade Europa. They take some cities, such as Graz (Europan Austria), Pécs (Europan Hungary), Mannheim, Stuttgart, Ludwigshaven, Oldenburg, and Bremen (Europan Germany). The great battle took place in Hamburg, Frankfurt, Mainz, Koblenz, Darmstadt, and Ulm, but there's Eurasian forces already to help Europa and defend them. To the Middle East, the Coalition forces now become closer to Raqqah, and ISIS now weak, their "puppet/satellites" in Libya and Yemen also now weak, but Boko Haram still strong. DRC, put their military on Brazilian Angola-DRC border, make tensions in there increased.
MOD EVENT in the previous turn, and players don't respond it. Here is it, please respond it.
To Eurasia: North Korea, Cuba, and New Yugoslavia ask to join Moscow Pact.

Eurasian Response: We accept all except North Korea because they nuked somebody.

To UK: Jamaica and other commonwealth nations in Caribbean ask for alliance.
Turkey: We continue build our military. We ask Saudi Arabia, Morocco, United Arab Emirates, Egypt, Jordan, Qatar, Bahrain, and Tunisia to form alliance, named Islamic Treaty Alliance. [Players/Mod Response Needed]. We are proud to announce that Coalition forces success touch Raqqah. We continue push our troops to enter Raqqah, find Abu Bakr al-Baghdadi, and defeat ISIS. We continue improve our economy and upgrade our technology. [SECRET] We train our troops to send aid to South Korea to fight North Korea. We ask United States to support development nuclear weapons [USA Response Needed] [End Secret].

UAE Dip: We decline Turkey's offer due to the recent removal of the Turkish ambassador from Abu Dhabi.
Turkish Diplomacy: We send back our ambassador to UAE (Secret) After we cancel invasion (End Secret)

Brazil: We send troops to Europa and ask for an alliance with France. We ask South Colombia to join us so the CAUQ has to pick a fight with us if they want to take South Colombia's land. We will also provide them financial since they were hit badly. We ask Japan to handover the island of Kyushu and in turn we are willing to handover Trindade and Martin Vas. We ask Peru for the state of Loreto so improve buildings and Cities. We invade Zhengzhou demanding China stop attacking other Countries. We ask for an alliance with the United Provinces of Oceania. We help Tibet get independence. We are willing to Buy the Henan Province for a hefty price. We will also offer a trade deal and give China the state of Nickerie in Suriname If China Agrees. (China/Mod Response Needed). We ask Vietnam, Malaysia, Senegal & Mauritania to join us.

Mod Response: Only Peru accept Brazil offer to handover Loreto. Others are decline.

Saudi Arabia: We withdraw the last few troops from former-ISIS territory, and raise 200,000 more, 190,000 troops are sent to the border with Qatar, while the other 20,000 are positioned on the bridge between us and Bahrain. We give them a chance to reconsider their decision. (mod response needed)

Mod Response: Qatar still decline Saudi offer. Qatar give a reason, that they are preparing for World Cup 2022 and want independence. Bahrain, handover their land to Saudi, but exiled to Tunisia.

China: We withdraw ALL TROOPS and military personnel from foreign waters, airs, and grounds to China, and we form a strict perimeter around all of our borders with roughly 500K troops, evenly spread out. The troops to lock down the borders, and to only leave borders open to countries we are not in hostile relations with, like Russia. We formally allow Tibet to have independence, and 50K ground op troops are designated for the rebellion in Xinjang. National unity broadcasts are played around the country to boost unity and prevent further rebellions. We have no dependence on Australian trade deals, so the sanctions do not faze our economy. The Chinese world trade market is placed on halt and our economy is placed on complete government control under an act that allows us to do so in times of war. 25 percent of the economy is funneled to military production and war reaserch. We make out last and final call for world peace with China, under the conditions that we stay out of the Korean conflict, to the world. Failure to respond our except could result in total war and last resort tactics. Please respond as soon as possible. We also exempt Vietnam and Pakistans offer. 5 Billion in nuclear research is given to Pakistan as a token of appreciation. All countries that decide to join our alliance will get similar tokens.
UAE: We warmly accept Morocco's trade offer, and begin preparing for our 2020 unmanned mission to Mars. Secret: In response to ISIS' recent loses, we smuggle weapons and 500 government contracted mercenaries into Raqqah. End Secret
United States: On July 4th, President Hillary Clinton announces that she will be seeking a second term of the presidency; saying that, "Unity and freedom is our main goal." Her campaign slogan is similar for it being, "Unity and freedom!" She begins campaigning in Iowa with the primaries already starting with Jim Webb as her only competitor (but her popularity is much higher in the entire primary season), on the Republican side the main leader for the 2020 nomination might be former Governor of Ohio, John Kasich, with a surprising 3rd party candidate from the Socialist Party, Bernie Sanders. So far President Clinton leads the polls by double digits. On the campaign trail, the main issue is foreign policy with the war in North Korea many Americans are fearing an attack is imminent by the North Koreans in a desperate attempt for lead in the war by launching a nuclear weapon at the West Coast of the United States. President Clinton signs a bill into law saying that over the next 20 years: 20,565 Windmills, solar panels, and other environmentally safe methods will be built to help save the environment. Along with saying that any company that breaks the rules of the bill or tries to harm the environment for their own personal company and financial gain will be prosecuted and might face jail time. Already the Koch Brothers are starting to be investigated by the Senate Environmental Committee on crimes against the environment. President Clinton is also trying to push for a department to be introduced to the cabinet, and will be taking it to the Senate in her State of the Union speech early next year, which will most likely go through since a majority of the Senate is Democratic. In foreign news, the American army is making its stand in Pyongyang, attempting to take the palace where Kim-Jung-un resides but is very heavily guarded (Secret) President Clinton orders J-Rock (secret spy and action agency) to somehow get accesses to the North Korean's palace in Pyongyang and place timed bombs to go off during Kim-Jung-un's speech to the North Korean Congress. In Europe, President Clinton continues to want to have the US involvement in the war a secret so she has the military pose as a rebel group in Europa bent on freeing the European people (Secret).
China: We make a sharp warning to Brazil to stay out of Asian affairs and that they would be making a fatal mistake to try to invade zhengzhou, because if they new anything about geography or our military might, they would know that zhengzhou is miles inland and heavily protected. Any naval invasion would be brutally striked down and the would miserably fail. Any demands from Brazil will be considered foolishness from now on. We make another call for the nations to come together and stop the war on China. We will stay out of the Korean conflict altogether and we have already pulled our forces out of foreign lands. The only land we occupy at the moment is souly ours. We do not want further war between us and the world, but we WILL defend ourselves at ALL costs.
Mod Event: DRC declare war on Brazil. DRC enter Brazillian Angola and kill some troops and civilian.
Brazil: We declare war on DRC and take the state of Kasi-Occidental and demand them to stop attacking or we will attack at full force.
UK: We support Brazil in the war and send troops to Brazilian Angola to assist them. We also ask for trade and non aggression pact with them. We condemn the DRC for suddenly attacking Brazilian Angola and declare war against them. We ask for an alliance with Belgium, Netherlands, Denmark, Sweden and Norway, and will be called the Association of Sovereign Countries Of the North Sea.(Response Needed) We push our troops on in the Europa battlefield and seize several cities. We begin scientific and military research, and upgrade our military. We ask for trade deals with former Asian British colonies, including India, Malaysia, Myanmmar, Singapore, Australia and New Zealand.(Response Needed)

Mod Response: Belgium now is part of France, so you can't invite them. Netherlands, Denmark, and Norway accept to join alliance, meanwhile Sweden is remain neutral. Malaysia and Singapore accept trade offer meanwhile Myanmar is unresponsive.

Brazil: We now have taken the states of Bas-Congo and Bandundu in DRC and tell them to back down or we will attack the capital Kinshasa either way we will not hand back the taken states, if they would to keep any of it, they need to back down.
India: We ask Sri Lanka, Bangladesh and Nepal to join us and we send troops to the DRC to help Brazil & The U.K. We improve our economy and financials. We ask for an alliance with Brazil, The U.K and France.

Mod Response: Only Sri Lanka accept the offer to join India.
UK Response: Alliance accepted.
China: We happily report that our military has expanded 60 percent its size due to the military factories and research. Today our military stands at a strong 5 million. In a sudden change of heart, we send 30k troops to Brazil and transfer them to brazil commander control to help Brazil with the DRC invasion. The troops are mainly basic ground troops and a few special operation unite that include snipers. 5 new oil rigs are built in the south China see and we place 3 mini battleships to patrol them. We will be selling the oil to Vietnam as they are our ally. We also offer to sell the oil to the United States, if they agree to peace between NATO and China. We mobilize a force of 1k heavy assault tanks and we form perimeters around major cities in China and they are dug in. Radar and war precautions are activated. (Secret) We begin a spy agency for foreign countries and we begin looking into CIA files and NSA records (Secret). An annual meeting of top CEO's and business leaders is organized and this year, a thorough plan is proposed to the government to end the economic troubles of China. It includes building more domestic production facilities to increase common goods and to make our country more self reliant. This would reduce the dependence on world trade and make China more free in its diplomacy actions. A government cabinet change begins to show a fascism party growing in southern China, but it is dismissed as a small cult. An ambassador is sent to Russia to hold meetings with their top leaders and improve relations. An ambassador is also sent to Vietnam and Pakistan. Pakistan has reported stark progress on their nuclear program as a result of our help. Embassies for the two nations will be set up in Beijing soon. People seem to be rallying around the idea of building a wall on the north Korean border to separate them from us due to their rash actions. We are considering cutting them off completely, as they are dragging us into unnecessary war, and we make that public to the world.
Province Of Egypt: We ask our nearby neighbors Saudi Arabia for an alliance.(Saudi Arabia Response needed)

Saudi Dip: We graciously accept.
Egypt Dip: We thank Saudi Arabia for accepting the alliance to be the ally of this fledgling nation.
Turkish Diplomacy: We ask for alliance to Egypt as we are ally of your ally, Saudi.
Egypt Dip: We accept the ally request of Turkey.

Brazil: We now take the states of Equateur, Kasai Orintal, Maniema & Nord-Kivu. We send more troops to Europa & continue to fight. We ask Guinea-Bissau to join us as we can provide drinkable water and Sustainable farms & food. We ask Thailand to join us as we can reduce poverty even more & We will spend millions in helping sustain a better life there + We can provide financial & health aid in a case of a war. We ask Somalia to join us.

Mod Response: Only Guinea-Bissau accept the offer.

Mod Event: Democratic Republic of Congo asks for peace talks to Brazil and stop the war [Brazil Response Needed]. Japan accepted peace with China, and they drew most of their military from South Korea. Japan re-activate their embassy in China, and send back their ambassador. Japan still back South Korea in 2nd Korean War. Sweden and Finland officially become member of NATO. Meanwhile, Albania and Montenegro are joining European Union. Venezuelan Civil War is over with result stalemate. The leader of rebels, Carlos Guecha, become new president of Venezuela, and ask for join Moscow Pact. [Eurasian Response Needed].
War Event:

Military intervention against ISIS: Coalition forces enter Raqqah. A group of Coalition troops discover mysterious agents send weapon suppoert, and Coalition suspect the agent from UAE. ISIS only conquer 90% of Raqqah and few lands in Iraq and Syria.
Second Korean War: North Korea lost Seoul after invaded by South Korea and their allies. Allies(South Korea side) continue invade to the north. USA touched North Korean coast.
Invasion of Europa: UK success invade Osnabrück, and conquer 50% of Lower-Saxony. But, they still in battle to take Hamburg, because Europa's defensive is so strong. In Western Front, France success captured Mainz and Darmstadt. France also take most areas of Baden-Württemberg. New Yugoslavia, furious over Croatia and Slovenia, declared war on Croatia. New Yugoslavia takes Vukovar-Srijem and Osijek-Baranja. Croatia stop an invasion of Europan Hungary, makes Europan troops take back Pécs. Slovenia, alone, ask for more support from Italy, so Italy declare war on Europa and send troops to Germany. Italy invade Tyrol into Innsbruck. All areas of Carinthia is taken by Sloven-Italian troops. They also start invade Burgenland, to gain access to Vienna.
Chinese Civil War: Reported by China
Congolese-Brazilian War: DRC ask for peace talks and stop the war.

Turkey: We continue build our military. We ask again Saudi Arabia, Morocco, Egypt, Jordan, Qatar, Bahrain, and Tunisia to form alliance, named Islamic Treaty Alliance. [PLAYERS/MOD RESPONSE NEEDED]. We continue push our troops to Raqqah. We ask Syria, Free Syrian Army, and Kurds to peace [MOD RESPONSE NEEDED]. We continue improve our economy.

Saudi Dip: We accept
Egypt Dip: WE also accept
Mod Response: All other countries accept.

Saudi Arabia: We withdraw all troops from the border with Qatar and move them to the UAE, all 190,000, we ask for an explanation about supplying ISIS.
Civil war report from China: So far the rebellion in Tibet as vanished as we grant them their independence and give them want they want, however since the new country is landlocked, we control most of their trade and we could easily lock them down any time they wish. It's almost a puppet state in a way. The 50k rebellion task force in the mainland China have been fighting the rebels for some time now, and have reduced them to a small gorilla warfare group. They are dug into the sewers, tunnels, and basements. They are now labeled a terror group in all of China. National unity broadcast continue to play on national tv. We praise Japan for going to peace with us and we give them 5 billion as a token of appreciation. Diplomats are sent to Tokyo to have meetings with top members of their government to improve relations. We propose a complicated plan for a peace deal in the Korean War. We offer that if North Korea pulls back and gives South Korea some territory, that the war would stop. However if North Korea refuses, we might be forced to attack a former ally. Also we understand if an agreement isn't met on the allied side because North Korea did in fact nuke Seoul. Military drills are held right outside of Tibet and we begin more building bases across mainland China. We ask for the USA to allow us to send a diplomat mission of 10 to Washington DC to have a bilateral press meeting with The president and his secretaries. This is vital for the world stability we are striving for at the moment.
Brazil: We settle with DRC telling them a deal where they keep Kinshasa, Bas Congo and Bandundu & we keep the other states. We ask Cape Verde & Guinea to join us. Marina Silva is elected president.

Mod Response: All nations accept.

UK: We are surprised by the fact that two wars were stopped around the same time, and we start upgrading our military and improving the economy. We continue the war against Europa. We also start developing renewable energy sources, and we expect our nuclear fusion reactors to be up and running by 2021. We ask Ireland for a merger, and we start urbanizing less productive rural areas.
2019.0
As war rages in Europe and Korea, the world is distracted and no one is noticing that Brazil is building a world empire. Meanwhile, China has declared neutrality in all wars, and the outside world has become suspicious of the UAE helping ISIS, but it remains unconfirmed.
Eurasian Union: We have evidence that the UAE is actively aiding the Islamic State, so we will have to declare war on the United Arab Emirates. We call Oman into the war, promising them half of the country, including Dubai (Mod Response Needed). (Secret) The war is partly caused by their alliance with ISIS, but mainly because we want to exploit their oil.
(End Secret)
Mod Response: As ally of Eurasia, Oman accept Eurasia's offer.

MOD EVENT: Mozambique and Zambia ask to join Brazil.
Canada: Our civil war ends, with a communist defeat. We ask the United States if we can purchase Alaska (USA Response Needed).
UAE: We angrily warn Eurasia to cancel their invasion of our land, as the world community has not definitively proven our alliance to ISIS. We also firmly deny the allegations, and ask Oman not to support Eurasia, or face war. In preparation for a potential attack, we dispatch our entire navy into the Persian Gulf, ask our strongest allies, Pakistan and Egypt, for support (Egyptian response needed) (mod response needed), (secret) and begin production of chemical weapons (end secret).

Egypt dip: We accept the offer, and station half our military on high alert.
Mod Response: Pakistan, as ally of China(member of Moscow Pact) refuse UAE offer.

Brazil: We accept Mozambique and Zambia offer to join us. We continue to upgrade our military. We ask Eurasia for an alliance and wish to engage war With UAE and possibly obtain part of the country. We also ask Peru, Ecuador, Malawi, Jordan, Iraq and Libya to merge with us.

Mod Response: Only Ecuador accepts, while the rest decline.
Saudi Arabia: We break our alliance with Egypt, declaring that helping such low scum as the UAE is worthless, we also embargo the UAE.
Egypt: We did not realize how low the UAE is, and, in a bid to retain our key ally, Saudi Arabia, we tell our troops to stand down. We break the alliance with the UAE, and ask for the alliance to be reinstated with Saudi Arabia.(Saudi Arabia Response Needed)

Saudi dip: We cautiously decline, instead, we hope to sign a non-aggression pact, and to have a joint space project to send the first Saudi/Egyptian satellite into space. (Egypt response needed)
Brazil: We continue to grow economy in Brazilian Africa. We ask Saudi Arabia, Japan, Eurasia & Canada for an alliance.
Egypt Dip: We accept both proposals by Saudi Arabia, and look forward to a closer relationship in the future. We ask for an alliance with Brazil.(Brazil Response Needed)
Brazil: We accept Egypt's offer. We give them the state of Loreto as a peace offering.

Turkey: We declare victory over ISIS. President Erdogan declares neutrality in all war. We send humanitarian to UAE, to help foreigners in Dubai, especially Turkish. (I will post later, it's hurry. I must go home).
Mod Event: ISIS has surrendered. Coalition troops catch Abu Bakr al-Baghdadi.
United Provinces of Oceania:We ask Turkey if they would like to restore the Ottoman Empire. [Turkey Response Required]

Saudi dip: We worry of what might happen if Turkey accept, so we politely ask Turkey to not accept the offer, we also ask the UPoO for a opening of trade deals. (UPoO and Turkey response needed)

India: We ask Bangladesh to merge with us as we can help reduce poverty and help them with financial problems. We will spend millions to build hospitals and drinkable water and edible food. (mod response needed)

Mod Response: Bangladesh decline the offer.

Mod Response: Bangladesh decline offer.
Saudi Arabia: We tell Qatar that we could still maintain the world cup, while expanding it to our stadiums as well. We ask them to merge again. (mod response needed)

Mod Response: Qatar will join as a special autonomous region.

Mod Response: Qatar will join as special autonomous region.
Eurasian Union:We tell our allies to back off the war, and we also back out because the UAE called in Pakistan, which is China's ally, and we do not want to fight China. We ask all former Soviet states to join us (secret) or die. (End secret)
C..A.U.Q. we start to mobilize all troops and prepare for battle vs Dominican Republic (secret) and Brazil if we are provoked (End Secret) because nobody runs from us. We bring the Moscow Pacts attention to Brazils growing sphere of influence. In the Yucatan we develop nukes of our own. We ask that the DRP join the Moscow pact as a protectorate, and offer the same conditions to all nations threatened by Brazil. (Mod Response needed)
Mod Response: Dominican Republic ask for peace. Cuba ask if they can help CAUQ invade Dominican Republic.
Morocco: We develop infrastructure to a high degree, focusing entirely on new railways, trains, roads, etc. And encourage the settlement of western Sahara by the Moroccan people. We ask to join the UK in a treaty known as Treaty of Western Mediterranean Countries. (Uk Response needed)
Brazil: We do not want war with any nation, we want peace with them. We ask to join Moscow Pact. We ask for an alliance with CAUQ. Any Countries threatened by us should not be afraid, as we are a peaceful nation.

Eurasia Dip: We let Brazil join the Moscow Pact, but on a condition: No disputes will be made with other Moscow Pact members.

UK: We begin a space program and ask all countries if they want to participate, regardless of ideology and status. Response Needed We want to have international peace in outer space. We start building nuclear fusion reactors in Sheffield. We are slightly suspicious of the CAUQ's actions. We ask for Norway, Sweden, Denmark, France, Belgium and Netherlands to come together to form the Alliance of North Sea Countries AssociationResponse Required We continue the war against Europa. We ask for a merger with IrelandResponse Required
Brazil: We ask Eurasian Federation to turn their attention to Mongolia, since they have such good relations we recommend them to merge. We ask Baltic Union for an alliance. (Secret) We continue to wait for a response from the USA & We have discussions on whether we stay in Europa War or Moscow Pact. (End Secret). We ask United Provinces of Oceania for an alliance.
Europa: We ask Eurasia to invade New Yugoslavia and urge all Germans to rebel in occupied land,Italy,and France.If this offensive is successful we will request peace at the new status quo if not we will fight to the death.We ask Eurasia to invade Alaska and request an alliance with Ireland and urge them to invade the U.K.We promise them Northern Ireland,Wales, and Scotland as well as Cornwall to form Celtica. (Responses needed) (This entire turn was secret)
2019.5
As war rages on in Europe, many things start to change worldwide. So many countries no longer appear on the map. Everything has changed in 3 years... What countries will survive The Future Of Nations.
MOD EVENT: Brazil gives independence to African nations.
Europa: We ask for a peace meeting with all nations (Responses Needed). We start upgrading our infrastructure and financial problems.
India:[To Europa]:We accept the peace meeting.we have increase our GDP and is looking to Triple our defence.[Secret]We are developing a nuclear Missile called Akash.tests will be done the next year.[end Secret].We ask Bangladesh,Nepal,Bhutan and Maldives to merge with us[Mod Response needed].
Mod Response: Bangladesh accept the merger proposal. The Maldives also will accept this proposal on the condition that you build artificial islands with 100m elevation on the Maldives, so they won't get wiped off the map.
Indian Dip:We accept.
Eurasian Union: We agree to the peace meeting. We also begin a race for Mars, as we have found out that the atmosphere is breathable to a certain extent. We ask Mongolia to merge with us (secret) or die.We start developing a nuke that is at least 13 times stronger than the Tsar Bomba and can devastate entire regions, we do not intend to use this on Earth, and we are only manufacturing three of them just in case some "alien" race comes and invades Earth (not that it would be likely, but anyways).(end secret) We start improving our economy and GDP so it can exceed the US.
Mod Response: Mongolia respectfully decline the offer, saying that Eurasia should move West to Europe and South To Middle East.
UK: We accept Europa's peace meeting, as we look forward to extending ties and ending the war that started years ago. We start improving infrastructure and defenses. We ask Europa for an alliance.(European Response Needed)
Europa Response: We accept this offer.
Europa: We ask Denmark to merge with us, without Greenland (Mod Response Needed). We ask Eurasian Union, Finland, Norway, Sweden, Turkey, Switzerland, Italy, Greece, Romania, Bulgaria, Moldova, Uzbekistan, Turkmenistan, Iran, Syria, Lebanon, Kuwait, Iraq, Qatar, Oman, Yemen, Israel, Jordan, West Ukraine, Mongolia and Saudi Arabia for an alliance called The Eurasian League (Mod Response Needed).
Mod Response: Denmark accept the proposal as long as they have autonomy. Finland, Norway, Italy, Greece, Romania, Bulgaria, Moldova, Iran, Syria, Lebanon, Kuwait, Iraq, Oman, Yemen, Mongolia, Saudi Arabia and West Ukraine accept the alliance offer. All others decline.
United Provinces of Oceania:We hold elections this year, and Josh Langsley wins the election. We ask Indonesia to cede West Papua to us as it is part of Papua New Guinea, which we wish to incorporate into the New Guinea Province. [Mod Response Required]

Mod Response: Indonesia decline due to its resources.

Brazil: We begin extracting the DRC's resources (they have 2/3 of the world's cobalt and coltan as well as a third of the world's diamond) [secret] we are making plans to take the rest of africa followed by the rest of latin america.[end secret]. (Brazil no longer owns African claims, to keep it plausible.)
India:We rejoice the Merger of Bangladesh and Maldives.We ask once again That Bhutan and Nepal merge with us.we Will provide Sizable advantages to you[Mod Response needed].We have planned a Clean India Movement to clean entire India of waste.and we are also  planned to be 100% dependent on Solar and tidal wave energy by next year itself.this project will be known as Operation Clean Energy.we have the completed the Building of 4 Aircraft Carriers.INS Vikramaditya,INS Chennai,INS Kochi and INS Mumbai.they will be commissioned next year.We would like to trade with Europa,Oceania and Eurasian Union.[Players response needed]

Mod Response: Bhutan accept meanwhile Nepal declined politely.

Turkey: Continue building military and economy.
DRC: The people of the DRC hold a celebration of independence from Brazil. President Étienne Tshisekedi reenters office and makes peace with the tribes of the Kivu province. He also plans to reduce government corruption.