Welcome!
This is The Fourth game made by Ryan, The third of The Future's Course Series, and the second Co-Created game by Sailesh s nair.
Player rules
Be Plausible, 3 implausibilites and your banned for 3 turns. Do another 3 implausibilites on your last chance and your ban is permanent
If you don't post for 5 turns, your country will be banned and be avaliable for other players to take
Every turn is 1 year until 2100 where its 5 years, 2200 where its 10 years and 2300 where its 20 years
The last turn is in 2400 if The world has not united by then.
Please give a reason for a war/embargo/sanctions..
Every 25 years are archived to reduce scrolling.
If you declare war on someone, the other party must respond (I.E You can't invade the US and claim the US lost without the US responding)
Massive cultural shifts. Cultural shifts take many decades, have to have good reason, and tend to not be drastic.
Religious changes in nations, other than secularism rising in the twentieth century, will almost always just be a denominational change. Being overly liberal for the time period. Especially in the west, religious freedom was a foreign concept in most nations prior to the nineteenth century. In almost all nations, women did not become leaders and important figures with equal rights until the twentieth century
If you change your country, You cannot change again
No Racism. I will personally block you for a week.
Mod Rules
Co-Creator's word overrides all others
Head Mod's Overrides all except Co-Creators
Map Mods have no authority, they only make the maps, however, they are also the Emergency Mod, which holds the power of The Head Mod if the Co-Creators and Head Mod are inactive
You must have a legit reason to Ban someone, not He smells or something stupid like that
WMD SYSTEM
Democratic Nations:

Biological & Chemical weapons= -1 turn
Nuclear Weapons= Must be nuked to use

Non-Democratic , Non Fascist Nations:

Biological & Chemical Weapons= must be close to capital to use
Nuclear Weapons= must be at war with nation that is relatively similar to you in strength

North Korea , Islamic State and Fascist nations

no requirements or penalties for using WMD's
Mods
Map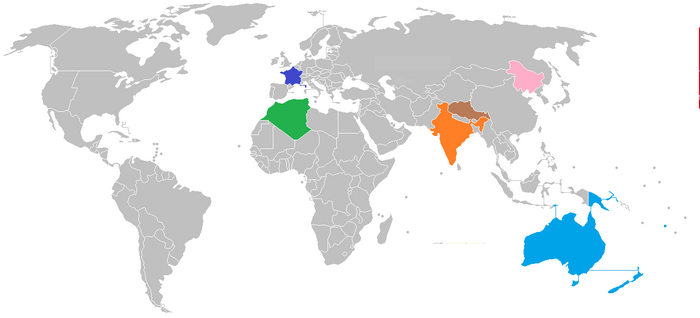 New Nations:
Fallen Countries
Algeria (Merged with Maghreb Union)
Tunisia (Merged with Maghreb Union)
Morocco (Merged with Maghreb Union)
Iraq (Divided into 3 nations)
United Kingdom (Divided into 4 nations)
Russia (Becomes Eurasian Union)
Belarus (Merged into Eurasian Union)
East Ukraine (Merged into Eurasian Union)
Kazakhstan (Merged into Eurasian Union)
Uzbekistan (Merged into Eurasian Union)
Tajikistan(Merged into Eurasian Union)
Azerbaijan(Merged into Eurasian Union)
Australia(Merged into Pacific Union)
New Zealand(Merged into Pacific Union)
Papua New Guinea(Merged into Pacific Union)
Timor(Merged into Pacific Union)
Fiji(Merged into Pacific Union)
Germany (Merged into Europa; has autonomy)
Denmark (Merged into Europa, then left and joined Nordia)
Czechia (Merged into Europa; has autonomy)
Luxembourg (Merged into Europa; has autonomy)
Norway (Merged into Nordia)
Sweden (Merged into Nordia)
Finland (Merged into Nordia)
Iceland (Merged into Nordia)
France (Defeated in French Civil War; Brittany given to Fascist Ireland [In exile on Corsica])
UN Security Council
Alliances
North Atlantic Treaty Organisation
United Latin American Alliance
Central American Alliance
Axis Of Evil
Fascist Ireland
WSA(Fascist)
Mongol Khanate(Fascist)
Second Aztec Empire(Guatemala,Fascist)
North Korea
ISIS
Neo-French Empire
South Africa
East Asia-Oceanic Alliance
Lhasa Pact
Islamic Treaty Alliance
Maghreb Union
Egypt
Syria
Kurdistan
Jordan
Oman
Yemen
United Arab Emirates
Pakistan
Uzbekistan
Sudan
Mali
Senegal
Guinea
Gambia
Somalia
Azerbaijan
Afghanistan
Turkmenistan
Note(Any player can leave an Alliance and Join another)
Players
REDIRECT Template:SideSig
Gameplay
The world in a precarious situation.The tensions in the South China Sea has risen sharply due to the building of artificial islands by China. Meanwhile Great Britain has split into 4 i.e England, Scotland, Wales and Fascist Ireland. Fascist Ireland later threatens the rest that they will annex the whole of Great Britain and turn it into a Fascist State, the ideology of fascism has spread all around the world to countries like Mongolia, Guatemala and even the Western U.S.A got used to fascism and they split from the rest, calling themselves WSA (Western states of America),they are being headed by Donald Trump. The Latin American Countries however decide to end their differences and sign an alliance called United Latin American Alliance (ULAA). Same goes to the Countries in East Asia and Oceania, they signed an Alliance called East Asia-Oceanic Alliance. Iraq has Split into 3, there are Kurdistan, Islamic State and American Overseas Territory. India and Pakistan Finally managed to settle their Enmity from 1950 when Pakistan got POK(Pakistan Occupied Kashmir)and China got Aksai Chin. Algeria,Tunisia and Morocco joined together to form Maghreb Union. North Korea Starts to threaten South Korea that they will annex South Kore and that They have Friends of their own too.Let us see what happens when the respective Governments Choose their Future's Course.
2035
Russia: We ask all members of the Eurasian Union + Tajikistan, Uzbekistan, Azerbaijan, Eastern Ukrainian Separatists and Mongolia to merge into The Eurasian Union (Mod Response Needed).

Mod Response:Tajikistan,Usbekistan,Azerbaijan and Eastern Ukranian Separatists agree and the Eurasian Union is Formed.Mongolia disagrees wishing to remain Sovereign. Meanwhile Belarus wishes to join The Newly formed Eurasian Union.[Eurasian Union Response needed]. Kazakhstan agree to join while Kyrgyzstan and Armenia decline.

Tibet: There was a coup, the Dalai Lama was murdered, and Tenzin Chinso rises to power in Tibet. The fascist Tibet has been born. However, we do not try to ally with our fellow fascist nations, but instead try to ally with the Eurasian Union. (Eurasian Response Needed). We recruit 450,000 troops, and we build 358 wind power plants to try and use more renewable energy.
Eurasian Response: We accept this alliance proposal.
India:We Triple our Defense Expenditure.We start an Operation called Operation Clean Energy that is to be dependent 100% on Renewable Source of energy and not on Conventional Sources.We would like to trade with Mahgreb Union,Tibet and Eurasian Union[Players Response needed]We Invite both Mahgreb Union and Tibet to become Full members of the SCO[Tibet and Mahgreb Union Players response needed].
Eurasian Union: We leave SCO and we ask tibet to start a New alliance called Lhasa Cooperation Organosation\Lhasa Pact[Tibet response needed]
India:We are Indeed Shocked to see Eurasian Union leave the SCO. Therefore, we dissolve the SCO are and ask to join the East Asia-Oceania Alliance.[Mod Response needed].
France: We ask for an alliance with the Mahgreb Union, India and the EU, and trade as well. We start upgrading our armies, and construct WMD in case someone decides to nuke us.

Indian Dip:We accept your proposal for an alliance.we would also like to trade.
Maghrebian Diplomacy: We accept.

Manchuria: The beginning of Manchuria starts with reforms of our government and economy to a truly mixed economic nation. We intend to become a highly developed nation similar to Japan or Korea.
Tibet: We begin making nukes just in case something happens and we get nuked.We also have received information from Mongolia accusing us of being "a traitor" and "not a real fascist". We are heavily offended and we cut all ties with Mongolia. We line up our 450,000 troops on the Uighuristan border to "incorporate them into our glorious realm" . We ask Manchuria to join the Lhasa Pact, as Mongolia is currently threatening them.

Manchurian Diplomacy Council: We accept and ask Tibet to assist us against Mongolia, who at this moment are engaging our troops in the North-West. (Tibetan Response Needed)
Tibetan Diplomatic headquarters: We accept, and since we are fascist just like them, we know their tactics.

MOD EVENT: Mongolia declares war on Manchuria, their justification is "to rebuild the Mongol Empire".
Pacific Union: We allow India to join the East Asia-Oceania alliance. We begin building a particle collider to find large elements that we have calculated to be on the island of stability (a theory on the fact that the next couple elements will be stable.) We begin work on a lunar colony: New Sydney and we begin building a re-usable rocket that could take us to Mars.
Germany: We ask Poland, Austria, Luxembourg, Denmark, Czech, Slovakia and Bavaria to form Europa and they will all have Autonomy (Mod Response Needed). We start to improve our trade and tourism.

MOD RESPONSE: Austria, Czech and Denmark accept, Poland has sour relations due to the past, Slovakia and Bavaria would rather stay sovereign.

Eastern USA: The Eastern USA has a large military buildup along the western side. We have not let the split with the fascist West hurt our economy too much. We offer Ireland a garrison of 10,000 troops to deter the North's fascist aggression [mod response needed].

MOD RESPONSE: Ireland accepts the deal.

Maghreb Union: We start building our military, we ask Mauritania and Libya to join us as they are Maghreb Union (Organization) that remained. We also ask Western Sahara to join. [Mod Response Needed]. We continue construct the mosque of Djamaa El Djazair. We ask Egypt, Syria, Kurdistan, Jordan, Saudi Arabia, Oman, Yemen, Turkey, UAE, Pakistan, Uzbekistan, Malaysia, Indonesia, Sudan, Mali, and Senegal to form an alliance named Islamic Treaty Alliance.

Mod Response:Mauritiana and Libya agree,but Western Sahara declines,Hoping to remain sovereign.All the Countries Except Saudi Arabia,Malaysia,Turkey and Indonesia agree to the alliance.

Mod Event:Fascists arise in Southern France, starting the French Civil War. The Nordic Nations, fearing that something like that might happen to them, they merge into the nation of Nordia. Northern Russians wish to join this union and secede from the Eurasian Union
Tibet: We invade Uyghuristan, and also we send bombers to bomb Mongolian forces in Manchuria. We also divide Tibet into 3 states, namely Changtang, Lhasa and Shigatse.
India:We Condemn the Invasion of Mongolia on Manchuria.We openly Support the Eastern U.S.A against the western one which is a Fascist State.We would like to trade with the Eastern U.S.A and Would also like to have an alliance.[Eastern U.S.A response needed]. We have Finished the Construction of 4 aircraft carriers. INS Vikramaditya, INS Kochi, INS Chennai and INS Mumbai. INS Kolkata will be Constructed next year.We are also closing in on the Sukhoi, Mukhoi and PAK-FA aeroplanes from Russia[Mod Response needed].
Manchuria: It seems that Mongolia has built up a military, but we still own a noticeable portion of the Chinese manpower. We start artillery raids on their "Blitzkrieg" tactics, as they call it, using a close-range attack squadron to engage their troops while a secret artillery support squadron. We dominate the airspace of Manchuria, the Mongolians having underestimated our air and ground forces, and with that, there are plans of invading Mongolia.
2036
The first war of the 2030s has begun, the Mongolian, Manchurian War. The Mongols are currently losing to Manchuria and a newly fascist Tibet. Tibet is also invading Uyghuristan, they say they do this to "unite the western Chinese breakaway states".
Tibet: We counter Blitzkrieg with Blitzkrieg, and we drop bombs on Mongol military installations. We propose a plan to Manchuria that Mongolia is split between the two of us, with Manchuria getting the eastern half while we get the western half. The plan will look like this:

Manchurian Military Counci: We decide the proposal is good enough for us and we accept.

Mod Event: Fascist Ireland invades The Republic of Ireland. The French Civil War ends with a Fascist victory and Brittany being ceded to Fascist Ireland for support in the war. The New French Government leaves NATO
Maghreb Union: We ask United States (East), Spain, Germany, Italy, England, Ireland, South Korea, Pacific Union for an alliance. [Players and Mod Response Needed] We will help them to counter fascist movement. We ask again Saudi Arabia and Turkey to join our alliance, Islamic Treaty Alliance. We also invite Nigeria, Guinea, Gambia, Somalia, Azerbaijan, Afghanistan, and Turkmenistan to join ITA. [Mod Response Needed]. We continue build military and economy. We also start build more schools in Mauritania, and building more infrastructure in Sahara and Mauritania.

Mod Response: Saudi Arabia and Turkey once again, decline. Nigeria declines, wanting to remain neutral. The rest join fearing invasion by fascist nations. Spain & Italy accept the alliance proposal, Ireland declines, as they do not want to cause another nation to fall with them; South Korea doesn't respond, England says no as they already have protection from NATO.
Pacific Union dip: We accept your alliance proposal
German Dip:Alliance accepted
US dip: we agree to an alliance

Pacific Union: We ask Indonesia to give us the rest of Timor and Papua New Guinea, and in return, The rest of ASEAN (predecessors to this alliance) are willing to merge with them. [Mod Response Required] We condemn Fascist Ireland's invasion of The Republic of Ireland, and place heavy sanctions on them.
Eastern USA: An election is coming up this year. Partisan politics have changed significantly since 2016 when Trump won the popular vote but Hillary won the electoral vote. This caused a rebellion in which the western states of America seceded. Due to the association of the republicans with fascism, the party has been dissolved and the Libertarians rose in its wake. Enough states have signed the National Popular Vote to change the way the election works. The states which signed the bill promise to hand all of their electoral votes to the person who wins the popular vote. Our current president, Ann Kirkpatrick (D) has served her 2 terms. The party nominees are Rand Paul (L) and Chelsea Clinton (D).
German Confederacy:We are reformed into a confederation of nations similar to the original German Empire. We request Bavaria join the Confederacy because it will lots of autonomy if it joins and it gets to become an elector(Mod Response Needed)Searches begin for a royal family to increase the Confederacy's legitimacy(Family will be elected).Certain states are to become Electorates.We find Karl Von Habsburg,Georg Friedrich,and Joseph Arpád.(Mod Response on who gets elected to nominal Emperor of the Confederacy).We ask to join the Lhasa Pact.

Mod Response: Bavaria decides to join the confederacy, while Denmark, seeing an opprotunity to join Nordia, leaves the confederation
German D:We are sorry to see Denmark go but welcome Bavaria into the Confederacy.

Manchuria: Our forces start overrunning the low development areas of Western Mongolia as we claim it for ourselves, following the plan of Fascist Tibet as shown above. This leaves us to improve our country, and we start a model similar to that of South Korea, but to rely less on exports and such that their economic model relies on. It is set to start next year.
India:We have finished Operation clean Energy and now all people are using renewable sources of energy. We ask Bangladesh, Sri Lanka, Nepal, Bhutan, and Burma to merge with us and in turn you will get sizable Advantages.[Mod Response Needed].We condemn the newly formed Fascist Government in France.We would like to trade with German Confederacy[German Confederacy response needed].

German D:We are willing to trade.

Pacific Union: We begin Project Energizer, which is a project to create an infinite, clean power source. (Secret) Part of Project Energizer is for developing a weapon called the Heavy Missile Orbital Bombardment System or HMOBS for short. (End Secret) We have detected that Pallas has been hit by a small meteoroid and is now on a collision course with Earth. We inform the world of this Event, and begin working on a way to stop it. one way we think we can stop it is by putting the International Space Station between us and The asteroid. It should fracture the asteroid, and the remnants should burn up in the atmosphere.
Eastern USA: Chelsea Clinton won the elections, primarily because she was less against military intervention in countries threatened by fascism. We are preparing 20,000 troops to invade Northern Ireland.
German Confederacy:We upgrade our military.We offer to let Denmark be an elector should they rejoin the Confederacy.(Mod response needed)We also make Austria,Bohemia,Prussia,and Bavaria electors.Searches begin for a royal family to increase the Confederacy's legitimacy(Family will be elected).Certain states are to become Electorates.We find Karl Von Habsburg,Georg Friedrich,and Joseph Arpád.(Mod Response on who gets elected to nominal Emperor of the Confederacy).We ask to join the Lhasa Pact.

Mod Response:Denmark again decline peacefully stating that they enjoy being in Nordia. Karl Von Habsburg wins the Election in a landslie and is the Nominal Emperor of the Confederacy.
South Africa: We declare ourselves loyal to the fascists and we invade Lesotho and Swaziland. (Mod response)

Mod Response: Lesotho just joins you as they find your government to be less corrupt. Swaziland falls 26 minutes after you invade them, making that the shortest war in history.

Mod Event: Ireland Falls to Northern Ireland, and Ireland changes it's name to The Celtic Empire, Invading Scotland and England for quote "Truly Celtic Land". England, not wanting a war, just gives them The Isle of Man and Cornwall. Scotland falls after a naval invasion of Glascow
Tibet: We get Uighuristan to surrender, thus uniting former Western China. We begin expanding Lhasa to be able to accommodate 3 million people, and we also expand Shigatse, which will be the tourist destination of Tibet, because we have found an oil reserve hidden under the Tibetan Plateau 56 km from the city, and it is right on the footsteps of Mount Everest. We start advertising Shigatse as "the city on top of the world" due to its vicinity to Mount Everest. We also create an artificial lake in the middle of the Taklamakan Desert, and start plans to build a city, called Chinzoabad there. We also begin attracting companies to set their headquarters in Lhasa. This will be made in the intention of making the Tibetan economy surpass South Korea's economy by 2050 at most.
South Africa: We declare war on Botswana, moving our army swiftly into the nation.