Historical progression of designs
Related Organization
Adopted Date
Flag
Description
Monarchy
April 17, 1535
Viceroy of New Spain
Monarchy
1785–1821
Viceroy of New Spain
Sovereign Provisional Junta
February 24, 1821
Flag of the Three Guarantees
Designed by
José Magdaleno Ocampo
Sovereign Provisional Junta
August 24, 1821
Flag of the Iturbide's Regency
Designed by
Agustin Iturbide
Constitutional Congress
November 2, 1821
Flag of the First Mexican Empire
Designed by
Agustin Iturbide
Constitutional Congress
April 14, 1823
Flag of the Mexican Republic
Designed by
Constitutional Congress
Constitutional Congress
July 15, 1864
Flag of the Second Mexican Empire
Designed by
Ferdinand Maximilian
Constitutional Congress
June 19, 1867
Readopted
Flag of the Mexican Republic
Designed by
Constitutional Congress
Government Executive
April 1, 1893
Flag of the Mexican Republic
Designed by
Tomas de la Peña
Government Executive
September 20, 1916
Flag of the United Mexican States
Designed by
Antonio Gómez
Government Executive
February 5, 1934
Flag of the United Mexican States
Designed by
Jorge Enciso
Government Executive
September 16, 1968
Flag of the United Mexican States
Designed by
Francisco Eppens Helguera
Government Executive
June 3, 2085
Flag of Mexico
Designed by
Vicente Pena Vieyra
United States of Aztlan
The flag used by the rebellious United States of Aztlan varied 3 times in its short history, usually reflecting its American and Mexican heritage. The first two flags are often noted to resemble the Stars and Bars of the Confederate States, however this was unintentional. The Second national flag, adopted during the last year of the civil war when defeat was looking more and more likely, was intentionally designed to reflect a more Mexican looking flag, using light blue stars to represent unity. This flag is most identified with the Aztlan rebels, as it was popularly adopted in support of annexation in Mexico and across the Aztlan states.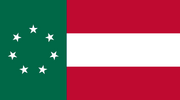 Ad blocker interference detected!
Wikia is a free-to-use site that makes money from advertising. We have a modified experience for viewers using ad blockers

Wikia is not accessible if you've made further modifications. Remove the custom ad blocker rule(s) and the page will load as expected.